Mexico's most famous spots are sadly tarnished by mass tourism, yet there are signs of improvement. Our Mexico holidays, for instance, eschew gaudy resorts and large cruise ships in favour of small, locally owned accommodations and restaurants where you'll get a far more authentic taste of Mexican culture. From the golden beaches of the Caribbean coast to the spectacular Mayan ruins of the Yucatan Peninsula to sea kayaking off Baja, our small group and tailor made holidays employ local guides with deep knowledge of their communities and landscapes, promising experiences that you'll remember much longer than holidays that rarely leave the resort.
Our top Mexico holidays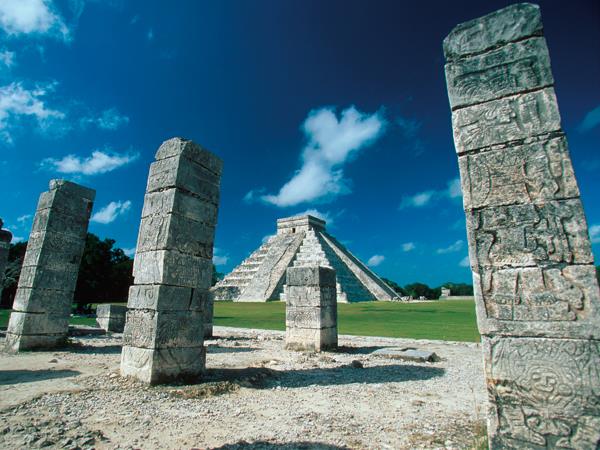 14 days
ex flights
Explore one of Latin America' most vibrant destinations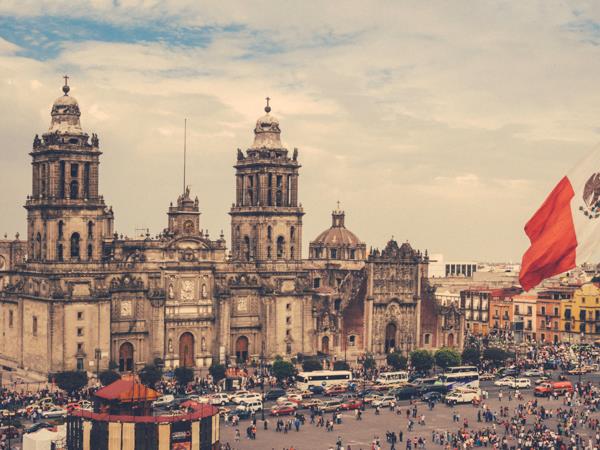 12 days
ex flights
12 day exploration of Mexico City and Yucatán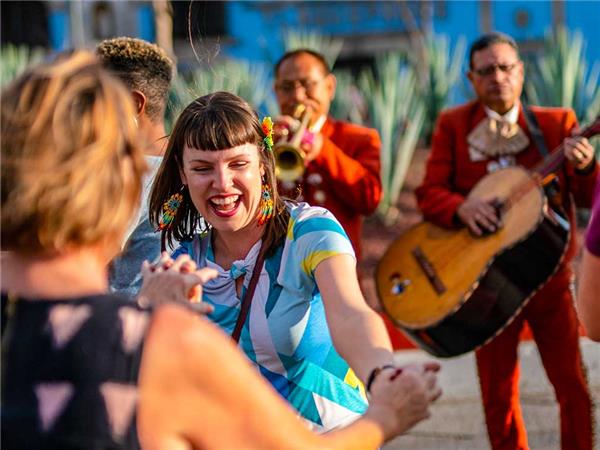 15 days
ex flights
2 week discovery Mexico's Aztec, Zapotec & Mayan cultures .
Small group
2022: 29 Jan, 5 Feb, 12 Feb, 19 Feb, 5 Mar, 19 Mar, 26 Mar, 2 Apr, 9 Apr, 16 Apr, 23 Apr, 7 May, 14 May, 21 May, 28 May, 4 Jun, 11 Jun, 18 Jun, 25 Jun, 2 Jul, 9 Jul, 23 Jul, 6 Aug, 13 Aug, 20 Aug, 3 Sep, 17 Sep, 24 Sep, 1 Oct, 8 Oct, 15 Oct, 22 Oct, 29 Oct, 1 Nov, 5 Nov, 12 Nov, 15 Nov, 19 Nov, 22 Nov, 26 Nov, 29 Nov, 3 Dec, 6 Dec, 10 Dec, 13 Dec, 17 Dec, 20 Dec, 24 Dec, 27 Dec, 31 Dec, 2023: 7 Jan, 14 Jan, 21 Jan, 28 Jan ...
Best time to go on holiday to Mexico
Mexico is mammoth, with four time zones, four deserts, two oceans and mountains at every turn, meaning the weather is as convoluted as a Mexican cocktail menu. It is important, therefore, to talk to your tour operator about specific regions to know the best time to go. On the coast, winter months are best. However, you'll get snow in the mountains during this time. The rain is more prolific from May onwards, making your holiday more humid, but with short, sharp rainstorms adding to the tropical feel of it all as late as October.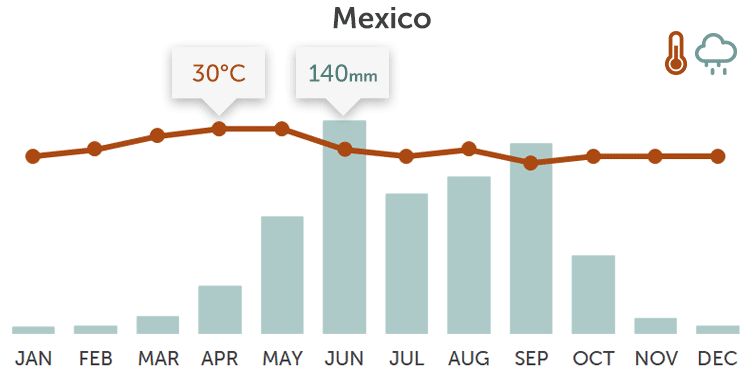 Map & highlights
The remote shores of Mexico's Baja Peninsula, far from other key destinations, are paradise for whale watchers. Head further south to the spectacular Mayan ruins of Chichen Itza, and the smaller, quieter ruins at Palenque tucked into the jungle. Oaxaca is a magnet for foodies, its cuisine UNESCO-protected for its 'intangible cultural heritage' – sounds yum, right? The Yucatan Peninsula is best explored on foot or bike; the better to stop for sporadic dips in the cenotes all around. And fab snorkelling and kayaking are here in Tulum, a town with a sleepy, bohemian appeal a world apart from nearby Cancun.
1. Baja Peninsula
The Baja California Peninsula is actually in Mexico, so called because it separates the Pacific from the Gulf of California (aka Sea of Cortés). Although there are some strips of concrete laden coastline, eco explorers head to remote shores and waters beyond La Paz or Loreto in search of seriously sublime whale watching – Pacific grey, grey, fin, humpback, orca and sperm, the lot.
2. Chichén Itzá
Mexico's largest collection of Mayan ruins has Kukulkan Pyramid as the main draw. A UNESCO site, this was a sacred place for the Mayan people and Yucatán's biggest city until the Mayans revolted against the leaders in 1221. The sacred cenote, or limestone sink hole, still feels ethereal, but you can't swim here. You can at the nearby Ik Kil Cenote though. Get to both before midday to avoid serious crowds.
3. Oaxaca
Culture vultures swoop and swoon here, as do foodies, as Oaxaca's cuisine is UNESCO-listed as an 'intangible cultural heritage'. Who needs Michelin, when you have that status? And that's just a bonus to the archaeological delights of Monte Alban, Mitla and Yagul, all ancient Zapotec religious hubs. Today's hub is the Zócalo or historic city centre, where markets and backstreets make for sublime sauntering.
4. Palenque
Chiapas' Mayan ruins and national park are smaller and quieter than the more famous ones, and surrounded by jungle and flourishing fauna for a wilder, undiscovered feel. Indeed, many of the ruins are yet to be unearthed. You can also hear and see howler monkeys that inhabit the forests and ruins. Hike to Mishol-Ha waterfall where, depending on water levels, you can swim and explore the cave behind the falls.
5. Tulum
A perfect culture and Caribbean combo, this Mayan archaeological site is located on cliffs overlooking the cerulean siren. Tulum has a sleepy, bohemian feel, not yet ravaged by resorts. Mayan people still live here and fishermen still fish. But the word is that the golfers are on their way. Hopefully ignoring Akumal and Sian Ka'an Biosphere Reserve, where blissful snorkelling and kayaking await. Great food, too.
6. Yucatan Peninsula
Fly into Cancún and keep going. Ideally by bike or on foot to see real not yucky Yucatán. Mayan magnificence is everywhere, such as the ancient city of Chichén Itzá, one of the new Seven Wonders of the World. And the Celestún estuary is much loved for its flamingo and turtle populations. This peninsula is oozing with cenotes too, meaning 'secret well' to the Aztecs and sublime subterranean swimming holes to us.
History & culture
When it comes to Mexican culture, give the all-inclusive resorts and the tarnished glitz of Cancun a wide berth. Instead, travel with responsible holiday companies that can give you an insight into Mexico's thriving indigenous communities. There are some 60 indigenous groups here, most of whom place nature, earth and landscape at the centre of their beliefs. To explore Mexico's history, there's no better launch pad than the 2,400km Mayan Trail, an essential introduction to key sites including the famous Chichen Itza and Uxmal as well as many other lesser-known – and therefore quieter – ruins.
Wildlife holidays in Mexico
The diversity of the landscapes makes Mexico a joy for wildlife watchers, though most
wildlife holidays
actually stick to the water most of the time. The reason is big, grey and bound to amaze: Mexico's superb whale population. Humpback, finback, grey and even blue whales plunder the plankton off the Baja Peninsula. Whale sharks swim serenely beneath the surface alongside dolphins and manta rays off the Yucatan Peninsula. Birdlife and sea lions cram the Isla Espiritu Santo biosphere reserve. To witness the epic monarch butterfly migration, meanwhile, head to the forests west of Mexico City from late October onwards.
Whale watching
Grey whale watching off the Baja Peninsula is one of the most intimate and enthralling wildlife encounters you can find. So comfortable are the whales with boats that they will nudge up against the hulls, and push their often just days-old calves towards you as if to show them off. Our friends at the World Cetacean Alliance have no problem with this kind of behaviour so long as the
whale watching
is done with responsible tour operators capable of understanding and respecting the whales' behaviours. For that reason, this is one of the only close wildlife interactions we recommend on holiday.
Family holidays in Mexico
Travelling in Mexico with kids
has practically endless potential. Older children will get a kick out of the gruesome stories that emanate from Mayan ruins, while all the family will love the opportunity to dive into cenotes for refreshing swims on hot days – of which there will be many. Naturally, there's no end of beaches to explore – those off Tulum are ideal for some easy-going snorkelling. And be sure to throw in a whale watching tour too, bound to be a highlight since the giant mammals are so prolific here that sightings are pretty much guaranteed.
Day of the Dead festival
You might not know the story behind Mexico's
Day of the Dead festival
, but you'll certainly recognise the costumes. The
Dias de Muertos
, which coincides with Halloween, has a 3,000-year history, having risen from a pagan indigenous commemoration of passed-on relatives to a UNESCO-listed cultural highlight. Family graves are piled with photos and trinkets, children knock on doors for gifts of sweets or money, and colourful parades throng around towns and cemeteries. While it may seem strange to join Mexicans in events like this, remember that the Day of the Dead is actually all about celebrating life.
Types of holidays & vacations in Mexico
Our
small group holidays
in Mexico are packed with variety. You might join a foodie tour for a taste of authentic Mexican cuisine, explore Mayan civilisation with a tour combining Mexico, Belize and Guatemala, or mix up your cultural excursions with time on the beach on the Yucatan Peninsula. And for those to whom a holiday spent lying on the beach is a week wasted, Mexico has plenty of
adventure holidays
. Take your pick from sea kayaking off the Baja Peninsula, whale watching trips, or – if you have the time – joining an epic overland tour across North and Central America.
If you'd like to chat about Mexico or need help finding a holiday to suit you we're very happy to help.