The cultural heritage of Oaxaca
You can't move in Oaxaca without being reminded of national Mexican hero Benito Juárez. This liberal reformer who fought the French, the Conservatives and the Catholic Church was the President of Mexico from 1858 to 1872. Juárez was born in rural Oaxaca to an impoverished Zapotec family – people indigenous to southern Mexico. From the Sierra Juárez mountain range and the Benito Juárez Park to the actual city itself, officially called Oaxaca de Juárez – you name it and it's got Benito's name on it. The statue at the top of the Cerro del Fortin is particularly impressive and provides great views over the city, and there's also a museum, Casa de Juárez, dedicated to his life and a statue in Oaxaca's main square, Plaza de la Constitución.
As well as the Zapotec, the Mixtec people are also well represented in the region's cultural heritage. Before the arrival of the Europeans in the late 1400s, Mixtec and Zapotec communities competed for natural resources and land. As the Aztec Empire spread out from Mexico Valley and into Oaxaca Valley, they demanded riches, resources and human sacrifices from the Mixtec and Zapotec people. Many indigenous communities were absorbed into the the Empire and in 1458 the Mixtec and Zapotec people were finally defeated.

Many Mexicans, and west coast Americans, can trace their ancestry to the Mixtecs, with goldsmiths, jewellers and artisan mosaic makers all notable professions that have been passed down through generations. Zapotec people, too, are still well represented in Oaxaca, with Zapotec language spoken in areas around the Isthmus of Tehuantepec, around Oaxaca. Zapotec and Mixtec art and cultural heritage can be found across this region, and over half of Oaxaca's population have Zapotec or Mixtec heritage.
Cultural sightseeing in Oaxaca City
Plaza de la Constitución
Complete with a statue of Benito Juárez, of course, this is Oaxaca's main square (zócalo), and several significant Baroque buildings – including the Palacio de Gobierno, Oaxaca Cathedral and the Basilica of Our Lady of Solitude – are all within walking distance.
Domingo de Guzmán
Another ecclesiastical 'must see', just four blocks north of the Plaza de la Constitución, is the Santo Domingo de Guzmán. This former monastery is also the home of Oaxaca's cultural museum that displays an important collection of ancient Zapotec artifacts recovered from Monte Albán. The cacti and indigenous plants in the adjoining Jardín Etnobotánico de Oaxaca are also well worth a visit if you've got time to explore.
Mercado Benito Juárez
Oaxaca City's original marketplace is, again, dedicated to the prodigal presidential son. Just south of the Plaza de la Constitución, the Mercado Benito Juárez reveals an authentic slice of Oaxaca life as everyday folk go about their business and shop for much more affordable items than you might find elsewhere. Handicrafts, meat, bread, vegetables, mescal, cactus juice and sandwich stalls sit side by side with traditional Mexican restaurants. This is the beating heart of the city and so much more than your average supermarket.
Monte Albán
This UNESCO archeological site is 10kms to the west of Oaxaca City. Monte Albán was once one of the greatest Zapotec cities and a ceremonial centre. Thanks to its strategic setting – on a plateau in the confluence of three valleys – Mixtec and Aztec attack was easily resisted. Military might, conquered captives and defeated rival settlements can all be seen depicted on the ruined walls of the main plaza. Elsewhere you'll find crumbling tombs, steep steps, pyramids, ball courts and panoramic views over the Central Valleys of Oaxaca. This is a great location for a half day trip outside of Oaxaca City.
Cultural festivals in Oaxaca
The Guelaguetza, July
Traditional costume parades, walking bands, food (corn) stalls and a general celebration of pre-Columbian life helps to turn Oaxaca into a cultural epicentre for indigenous Mexicans every July. Despite the festival becoming slightly more commercial in recent years, its roots are deeply ingrained in Zapotec and Mixtec culture; the name 'Guelaguetza' stems from the Zapotec expression for reciprocal sharing within extended communities. The open air amphitheatre at the top of Cerro del Fortin is the focal point for celebrations.
Noche de Rábanos, December
The 23rd December is an exciting night in Oaxaca. The shop windows surrounding the Zócalo are decorated in colourful lights and seasonal cheer, and they feature rather curious carvings cut from none other than the humble radish. The Night of the Radishes – Noche de Rábanos – has been celebrated since the end of the 19th century; rumour has it the festival began as a marketing ploy by entrepreneurial farmers who had a glut of unwanted radishes. Today, you'll find political and nativity scenes carved from giant radishes, alongside plate smashing, piñatas and a procession of puppets.
Semana Santa (Holy Week), March or April
The week leading up to Easter is celebrated by Christians throughout Mexico, and Oaxaca is certainly no exception. Processions and prayers are undertaken in somber reverence with statues of Jesus and the Virgin Mary carried by local people and candles lit in front of street alters and in homes. The Procession of Silence on Good Friday is particularly poignant with hooded men winding through the streets accompanied by the rhythmic beat of a solitary drum.
Our top Mexico Holiday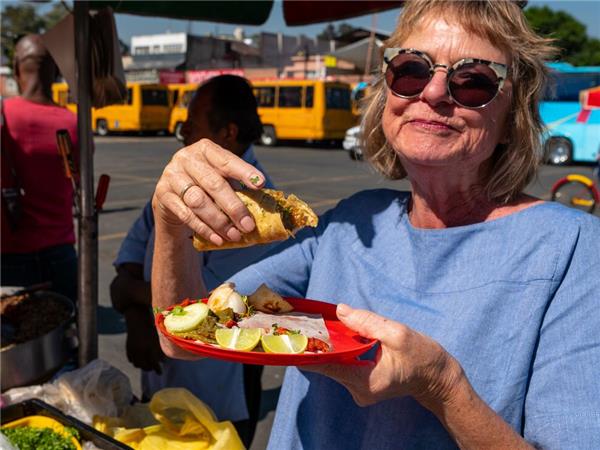 Get an authentic taste of Mexico on this 8 day tour
From
£1320

to

£1440
9 days
ex flights
Small group travel:
2023: 1 Jul, 15 Jul, 12 Aug, 16 Sep, 23 Sep, 7 Oct, 14 Oct, 4 Nov, 11 Nov, 18 Nov, 25 Nov, 9 Dec, 23 Dec
2024: 13 Jan, 10 Feb, 2 Mar, 16 Mar, 30 Mar, 4 May, 29 Jun, 10 Aug, 14 Sep, 5 Oct, 19 Oct, 9 Nov, 16 Nov, 23 Nov, 7 Dec, 21 Dec
If you'd like to chat about Mexico or need help finding a holiday to suit you we're very happy to help.

Cultural cuisine in Oaxaca
Mole
This is the Mexican equivalent of curry – not the animal – with 'mole' paste blended with water and combined with different meats to form a rich gravy. Oaxaca is Mexico's equivalent of Bradford with more mole varieties than anywhere else. From green to red, black to yellow, to a mole recipe that is literally known as the 'stainer of tablecloths', seek out a mole street stall or restaurant in the Mercado Benito Juárez for an authentic Oaxaca experience.
Chapulines
Almost everyone in Oaxaca loves protein-packed, fried grasshopper and you'll find toasted chapulines on everything from fried eggs to tortilla tacos. Often cooked with garlic, salt, lime juice and chillies, chapulines are far from just a novelty food. They are ever-present snacks at sporting events, artisan food markets and street food stalls all over Oaxaca. Once you pop, you can't stop, apparently.
Tlayuda
This traditional handmade dish features a larger than usual corn tortilla that's been slightly toasted, covered in refried bean paste and topped with everything from thin slices of grilled beef (tasajo), pork dripping and semi-hard Oaxaca cheese to avocados, lettuce and tomatoes. This is the best street food to grab and go or just enjoy whilst people watching in a park or plaza. Every restaurant boasts its own specialty tlayuda; head away from the Zócalo for local favourites.
Oaxaca is easily accessible by air from Mexico City or overland from the capital via the city of Puebla. A tailor made tour, taking in Mexico's cultural heartlands and Caribbean coast, allows you to stay in Oaxaca as long as you wish, including excursions to Monte Albán. Independently owned accommodation, local guides and walking tours of Oaxaca's markets provide real insight into everyday life in one of Mexico's cultural capitals. Tailor made tours can depart at any time, but bear in mind that accommodation can get booked up early for Holy Week and Guelaguetza.

Small group holidays are an excellent way to experience Oaxaca in the company of a guide and other likeminded travellers. Travel overland from Mexico City via Puebla for two full days in Oaxaca before your group embarks on a first-class overnight sleeper bus to San Cristobal del las Casas and the Caribbean coast. Small group tours in Mexico are particularly good for solo travellers. Single supplements can give you the chance to have your own room, or you can share at no extra cost.

Small group food holidays in Mexico focus on a particularly important and enjoyable aspect of Oaxaca's culture. They take you to the colourful markets and street stalls of Oaxaca as well as Mexico City's Mercado San Juan and the seafood stalls in Mazunte, on the Pacific coast. This cultural taste of Mexico will be just as memorable as your first sweet and sour chilli chapuline.