We can safely say that Mexico's cuisine is unique. So unique, that it is the only country in the world whose food has been granted UNESCO World Heritage Status, for its 'intangible cultural importance'. Intangible is not a word that most of us would think of, however, as we demolish a plate of tacos, wipe arrachera sauce off our chins, tuck into a crunchy corn elote or savour one of at least 20 ingredients in the country's national dish, mole poblano, a chocolate-chilli sauce served with meat. And that's before we even sample the quotidian quotas of fajitas and tortillas.
Our Mexico Holidays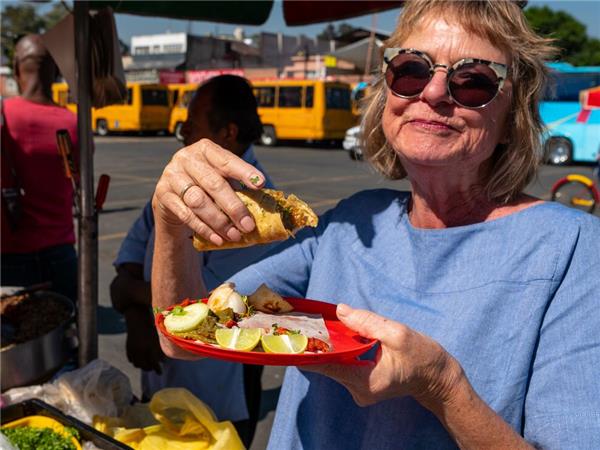 Get an authentic taste of Mexico on this 8 day tour
From
£1212

to

£1745
9 days
ex flights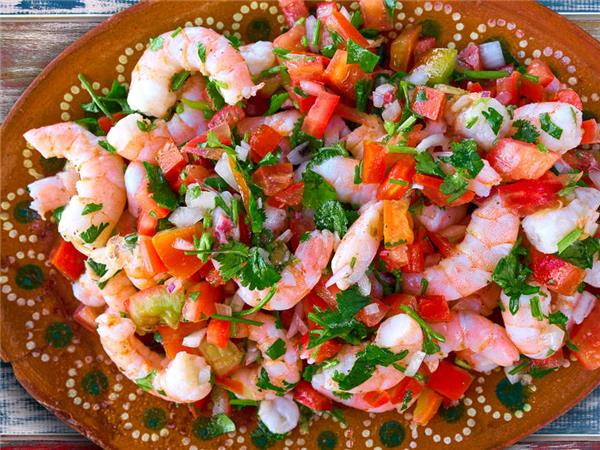 Discover the best street food that Mexico has to offer
From
£1795

to

£1985
14 days
ex flights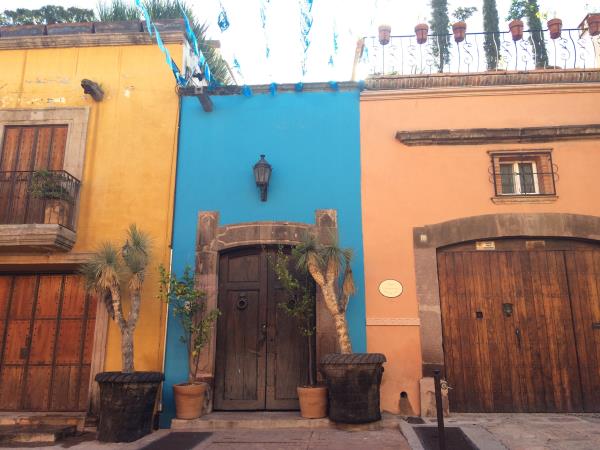 Yoga, culture & cuisine in the vibrant mountains of Mexico
From
US $1995
6 days
ex flights
History of food in Mexico
The reason that Mexico's food has gained World Heritage Status is because its gastronomic traditions go back centuries. When you explore the markets, food stalls, cafes and restaurants, you could be forgiven for thinking that you have also stepped back in time. Food is a very collective experience in Mexico, particularly in places like Oaxaca and Puebla where ancestral history is of paramount importance, as anyone who has experienced the Day of the Dead in Mexico will recall.
Consequently, ancient farming practices and culinary techniques, as well as community culinary customs around festivals, still stand strong in Mexico, with traditional ingredients such as corn, beans and chilli being deliciously omnipresent. Corn tortillas and tamales are both given as offerings on the Day of the Dead celebrations, for example. Tamales are a truly ancient food, made with corn-based dough steamed inside a corn husk or banana leaf, and today it is stuffed with all sorts of sumptuous fillings. It is thought that Aztecs, Mayans, Olmec, Toltecan and even Incas tucked into tamales.
Other indigenous ingredients that date back centuries include tomatoes, squashes, avocados, cocoa, chilli peppers and vanilla. Following the conquest, the Spanish brought rice, sugar, dairy products, citrus fruits. They introduced the prolific use of farmed animals such as cattle, pigs and poultry, as well as spices including cumin, pepper, cloves and cinnamon. So when you think of a traditional meal of tortillas, cheese, salsa and beef, washed down with a Mexican beer with a lime in it, you can start to see a wonderful fusion of both indigenous fare with a good smattering of colonial Spanish seasoning thrown in – a mix known as mestizo.
Vicky Rodford, from our supplier Intrepid Travel:
Some people get concerned about the food. They think it is all tacos, fajitas and fast food. But the food is absolutely fantastic. Things like arrachera, which is a really tender cut of steak, usually served with plantains and guacamole. It is really delicious. Elote is corn on the cob with loads of cheese and mayonnaise - really simple, but really tasty. The food really is just gorgeous.
Taco
This goes back to pre-colonial tradition of using tortillas instead of cutlery to eat food. They consist of a corn or wheat tortilla flatbread wrapped around rice, meat, vegetable, chilli, tomato salsa and, if you aren't drooling enough, lashings of cream.
Quesadillas
Quite simply, melted cheese in a corn tortilla. Ideally stuffed with Oaxaca cheese, which is stringy and curdy. And very, very yummy.
Pambazos
A white bread roll filled with potato and chorizo. Lightweights need not apply; this is carbs on carbs.
Tortas
Another sandwich, this is a crusty, white bread roll known as teleras, smeared with beans before adding hot chorizo, melted cheese, avocado, tomato and lettuce.
Tamales
Oldie but goodie, this dates back thousands of years, and consists of a corn based dough (masa) that is steamed inside corn husks or banana leaves. Meats, vegetables and chillies are added, along with whatever sauces and salsas are available.
Our top Mexico Holiday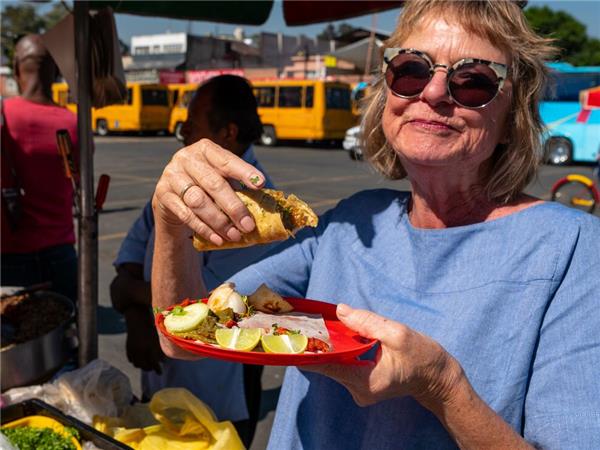 Get an authentic taste of Mexico on this 8 day tour
From
£1212

to

£1745
9 days
ex flights
Small group travel:
2023: 14 Oct, 11 Nov, 18 Nov, 25 Nov, 9 Dec, 23 Dec
2024: 13 Jan, 10 Feb, 24 Feb, 2 Mar, 30 Mar, 6 Apr, 20 Apr, 4 May, 29 Jun, 13 Jul, 10 Aug, 14 Sep, 5 Oct, 19 Oct, 9 Nov, 16 Nov, 23 Nov, 7 Dec, 14 Dec
If you'd like to chat about Mexico or need help finding a holiday to suit you we're very happy to help.

Huaraches
The huarache originated in Mexico City in the 1930s and is named after a traditional Mexican sandal, the shape of which gave the food its name. It has a dough base, in a long oblong shape, which is cooked on a griddle and topped with the usual delicious refried beans, cheese, salsa, chilli peppers and sometimes meat. It is left open, making it more like a pizza than a wrap.
Alambres
Definitely not one for vegetarians, this is a heap of chopped up beef or pork, which has been marinated and cooked on a spit or skewer, mixed up with onions, chillies and melted cheese, and usually served with a stack of tortillas on the side.
Al pastor
This word means 'shepherd style'. It is a lamb kebab introduced by Lebanese immigrants whose spit grilled shawarma is known all around the world.
Barbacoa
This refers to large pieces of meat, usually goat, beef or lamb, which have been steam cooked in an underground oven – rather than barbecued. The meat is slow cooked and wrapped in agave leaves along with herbs, spices and chillies. It is then shredded and wrapped in a tortilla with onion, cilantro, cream and guacamole.
Mole
Pronounced mo-lay, this is the national dish of Mexico. Mole really refers to the sauce which is then served with various meats and rice. This ancient recipe is one that families have long held under lock and key, and is prepared for special celebrations. Not surprisingly, therefore, there are many different versions. However, they all contain nuts, fruit and chillies, as well as at least 20 other ingredients. Easy versions are based on a mole paste that comes pre-made. Mole is particularly popular in the historic towns of Puebla and Oaxaca and indeed the former has its own version, known as mole poblano, which has become synonymous with mole now and contains chocolate and chilli. But there are now about as many moles as the French have cheese, and each one could be discussed (and digested) for hours.
Regional influences in Mexico
To get a real sense of the culinary differences in Mexico, a foodie holiday that includes culinary tours, market trips and cookery lessons is the way to go. Although you will only be scratching the surface in a country that has four time zones, just to give a picture of Mexico's scale.

However, there are some key places where food heritage is held in particularly high esteem. Check out breakfast bakeries, taco street food and mezcal bars in Mexico City; Puebla is considered the heart of ancient cuisine in Mexico, with classics like mole poblano, meats wrapped in maguey leaves, and where the indigenous herb epazote is often added to black beans. Puebla also has the tradition of eating bugs, the most famous being ant eggs, for those who dare.
Another regional speciality in Puebla is chiles en nogada. This dates back to the 1800s when Spanish nuns created this elegant dish with the three colours of the Mexican flag. It was a tribute to the first leader of Mexico after independence, Agustín de Iturbide, who came to visit them. It is made with green Poblano chillies stuffed with shredded meat and spices, then covered in a walnut-based white sauce (nogal means walnut tree), and decorated with red pomegranate seeds.
Oaxaca is street market heaven, and famous for its ancient culinary practices. Here you can visit the Mercado Tlacolula, one of the oldest markets in Mesoamerica, where Zapotec communities gather to create feasts such as barbacoa, or go for tasters at a local mezcaleria (mezcal distillery). Oaxaca is also famous for its stringy, delicious cheese, known quite simply as queso Oaxaca.

The Yucatán Peninsula and Baja are famous for their seafood. Fried fish with salsa and a red, peppery spice called achiote is typical here, although raw conch fillet doused with lime is also a regional specialty in Yucatán.
And finally, what will you be drinking?
The Spanish did not leave their wine culture behind them, but the Mexicans have certainly made up for this with their tequila, mezcal and margaritas, and heritage and contemporary beers.

Contrary to popular belief, you don't slam a tequila shot in Mexico. You drink it slowly, relaxed and with ice. It's a great present to bring home too, but make sure it is the 100 percent agave version.

Mezcal, from Nahuatl tradition, is made from the agave plant which is then crushed, distilled and is dangerously delicious. Tequila is a type of mezcal, although it is only made from one variety of agave, the blue agave. Mezcal can come in over 30 varieties and most of it is made in Oaxaca today.
As for Mexican beer, they can claim this one from long before the Spanish arrived, with ancient Mesoamerican cultures enjoying a cold one made from corn. Known as tesgüino or izquiate, it is still brewed in some states, and Oaxaca, Chiapas and Tabasco have their own version known as pozoi, made with corn and cocoa beans. Beer made with barley and other grains came in with the Europeans, and they haven't looked back, with Mexico being one of the world's largest beer exporters. Popular brands include Corona, Bohemia, Sol and Dos Equis.
There are lots of microbreweries popping up now too, if you want to go more local. Examples include Beer Lounge in Guadalajara and Cerveza Chaneque in Mexico City, although Oaxaca is becoming quite the hipster hangout now too, with craft beer bars offering a very contemporary alternative to the corner cerveceria or comida. No better country to get an avocado on toast snack to go with it, though.