Best time to go walking in Morocco

Always pack for the chilly as well as the hot – Morocco is a cold country with a hot sun, especially on the mountain trails.

The best time to go on a walking holiday in Morocco's High Atlas Mountains is Mar-Oct. In spring and autumn here, the sun is strong but the air is cool, although Apr can be wet. Summer is hot, and even the lower valleys of the High Atlas can hit 29°C; it's only above 3,000m that warm clothing is needed. Winter ascents of Jebel Toubkal are possible, but nights drop well below freezing, with snow typically from late Oct or early Nov. There is no snow in the Anti-Atlas, so the best time to trek here is Oct-Apr, with sunny days and cold nights.
Although some trekking routes in the High Atlas close in the winter due to snowy conditions, you can still join a trek to the summit of Jebel Toubkal, tackling the snow and ice with picks, crampons and experienced guides. The winter climbing season here begins in November, running through December, January, February, March and April. The Anti-Atlas Mountains sit closer to the Atlantic, with lower altitudes and latitudes than the High Atlas. It means the Anti-Atlas is the mildest of Morocco's mountain regions in winter. Walking is great from October to April, with warm days (15-20°C) and clear skies, but the nights are generally cold and sometimes drop below freezing. There is the occasional snowfall on the highest peaks and passes, but not enough to prevent walking. Due to its proximity to the Sahara, June, July and August right up to mid September are extremely hot. Spring in the High Atlas is wonderful as the wildflowers, from poppies to wild orchids, blue gentian to blankets of pink and purple scabious, pop up like magic. Spring is a fluid affair in the Atlas Mountains, starting as early as February in some parts. Temperatures become milder in the High Atlas come March, with highs of about 27°C, although it can still dip below freezing at night. The High Atlas Mountains are really lush in April, with walking great her right through until September or early October. In October, temperatures start to dip in the main walking regions, with an average of about 18°C, rather than the warm 25°C you can expect in September. If you're tackling Toubkal, be aware that there can be patches of snow in late April and early May and from the end of September, so crampons may be needed for April and October treks. There can be up to a 15°C difference in temperature between Morocco's lowlands and mountains during high summer. This can make it a hot 30°C in July or August in the High Atlas, while Marrakech is way up there in the 40s. There's no need to avoid Morocco during Ramadan. A few businesses and restaurants may shut, but walking holidays aren't affected, as local guides and drivers typically choose to work. Do keep in mind, though, that their energy levels may be a bit lower during this time. If you're spending time in Marrakech or other cities before or after your trek, you may find it quieter during the day, but at night there's a wonderful, festive atmosphere as locals break their fast and then come out to meet friends. In 2018 and 2019, Ramadan falls across May and June, and then April and May in 2020.
Our Morocco walking Holidays
Our top Morocco walking Holiday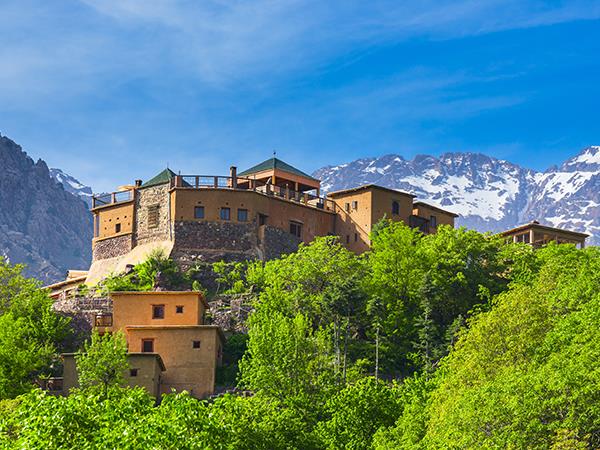 Stay at the Kasbah du Toubkal and trek in style
From €1036 6 days ex flights
Tailor made:
This trip can be tailor made at a time to suit you and can be adapted to suit your interests, budget and requirements as necessary
If you'd like to chat about Morocco walking or need help finding a holiday to suit you we're very happy to help.

RESPONSIBLE TRAVEL RECOMMENDS
Simon Clifford from our leading supplier of Morocco walking holidays, Exodus, has advice on the best time to take a walking holiday in Morocco:
"I think the best time to visit the Atlas Mountains is April, May and September. At these times it's warm but not too hot, and the highest peaks will have a little snow, adding to the beauty of the views on offer."
Mike McHugo, owner of Kasbah du Toubkal, sings the praises of spring in the High Atlas:
"What I love about spring in the High Atlas is that you get these spectacular vistas of the snow capped mountains whilst having spring flowers out, and all the new leaves out lower down looking up to the snow capped mountains as late as May. The poppies in the fields always look fantastic, and there are plenty of wild flowers by the side of the road, because there are no fertilisers and so on eradicating them."
More about Morocco walking