Where to walk in Morocco
---
OUR MOROCCO WALKING HIGHLIGHTS
Most walking holidays focus on the High Atlas, conveniently close to Marrakech. Trips also run from Agadir into the Anti-Atlas, which is more remote, with empty trails and fewer steep ascents. Guided walking is recommended, typically in small groups, or on an individual tailor made trip. Centre based breaks offer easy hikes out to Berber villages as well as more challenging all day loops around giant gorges and luscious valleys. Alternatively, opt for a point-to-point trek, wild camping or staying in simple lodges, with mules to carry bags and support staff to cook. A typical week's itinerary might involve five days walking in the High Atlas with time to enjoy Marrakech. Longer trips of 15 days range further afield, with the chance to summit several peaks over 4,000m on a single trek.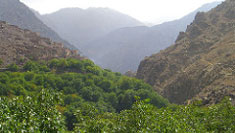 Azzaden Valley
More remote and less developed than the neighbouring Imlil Valley, the Azzaden Valley boasts a spectacular trekking lodge in Aït Aïssa village with its own hammam. From here, take easy walks to beautiful Berber villages, or try a more taxing seven-hour circuit – one takes in the Tizi n'Tzikert col at 2,930m, another particularly beautiful route passes the cols Tizi n'Teouti at 2,450m and Tizi n'Tougdalt at 2,700m.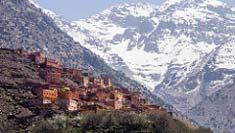 Imlil
Many walking holidays in the High Atlas begin in the gateway village of Imlil, dotted with pink houses and walnut trees and busy with trekkers and muleteers. From here, climb Mount Toubkal, trek through the Toubkal massif or take easy walks out to surrounding Berber villages, through wheat fields and apple orchards. The wonderful Kasbah du Toubkal is a 15-minute walk uphill from Imlil.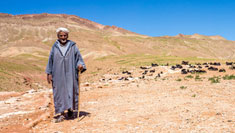 Jebel Aklim
This is one of the highest peaks (2,531m) in the Anti-Atlas Mountains. Climb it for spectacular views across to the High Atlas, then trek the Aklim Range circuit through villages surrounded by almond trees and palms, such as Irtem and M'dint, aka City of Cats. Here, brightly-dressed Berber people, who still lead very traditional lifestyles, are wonderfully welcoming.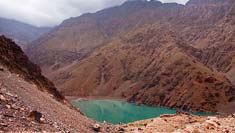 Lake Ifni
An out of the way, emerald green idyll, Lake Ifni is the only lake in the Toubkal massif, and lies at an altitude of 2,300m, encircled by towering mountains. There are great views down onto it from the steep southerly face of Mount Toubkal and if you're here in high summer a swim may appeal, but might be bracing – at this height, the water is icy cold!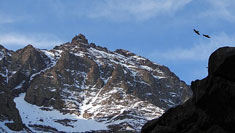 Mount Toubkal
Jebel Toubkal is the highest peak in North Africa, with views to the Atlantic coast and Sahara Desert from the summit. Reaching the top, at 4,167m, is a strenuous trek in all seasons and shouldn't be attempted without a guide. Beginning in Imlil, the climb usually takes two to four days, with different routes available, staying in mountain refuges or wild camping.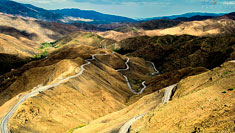 Tizi n'Tichka Pass
This is the highest road pass in Morocco; a switchback but scenic route that signals the start of the High Atlas walking territory – a landscape vastly different to the plains below but only an hour and a half from Marrakech. At 2,260m, there are great views over the mountains that await, before the descent into the Azzaden Valley, famous for its juniper forests.



Hello.
If you'd like to chat about Morocco walking or need help finding a holiday to suit you we're very happy to help.
Rosy & team.
01273 823 700
MOROCCO WALKING HOLIDAYS TRAVEL ADVICE
---
TIPS FROM OUR FRIENDS IN MOROCCO

Simon Clifford from our leading supplier of Morocco walking holidays, Exodus, has advice on when to visit, where to walk and what to do besides…
When to walk in Morocco
---
"I think the best time to visit the Atlas Mountains is April, May and September. At this time it's warm but not too hot, and the highest peaks will have a little snow, adding to the beauty of the views on offer."
Walking tips
---
"Climbing Mount Toubkal is quite challenging and we wouldn't recommend it to first time climbers, or people not used to walking. A really nice introduction to walking in the Atlas Mountains is to stay in the remote village of Tijhza for a week, staying in a basic gite, and taking day walks up into the mountains each day."
Tips on other activities
---
"Make sure you visit a traditional hammam. There are lots of tourist friendly ones, but they're more like western spas. If you're not lying on the floor, you're not in a traditional hammam!"
What to wear
---

Mike McHugo, owner of Kasbah du Toubkal, has advice on dress in the Atlas Mountains:
"Even for a day excursion it is worth coming to the High Atlas and people are absolutely astonished when they walk up the Imlil Pass, just an hour and a half from the hustle and bustle of Marrakech's central square. We do ask people to remember that dress codes do differ in the mountains from Marrakech. In Marrakech it's not unusual to see women in shorts, skirts above the knee, and scant or see-through tops. While it's still not appropriate in Marrakech it's much more shocking for people in villages — many of whose homes and front doors you'll be walking past on a hike."
MOROCCO WALKING HOLIDAYS TRAVEL ADVICE
---
TIPS FROM OUR TRAVELLERS
"You only need one warm jacket! I took that plus a fleece... Cut down on clutter! Take a good torch. A walking pole is a must for the scree on Mount Toubkal. " – Jan Gardner

"For the Mount Toubkal climb, I would say GET FIT. Do lots of climbing practice – both ascents and descents – and practice with a day pack on your back. Also bring a camera that can take good photos, the scenery is stunning." – Pam Harris

"Respect the rich culture of the Berber people and enjoy the freshness of being in the High Atlas mountains." – Ulf Karmeback

"Take a good pair of boots and a big appetite (the size of the meals is amazing)." – Colin Ingram

"Make sure you're in the best possible shape. Some days can be way tougher than one might imagine. And follow the example of the locals: always smile!!" – Otto Pereira

"Take the fact you will be in a Muslim country seriously and no vests/skimpy tee-shirts and shorts for women; bring a book(s) to read; try and get as much loose change (coins) in dirhams as you can as in remote places they find it hard to change large notes." – Amanda Dudman

"Be prepared to eat like royalty and to learn some minimal Berber/Arabic in order to reciprocate the generous and courteous welcome offered by local people. Also be prepared (whatever your walking pace) to compromise and to work as a group member, helping each other out and finding ways round any challenging moments." – Nicola Webb