Shopping tips
Simon Clifford, from our small group adventure experts Exodus Travels, is the go-to guy for Morocco travel advice: "Avoid getting taken into a shop: carpet or otherwise. It's much harder to leave without buying from inside! Be firm with shopkeepers and stall holders. You don't have to buy anything! And don't be put off by street food, as it's fine – really tasty, with huge portions for what you pay. Try to get small denominations of dirhams; locals struggle to change large notes. Leather goods in Morocco are good, but never buy them on the outer stalls of the souk. Go as deep as you can as they'll be at least half the price."
Food tips
Anthony Horrobin, from our adventure specialists Encounters Travel, says: "In Marrakech go out to eat early, around 5pm, so that you can secure a balcony seat in one of the restaurants. From there you can watch the sunset and the square fill up. I highly recommend the restaurant Dar Essalam. It isn't really touristy, it has traditional musicians and the food is amazing."
Our top trip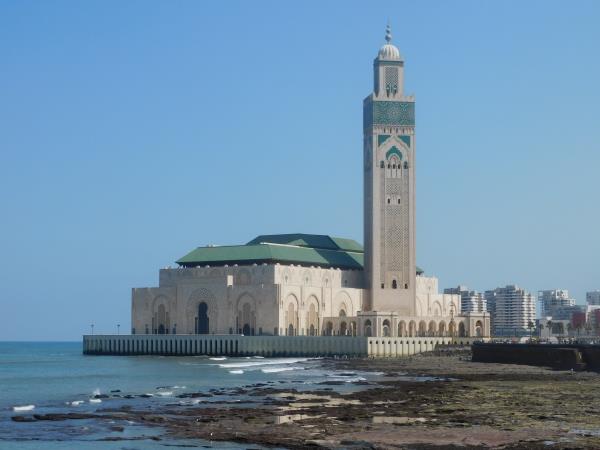 Adventure, city and coast tour around marvellous Morocco!
From
£1039

to

£1099
14 days
ex flights
Small group travel:
2023: 7 Dec
2024: 28 Jan, 11 Feb, 25 Feb, 10 Mar, 24 Mar, 7 Apr, 21 Apr, 5 May, 19 May, 2 Jun, 16 Jun, 30 Jun, 14 Jul, 28 Jul, 11 Aug, 25 Aug, 8 Sep, 22 Sep, 6 Oct, 20 Oct, 3 Nov, 17 Nov, 8 Dec, 23 Dec
If you'd like to chat about Morocco or need help finding a holiday to suit you we're very happy to help.

Health & safety in Morocco
HEALTH
There are no required vaccinations for travel to Morocco, but always check NHS site Fit for Travel for more details. Always travel with a basic medical kit, including Imodium for stomach upsets. Ensure to bring your own prescription medicines along with a copy of your prescription.
The biggest health warning is to drink a lot of water. That and protect yourself from the sun with all possible methods. If you do get dehydrated through illness or heat, the 1tsp salt/8tsp sugar/1L water ratio combo works a treat.
If you are driving in the sand dunes, be warned that motion sickness can be an issue. It doesn't occur to many people but bring sea sickness tablets to the desert in case.
If you are hiking in the High Atlas, altitude sickness can be an issue, particularly as you hit the nausea territory of around 2,800m. Altitude sickness can hit anyone, so be aware of the symptoms and follow your tour operator's advice on acclimatising slowly.
The water sellers in the souks did serve a real purpose in the past, but now they are mainly there to be photographed. The water they dispense does not have a good record in terms of cleanliness, so stick to bottled or purified water when possible.
Be careful when it comes to stroking dogs and cats, because rabies does exist in Morocco. Do warn your children too, whose natural inclination is to stroke the animals.
Be wary of swimming in fresh water lakes or streams, as there is a parasitic infection known as schistosomiasis that is caused by a parasite entering the skin. For further information see NHS Fit for Travel website.
SAFETY
Most visits are trouble free, however terrorism is sadly a reality of travelling in these times. Tourists are asked to be vigilant as Daesh (formerly referred to as ISIL) sympathisers are known to have been operating in the country. Consequently, the Moroccan government established the Bureau Central d'Investigation Judiciaire (BCJI) in 2015 to combat such threats. Always get up to date information at the Foreign and Commonwealth Office (FCO) travel advisory department before travelling to Morocco.
In the event of an emergency, call 150 for an ambulance, 15 for the fire brigade and 190 for police.
As tempting as the oceans might appear, sea currents can be very strong on some parts of the Moroccan coast. Always seek advice about safe swimming and surfing areas.
The outdoor activity market is growing rapidly in Morocco, with climbing, rafting, kayaking some of the ones to watch. However, as it is still relatively new to these activities, ensure that you travel with a responsible tour operator who can guarantee that all equipment and guiding meets high international safety standards. Wear a helmet when necessary, ensure there are buoyancy aids for water activities, and don't be afraid to ask what their safety procedures and knowledge of first aid are.
Morocco has a poor road safety record, so drive carefully and don't take any unnecessary risks.
The Western Sahara region is a disputed territory with a history of conflict. The Foreign and Commonwealth Office advises against all travel to most of this region, not only because of potential conflict, but also because there are territories known for land mines. Read more on the FCO website.
Con artists and tricksters, or downright thieves, are a feature of Morocco, so be very careful whose story you are listening to.
Morocco tips from our travellers
At Responsible Travel, we think the best people to advise our travellers are often... other travellers. They always return from our tours with packing tips, weather reports, ideas about what to do – and opinions about what not to.

We have selected some of the most useful Morocco travel tips that our guests have provided over the years to help you make the very most of your holiday – and the space inside your suitcase.

Don't buy at the first shop, you will see the same things along the way, and it's really worth getting prices from a few places before you start the inevitable haggling process!

"It's freezing in the Sahara at night, so take the blankets they offer and any clothes that you have. You'll need the vocab sheet they send you beforehand as you'll need to communicate! They are really very friendly, so join in with things they do to get the most from it. However, they don't do much in the day, it's just their way of life – chill out and enjoy the scenery." – Emma Langridge stayed with a Berber family

"Make sure (if you go in the winter) that you take something to cover your eyes from the dust (ski goggles might be useful) and also a nice warm sleeping bag." – Christopher Duxbury on our holiday in the Sahara

"The rooms in the kasbah and the lodge have a fridge, so if you like to have a cool beer bring some with you." – Joan Regan on our luxury trekking holiday in the Atlas Mountains

"Do not underestimate how cold it will be if you go during November/December! Forget any 'glam' clothes and concentrate on the thermals! Take lots of antiseptic hand gel and use it all the time." – Stephanie Edwards

"Do as much research as possible on the places visited because it is very intense and too much to absorb during the trip." – Angela Petardi

"Take lots of cash because you will want to shop, but many places don't take cards." – Katherine Klinger

The most memorable part of the trip was the Sahara desert. We slept under the stars, had ice on the sleeping bags but watched a glorious sunrise.