Hiking in the Atlas Mountains

The Atlas Mountains are home to the Berber people. This name was given by the Romans and means barbarian. Their real name is Amazigh, meaning 'free people'; and when you go hiking in the Atlas, this is exactly how you will feel.

If you look at images of the Atlas Mountains range taken from space, they sit like a ruby red tiara on top of a continent that is glistening with natural gems. Scaling Morocco from north to south, their geographic dominance creates a soothing shadow over the seaside-and-souk tourism that the country is known for. And rightly so, for the trekkers of the world, because these are some of the most dramatic, eclectic and culturally rich mountain areas within easy reach of Europe. There are valleys for gentle hikes, ridges and cols for those in search of a bit more of a challenge and prolific peaks for summit seekers. Jebel Toubkal is the highest peak in North Africa and a tough climb up to its snow covered summit at 4,167m.
The ranges
The Atlas Mountains stretch for 2,500km through Algeria, Morocco and Tunisia and are divided into several ranges: the High, Middle and Anti-Atlas, all in Morocco, and the Saharan, Tell and Aures ranges, all of which dominate Algeria and Tunisia. Hiking holidays in the Atlas Mountains are in the Moroccan ranges, traditionally the homelands of the Berber people who have welcomed hikers into their small communities with open arms.

The High Atlas in central Morocco, south of Marrakech, is home to the jewel of all jebels (Berber for mountain) – Mount Toubkal – as well as the national park that protects it. Moving further south, the lower peaks of the Anti-Atlas open up a hiking heaven, with peaks such as Jebel Aklim (2,531m) with views that go on forever where hikers can doff their caps to the master massif further north. The Middle Atlas in the far north-west are the backdrop for Fez and Meknes, and more set up for daytrips than full-on mountain immersion.

If ever there was a place to stop carrying the world on your shoulders, it's the Atlas.

The routes
Hiking in the Atlas Mountains takes you into an elevated wilderness that is influenced by the heat of the desert as well as the big freeze associated with big peaks, proffering luscious valleys with juniper forests, almond or argan groves, and fast flowing rivers and waterfalls. Your hiking holiday will probably dip in and out of each exquisite landscape where, unlike the Alps, you won't find cable cars, congestion or commercialism. You can base yourself at a luxury kasbah in the Azzaden Valley, and take daily hikes up to the likes of Tizi n'Tzikert col at 2,930m or Tizi n'Tougdalt at 2,700m. Or visit less arid spots such as the Aourwiz Waterfall. Hiking can be done on all budgets here, so another option is to stay at a more moderately priced mountain gite and hike from Tijhza village through Tizi'n'Ourghsan pass.
For peak seekers, one of the most popular summits aside from Toubkal is Morocco's second highest, Jebel Ouanoukrim, at the southern end of the High Atlas. Valleys and ravines drop down to the desert plains below and the Anti-Atlas rise out of them in the distance. Do this in the winter months to get that sand-and-snow photographer's dream. Another hiker's highpoint is Tizi n'Tacht Pass, which rises from the plains of Marrakech and takes you up to elevations of 2,000m with views over sun-kissed mountains in many directions. When you are hiking in the Atlas Mountains, the routes are myriad and the views are miraculous. For more details, see our
Atlas Mountains travel guide
.

If you are hiking in the High Atlas, altitude sickness can be an issue, particularly as you may hit nausea territory at around 2,800m. Acclimatise slowly and always listen to your mountain guide.

The roof
At 4,167m, Mount Toubkal (or Jebel Toubkal) is a Mecca of mountaineering. It's not really one for hiking holidays per se, as this is a seriously strenuous trek in all seasons, and one only to be undertaken with good levels of fitness and under the guidance of highly qualified high mountain guides. You can trek it all year round, but spring and autumn are the best times to avoid extreme temperatures, and it is covered in snow throughout most of the year. In winter, however, proper alpinism techniques are necessary and can take anything from two to four days to summit. The gateway town is Imlil, just over an hour from Marrakech by road, but from here on in lies another wild world.

We slept on plateaus in the Anti-Atlas during our hiking holiday, and so we got the sunsets as well as the sunrises. Nothing like it, really.

The resting places
Apart from the stargazing and utter serenity, there is nothing like an Atlas Mountain slumber, with beds to suit every budget. Experience wild camping tucked into river valleys or on open plateaus at 3,000m elevations with sunset views out to Toubkal. If you are taking on some of the higher peaks, the most common accommodation is basic mountain huts, also known as refuges. These have seen trekkers take their rest for years and years, the most famous being Neltner or Toubkal Refuge which is the last one before summiting the mother massif, and was built in 1938 by the French Alpine Club. At the other end of the scale, you can stay in luxurious kasbahs in the Atlas Mountains, with hammams to revive your muscles and superb Moroccan food to fill those hollow hiking legs. Still in keeping with traditional architecture and cultural influences, hiking in the Atlas Mountains while using a kasbah feels as if you have been transported by magic carpet to another world.
Our top Morocco Holiday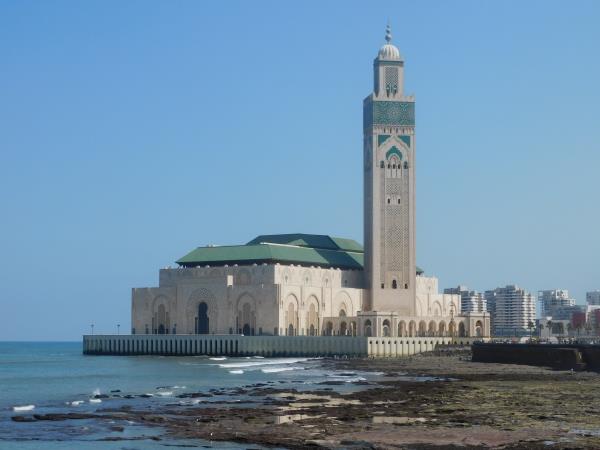 Adventure, city and coast tour around marvellous Morocco!
From
£1039

to

£1099
14 days
ex flights
Small group travel:
2023: 15 Oct, 29 Oct, 12 Nov, 26 Nov, 7 Dec, 23 Dec
2024: 28 Jan, 11 Feb, 25 Feb, 10 Mar, 24 Mar, 7 Apr, 21 Apr, 5 May, 19 May, 2 Jun, 16 Jun, 30 Jun, 14 Jul, 28 Jul, 11 Aug, 25 Aug, 8 Sep, 22 Sep, 6 Oct, 20 Oct, 3 Nov, 17 Nov, 8 Dec, 23 Dec
If you'd like to chat about Morocco or need help finding a holiday to suit you we're very happy to help.


When you visit the Atlas mountains with the Berber, the sense of independence and freedom that they exude is totally infectious.

The real life
The Atlas Mountains are home to the indigenous Berber people who have inhabited them for at least 5,000 years. Living in small clusters of adobe houses clinging to mountainsides or tucked into shady valleys, surrounded by almond or walnut groves, goat farms and ancient shepherd trails, their homes are often only accessible by mule or on foot. Many of your guides or porters will be Atlas Berber people, and there are no better people to guide you through these magnificent mountains that they know so well and have instinctively protected for generations.

On our Atlas Mountains hiking holidays you will stop for traditional mint tea or meals at Berber homes en route. The Berber people understand the mountains in the same way that the Quechua people do the Andes. They still shepherd here, maintain subsistence farms even when shut off from the world in winter, and their muleteering skills go back generations. A dignified and welcoming people, it is an honour to hike with them in their ancient, unspoiled homelands.