Best time to visit Morocco

Whatever the time of year, make sure you catch both sunset and sunrise in the Sahara.

Morocco has four seasonal powers of seduction. With two climate zones, the country divided by the High Atlas, and the Sahara spreading out towards the coast, we are talking baking, breezy or even blizzards. However, each season has a claim on being the best time to visit Morocco. The Atlantic winds or elevation of the High Atlas cool you down in summer. Spring creates a cooler ambiance in the deserts and flora filled expeditions for hikers. The coasts are mild in winter if you need an elixir to get you through the dark, dismal months.
If you want to ski, the season can be brief. The best time for pretty much guaranteed snow is mid-January to mid-February. Winter walking is a better option with a longer season. As there is no snow in the Anti-Atlas, you can enjoy mountain life during December, January and February, with sunny days but cold nights. Desert dust storms are at their most frequent between February and April. The most popular time for hiking throughout the Atlas ranges is between March and November. April and May are good desert choices. The desert is just too hot June-September, so if you want to explore it properly, best to visit outside these months. However, temperatures can drop by 20°C in the desert between night and day, so be wary of this and check temperatures in advance. And be prepared with a good sleeping bag if you are camping. If you can handle hiking in the heat, July and August are hot in the Anti-Atlas, but not off the scale desert madness like the rest of Morocco. Temperatures in the Sahara are simply baking in August so stay clear. However, they could be 15°C lower in Essaouira on the coast in July and August, for example. The Atlantic coast sees plenty of rain in the winter months, especially around Casablanca. The further south you go, the safer the bet at this time of year, as the desert climate creeps in. Some people resist travelling during Ramadan, as a few businesses shut down. But in the main tourist spots, most stay open, the evenings come alive as people come out to eat en famille, and witnessing this important religious event feels like an honour for many non-Muslim visitors.
Our top trip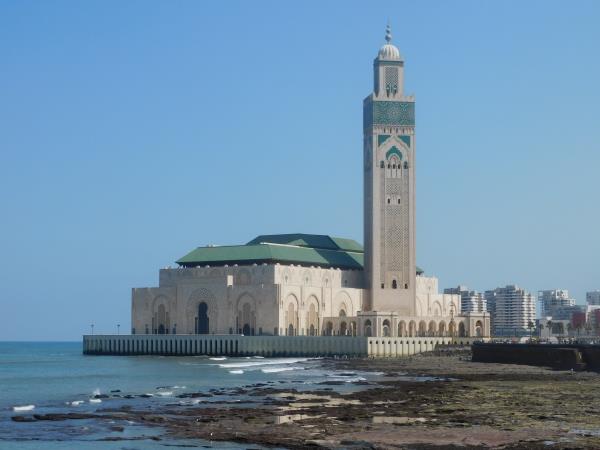 Adventure, city and coast tour around marvellous Morocco!
From £1039 to £1099 14 days ex flights
Small group travel:
2024: 28 Jan, 11 Feb, 25 Feb, 10 Mar, 24 Mar, 7 Apr, 21 Apr, 5 May, 19 May, 2 Jun, 16 Jun, 30 Jun, 14 Jul, 28 Jul, 11 Aug, 25 Aug, 8 Sep, 22 Sep, 6 Oct, 20 Oct, 3 Nov, 17 Nov, 8 Dec, 23 Dec
If you'd like to chat about Morocco or need help finding a holiday to suit you we're very happy to help.

Best time to visit Morocco
Anthony Horrobin from our adventure specialist Encounters Travel:
"For the best time to travel to Morocco generally, I would say that April and May or September and October. For the Atlas Mountains, I would say between April and September. The winter can get pretty snowy and dire up there to be honest."
Simon Clifford is a Morocco expert at our partners Exodus Travels:
"March to June and September to November are the best times to visit Morocco. It's not too hot at these times. The winter months can be surprisingly cold, especially in the mountains."
Festivals & events in Morocco
Did you know about...?
The Dades Valley of Roses, with its Rose Festival in El Kelaa M'Gouna, are famous in May as the fields are full of sweet smelling pink Damascus roses. Sweet tastes are to be had in October and November too in the Drâa Valley, as it's date harvest time. Combine this with a trip into the Sahara, when temperatures have dipped.