Why go on a small group holiday to New Zealand?
New Zealand lends itself perfectly to roadtripping: small enough that you can see a lot of it in a fairly short period of time, yet large enough so that every destination has its own distinct appeal. But plotting an itinerary can take weeks of research, and of course not everyone is content to go off exploring by themselves. So for those that prefer to leave the logistics to others while they get on with enjoying their holiday, a small group tour of New Zealand is the ideal solution.
Itineraries will have been crafted by suppliers that have years of experience in what works and what doesn't, condensing many of the main highlights of New Zealand (there's an awful lot of them) into a few weeks, without wasting valuable time. A standard two-week sightseeing trip would usually cover both North and South Islands, starting in Auckland and finishing in Christchurch, taking in the Bay of Islands, Rotorua, Wellington, Kaikoura, Queenstown, Fiordland. Typical experiences include boat trips, short walks, cultural encounters such as visits to Maori villages and wine tasting.
As New Zealand is a long haul destination for most, longer trips that help you make the most of it are plentiful – think 21 or 23 days. Shorter trips of nine days which focus on South Island, or four days, which focus on the North are also possible, and slot in well into a longer, independent exploration of the country. You can find a good range of activity holidays, too, with small group trekking, adventure and cycling small group holidays of varying durations.
If you had less time available you might spend a week seeing just one island in detail, or you could travel for longer to see a host of other, perhaps lesser-known destinations such as Paparoa National Park. Smaller groups are capable of visiting places that large parties cannot. For instance, on some tours you may even be invited into the homes of local people for lunch.

Groups tend to bond pretty quickly and easily on this kind of trip, and you may well find yourself spending even your downtime socialising with the people in your group and making lifelong friends. That said, if you want to head out on your own for some meals or to explore a city solo in the evenings you will be free to do so.

It's hardly surprising then that many people find themselves hooked after their first small group tour and end up taking them again and again, in New Zealand, or anywhere in the world. Good company, and fewer logistical headaches, go a long way. And no, you won't be following an umbrella around the whole time.
Getting around
There are some long drives involved when travelling in New Zealand, so comfort is a major consideration. Comfortable, small coaches that seat up to 18 people, with reclining seats, climate control and large picture windows, plus the essential – plenty of legroom – make travel easy and pleasant. Seating arrangements are rotated so that all passengers get to see the country from every angle and you'll have the chance to meet everyone in your group. Smaller vehicles such as this also mean you can reach more out of the way places.
Who will I be travelling with?
The myriad activities and experiences of New Zealand are that bit more enjoyable when shared with a group of like-minded people of similar age. Encountering a dolphin or a cheeky kea bird, getting caught in a sudden rainstorm, or chatting over meals and walks – all are great bonding experiences. In New Zealand, this type of trip tends to appeal to people aged 50 and up, though that's far from exclusive. Expect group sizes of around 15-16 people with a maximum of 18. Small group trips provide a rousing group dynamic, and plenty of camaraderie, and if you want to read a book or doze off for a while, no one's going to mind. Who knows, you may even end up making friends for life.
Local guides – the magic ingredient
As anyone that's ever taken a small group tour will know, the quality of your guide is all important. Good local guides offer greater insight into the places you visit, answer questions, offer reliable restaurant recommendations and just add that little something extra that you can't get from a guidebook or your phone (although, of course, our own travel guides are the next best thing). Small group tours are accompanied by Kiwi guides that are experienced, friendly, knowledgeable and above all passionate about sharing their country – painting your experiences a lot more vividly.
Our top New Zealand Holiday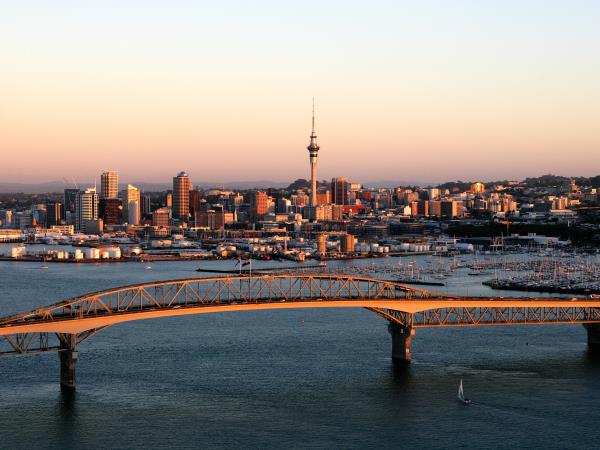 Small Group Tour - North and South Island of New Zealand
From
£6090
23 days
ex flights
Small group travel:
2022: 12 Oct, 23 Nov
2023: 18 Jan, 8 Feb, 22 Feb, 22 Mar, 5 Apr, 10 May
If you'd like to chat about New Zealand or need help finding a holiday to suit you we're very happy to help.

Flexibility
Small group tours tend to follow a more flexible, unhurried itinerary than larger tours, and don't need to stick to a very tight schedule. So if your table wants to linger over dessert at lunch time, or you're not ready to move on quite yet from the sand dunes of Hokianga Harbour, you can stay another half an hour or so. While there is a structure to each day, there's no mad rushing around if you're a few minutes behind. This is a holiday, after all.
Accommodation
When you're on a sightseeing trip that combines busy itineraries with often long journeys, you want to know there's a comfortable accommodation waiting for you every afternoon. You'll stay in carefully selected hotels, often with excellent facilities ranging from laundry to on-site restaurants and bars, heated outdoor pools and fully equipped gyms, well positioned for exploring the area you're staying. You might be right across from the harbour in Kaikoura, overlooking Aoraki (Mount Cook) from your room, or moments from the scenic lakeside walk in Wanaka. This kind of trip is an excellent option for the solo traveller, and most groups will have at least one or two, but if you want to have your own room, rather than sharing with someone of the same sex, it's likely you'll need to pay a single supplement.

On a small group trekking holiday, you can expect a mix of accommodation, from hotels to lodges, shared cabins, huts and tents while out on the trail. You'll be expected to bring your own four season sleeping bag, and will be sharing facilities.
Convenience
Another big bonus is that when you take a small group holiday in New Zealand all the logistics are taken care of on your behalf. Accommodations; booking activities such as Marlborough vineyard tours, whale watching in Kaikoura or the Dart River jetboat; Cook Strait ferry crossings between Wellington and Picton or internal flights from Milford Sound back to Queenstown – you just sit back and enjoy your holiday, and if you do have any problems, the tour leader is at hand to resolve them. You move around a lot, but actually the entire experience is usually really restful.