Best time to go to the Northern Territory

Even during peak tourism months of June and July, it isn't hard to get off the beaten path in NT. It should be called MT, really – because it's always empty.

NT covers two climate zones; the Top End is tropical and humid and the Red Centre pretty much every colour on the orange, red and pink spectrum all year round. The northern tropics have summer rains from Nov or Dec to Apr, which bring luscious, tropical landscapes bursting into life, plus huge relief from the intense humidity. The best time to go to the Northern Territory is in the dry season, from May-Oct, when the Red Centre is at its coolest, although it's all relative; NT's capital, Darwin, has an average temperature of 32°C all year round.
Northern Territory, MONTH BY MONTH
Kakadu National Park is at its greenest and most gorgeous just after the rains end in March or April.
If you are planning to travel on the Ghan Railway which links Adelaide, Alice Springs and Darwin it goes once a week from November to March, and twice a week between April and October.
Mary River National Park is teeming with wildlife all year around, although some local businesses don't open again until end of March towards the end of the wet season. Average rainfall goes from 17 days per month in March to six days in April.
Birdlife in the Mary River Wetlands and the Top End generally is at its most busy July, August and September. During this period up to a third of Australia's bird species congregate in this one place.
Kakadu National Park is vast and so certain sections may not be accessible at certain times, particularly during the wet season. Check out the Australian National Parks website for daily updates. The dry season in May to October is the busiest so you need to book accommodation in advance, although your tour operator will handle this for you.
You will have far fewer visitors at Kakadu National Park during the tropical summer months of November to April, with dramatic storms illuminating a vibrant green landscape. Flooding does close some attractions but many stay open such as Nourlangie (Burrungkuy) and Yellow Water. The waterfalls are gushing madly and often inaccessible, making this a very popular time to take a flight over them to see them in full flow.
The killer box jellyfish season around the coast is October to May. Don't take any risks on beaches that have 'beware stinger' signs, and only swim where there are lifeguards. Unlike tropical Queensland, there are no stinger nets to enclose swimming areas in NT. Maybe because the crocs would eat them anyway! Offshore islands such as Bremer are a safer bet.
Anzac Day, 25 April, coincides with the Tjungu Festival as an Aboriginal alternative to traditional remembrance ceremonies. 'Tjungu' means 'meeting together' with Inma dancing, bush food stalls, artists, performers, musicians and sporting events held at Uluru over four days.
In Darwin, most of the rain falls between January, February and March, which is the most common time for cyclones too.
The busiest time for tourists in Northern Territory is the Australian winter holiday, which is end June to end July. The popular sites can be packed at that time.
Our Northern Territory Holidays
THINGS TO DO IN NORTHERN TERRITORY
Things to do in Northern Territory…
Learn about Aboriginal culture. Northern Territory is the beating heart of Aboriginal culture, with stories, songs and skills that span tens of thousands of years. There are 11 Aboriginal peoples in NT, all with an innate sense of stewardship of their sacred lands. Since the 1976 Aboriginal Land Rights Act was passed, the Aboriginal people had their native title over much of the NT land restored. Half of Kakadu National Park is Aboriginal owned but leased to the national park and entry to Arnhem Land is allotted on a strict permit only basis. Visit rock art, learn about bush craft and tucker, go fishing or sailing with Aboriginals and immerse yourself in a culture of Dreamtime and songlines.
Explore the Olgas. Uluru is the biggest ruby in the Red Centre's crown, protected by Uluru-Kata Tjuta National Park. Uluru needs no introduction, but Kata Tjuta is the highest of 36 other sandstone mounds known collectively as the Olgas. Explore these spectacular sights with Aboriginal guides from the Anangu people, often timed to coincide with sunrise or sunset. It's about 22km around the circumference of the Olgas and 10km around Uluru.
Wildlife watching is nonstop in NT, with top billing going to Kakadu National Park, the largest in Australia, where wallabies and wallaroos, crocodiles and over 280 species of birds are just some of the attractions. Take in the buffalo and birdlife in the wilderness wetlands around Mary River National Park as part of a mammoth, three-week tour by train from NT to New South Wales.
Things not to do in Northern Territory
Climb Uluru or the Olgas. Please respect Aboriginal heritage as well as the signs, no matter how many people are being irresponsible and ignoring them. It is also dangerous. The hike around Uluru with an Aboriginal guide will take you into a whole other world anyway.
Refer to Aboriginals as indigenous people or Aborigines. Both are seen as de-identifying and are also associated with colonial times when Aboriginal people were lumped into one group. The term 'Aborigine' is particularly synonymous with crime, disadvantage and discrimination. Try to use the clan name, such as the Anangu people – aka Pitjantjatjara – at Uluru, or the Yolngu people in East Arnhem. There are 11 Aboriginal groups in Northern Territory in all and over 500 in Australia as a whole. The terms First Australians, Australia's First Peoples and First Nations Australia are also acceptable.
Mess with the wilderness. If you are on a self drive holiday, make sure you have enough supplies in case you break down. Go hiking with an expert guide, always make sure you drink enough water, protect yourself from the sun and don't touch any wildlife. Even ants. If bitten by something get to a hospital asap. When 'going bush' always cover up with long trousers, socks, headgear and sensible footwear.
Ignore the box jellyfish which hang out in the waters around Darwin from October to May; their stings can be fatal. Beware of the signs, and look out for bottles of vinegar on the beach which is the only antidote. Always check with local people before swimming, as there can also be crocodiles. The offshore islands are the safest places to swim.
Our top Northern Territory Holiday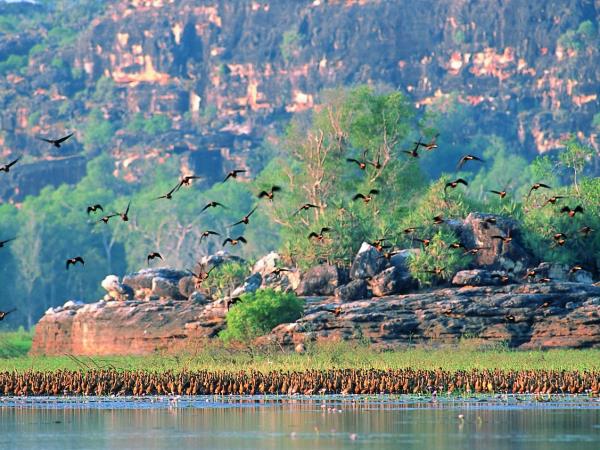 Explore the Kakadu and Arnhem Land on this epic safari trip
From £3537 10 days ex flights
Tailor made:
This itinerary starts and finishes in the state capital of Darwin, making it ideal to add to any of our tailor-made itineraries to Australia utilising the extensive flight connection possibilities.
If you'd like to chat about Northern Territory or need help finding a holiday to suit you we're very happy to help.

NORTHERN TERRITORY TRAVEL ADVICE
Where to go in NT
David (Thommo) Thomson, Northern Territory expert with our supplier, Intrepid Travel:
"Uluru is a really special place for me – I've guided 250 trips to Uluru and even now I still get the hairs on the back of my neck standing up. The size of Uluru pales into comparison to the depth of the local (Anangu) culture and knowledge. In Kakadu National Park, Gunlom Waterhole is a magic spot. It's like sitting in an infinity pool, but you're on top of the Kakadu escarpment overlooking a vast, natural landscape."
Best time to go tips
David (Thommo) Thomson, Northern Territory expert with our supplier, Intrepid Travel:
"I love to visit the Northern Territory in the shoulder seasons. In the Red Centre, April and October are my favourite months. The summer months can have temperature up to 40°C and winter months can have nights below zero – it's a semi arid desert region, after all. The 'in between' months are not too hot, not too cold and not too busy. My favourite time to visit the Top End is April to May. The whole ecosystem is pumping with wildlife and waterfalls, and the swimming waterholes are crystal clear, following the heavy rains of the wet season. For the most part the skies are clear, and landscape is lush and green after the wet. What amazes me is that there are not many people about, so you're often experiencing waterholes in a world heritage listed park by yourself."
Tjungu festival
Aimy Hasson, from our supplier Lekker Boutique travel:
"Tjungu Festival coincides with ANZAC Day to provide an Aboriginal alternative to traditional remembrance ceremonies. Aṉangu people are considered to be the Aboriginal owners of Uluru, and in Aṉangu language 'Tjungu' means 'meeting together' with Inma dancing, bush food stalls, artists, performers, musicians and sporting events all held at the Ayers Rock Resort over a long weekend in April."
Packing tips
David (Thommo) Thomson, Northern Territory expert with our supplier, Intrepid Travel:
"In a semi arid desert most people forget that it gets really cold at night. If you are visiting Uluru between June and August you need to take a warm jumper, and even a beanie. Bring a decent camera. This is still a big mistake that I make – I don't know how many times I've spotted something amazing and taken a photo to realise that my dodgy phone isn't going to do the moment justice. Don't overpack. Maybe it's an insecurity thing, but it's amazing how much 'stuff' some travellers carry on their trips. I've got a camera, clothes, and a towel which weigh a total of 5kg. On our Red Centre trips the limit is 15kg. In the Top End it's 10kg. The weather in the Top End is always warm so you don't need to carry much."
Aboriginal culture
David (Thommo) Thomson, Northern Territory expert with our supplier, Intrepid Travel:
"The cornerstone of our business is supporting the local people. We include four different First Peoples experiences in our itineraries in the Northern Territory. Please make sure you ask local people for permission before taking photos."
Aimy Hasson, from our supplier Lekker Boutique Travel:
"Aboriginal cultural centres are the best places to learn more about Aboriginal culture and traditions. We recommend Tangentyere, Warradjan and Kakadu National Park in the Northern Territory."
NORTHERN TERRITORY TIPS FROM OUR TRAVELLERS
At Responsible Travel, we think the best people to advise our travellers are often... other travellers. They always return from our tours with packing tips, weather reports, ideas about what to do – and opinions about what not to.
We have selected some of the most useful Northern Territory travel tips that our guests have provided over the years to help you make the very most of your holiday – and the space inside your suitcase.

Ensure you book well in advance to get the best fare deals. Take out additional insurance if you book a car as an accident could cost you over AUD 3000. Use cash where possible as the surcharge on credit cards is high.

"Arnhem Land. This is one of the most special places I have ever visited. It's Aboriginal Land, and only about 6 small tour operators are licensed to take visitors in. As a result we felt less like tourists and more like we'd been given the key to a semi-secret land. It's enormous, and looks and feels wilder than Kakadu. Perhaps the highlight was the visit to the Art Centre and the cave paintings at Gunbalanya."
– Justin Francis

"Probably more important for Europeans than Canadians or Americans (who live in big-scale countries): realise emotionally, not just intellectually, that once you leave the eastern coast, Australia has a whole lot of geography with relatively few communities, people or manmade attractions/distractions. You're going to spend many hours travelling through countryside before you hit on another community or 'Thing To Do'. If you think that countryside is empty, rather than rich in and of itself, pick a different holiday. Canadians get this fact automatically, because that's our own reality. For Europeans (including Brits), it can be dismaying." – Penny Williams

"Uluru. Camping was a bit basic but a wonderful experience – cooking over an open fire under a clear unpolluted night sky was simply ethereal. My most memorable bit was the tour of Kata Tjuta - Ben the guide's knowledge and experience was simply wonderful. I've never met someone who could talk with such knowledge about geology, wildlife, country lore." – Farida Parkyn

Perhaps the highlight was the visit to the Art Centre and the cave paintings at Gunbalanya.

More about Northern Territory