Things to see & do at Uluru, Northern Territory
Uluru is one of the most recognised but least understood places in Australia. You can conjure it in your mind's eye before ever stepping foot in the country – a slumbering beast of a rock that's risen above the plains of the southern Northern Territory for roughly 550 million years. This is the monument of the Red Centre, the vast Outback at the heart of Australia. Uncomprehendingly huge, this fragile desertscape is best explored with a guide.

Climbing sacred Uluru is now prohibited; any responsible holiday worth its salt will abide by the Anangu's wishes to stick to the (much more scenic) base trail.

Most holidays to Uluru start in Alice Springs. Six hours and 500km (and a camel farm or two) later, you'll roll into Uluru-Kata Tjuta National Park. If you're already planning to venture to Australia, you can clip on a three or four-day adventure to Uluru and its national park as the cherry on top of a sizeable cake. Alternatively, go the whole hog and book a two or three-week circuit around Australia that includes Uluru on the itinerary. Some trips get you rolling into town in style – on the 90-year-old Ghan railway from Adelaide or Darwin, for instance.
Our Northern Territory Holidays
The rock of ages
Uluru is impressive at any time of the day, but its views go interstellar at sunrise and sunset. The changing colours and shadows are like a slow-mo geology lesson on what once was a whole mountain range. If that geology lesson came in every shade of red, pink and orange under the sun, that is. The best holidays let you salute the sunset with a beer, waiting for the stars to fill the unpolluted sky above you. Or they go at sunrise for an equally impressive scene complete with fresh temperatures.

Your guide will know the best viewing platforms and how to smuggle you away from the many, many other sunset seekers.

Some holiday itineraries include a night at Uluru; you'll likely lay your head at a basic but beautiful bush camp. Cook over a campfire and swap stories under one of the starriest skies you'll ever have the privilege to peer up at. Throw in silent surroundings straight off The Martian, and you really will feel like you've been flung a few million kilometres off-planet.
Walk the old ways (but not that one)
We'll just say it: don't climb Uluru. Aboriginal Australians consider it a sacred home of ancestral beings. If that doesn't deter bucket list hikers, hopefully the official ban will. Don't worry, though, you're not missing out. The best tour operators know that the most spectacular views are actually from the 10-km track that lassoes the base of Uluru. You might trace a clockwise route passing a changeable landscape of clay pans, grasses and acacia woodland, or follow a guide who can reveal all about a corner that most interests you.

A footpath is never just a footpath at Uluru. You're walking ways that tell moral stories and teach lessons to the Anangu people. And they all meet at Uluru – the sacred meeting place.

Make sure to see the rock art in the caves where the Mala people first camped. The best small group holidays pair you up with an Anangu guide who can tell you about the ancestors that decorated the caves. Around the corner, sacred rock formations have to be seen to be believed, each representing a different chapter of a creation story handed down from grandparent to grandchild like a generations-old relay. The Anangu ask you not to photograph them; just enjoy.

Mutitjulu Waterhole is the surprise up Uluru's sleeve. Who said that the Red Centre is all rock and dust? This green pool hides wallabies in the long grass and trees ripe with plums, figs and tomatoes in summer. It's a different story at the Kantju gorge, which encloses peace and quiet between its sheer walls. Keep your peepers peeled for the 178 species of birds here, too. Splendid fairywrens, rainbow bee-eaters, zebra finches and fairy martins all live up to their names.

While the walking trails at Uluru range from easy to moderate, you won't get the best out of them unless you have a guide who's ready to help you tell a willy wagtail from a grey-headed honeyeater or a sacred rock from a regular old stone.

They'll also get your timings just right by starting in the early morning for cooler temperatures or towards sunset for silent trails. Uluru does get busy – but predictably so. Ninety percent of day-trippers head to the Talinguru Nyakunytjaku viewing area, so it's easy to avoid the crowds. Seeing the shadows creep from the base trail is just as hair-raising, especially as it comes with a side of peace and quiet. Alternatively, travel during the wet season from January to March.
Our top Northern Territory Holiday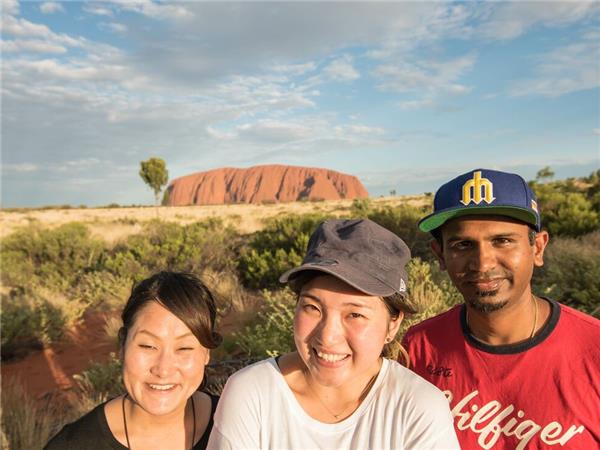 Experience Australia's rugged land of Dreamtime legends
From
£985
3 days
ex flights
Small group travel:
This tour has regular departures, normally at least twice a week
If you'd like to chat about Northern Territory or need help finding a holiday to suit you we're very happy to help.

Tales as old as time
You can't walk around Uluru without talking about Aboriginal Australian culture. Its name change from Ayers Rock in 1995 started an international conversation on colonialism and reconciliation. The Anangu – a collective name for the Western Desert Pitjantjatjara and Yankunytjatjara people – had been the traditional guardians for thousands of years before English-Australian explorer Ernest Giles named Uluru after the 19th-century Australian Premier. In fact, lore has it that their ancestors, the Mala, created Uluru at the beginning of time.

Uluru isn't 'owned' by the Anangu as a homeowner owns their land. The guardianship is considered symbiotic: the Anangu look after the land and are in turn looked after by it.

Do take the time to understand why walking off the trails on Uluru is considered offensive. The Uluru Cultural Centre is a solid starting point for those who want to hear – not just read – the sacred stories of Uluru. Anangu artists from the Central Western Desert region sell punu wooden carvings and paintings. Some of the galleries are not for profit enterprises that funnel funds into local Aboriginal Australian communities.
The rest of the Red Centre
Understandably, most Uluru holidays can't resist dipping into the rest of Uluru-Kata Tjuta National Park. A guide can tell you all about the geology, wildlife and country lore on a walk through the Domes of Kata Tjuta (previously known as the Olgas), about a 30km drive away from Uluru. Kata Tjuta is the Pitjantjatjara word for 'many heads'. This part of the national park is a step into the truly bizarre, where 36 sandstone domes bulge out of the red desert. It's a sacred site for Anangu men in particular; geologists are almost as reverent, aging it at around 500 million years old.

If you're after a challenging hike, Valley of the Winds serves up steep rocky lookouts and trails that are often closed when temperatures creak over 36°C. A guide can find the hidden trails that keep you off the sacred rocks and reveal the hidden crevices and rock art that you wouldn't otherwise find.

Beyond Uluru-Kata Tjuta National Park, Watarrka National Park (King's Canyon) rolls out a rim walk with rock formations nicknamed the Garden of Eden, Lost City and Amphitheatre. Or you could follow the Red Centre dirt tracks to the Western McDonnell Range. Some tour operators can put you up at Glen Helen for a walk through Ormiston Gorge or Ellery Creek for panoramic views and a wealth of wallabies.
More about Northern Territory