Northern Territory wildlife
The Northern Territory is the tropical Outback. Simultaneously one of the wettest and driest places on the planet, it's a jigsaw of Red Centre deserts, Top End monsoon forests, and watery arteries that feed deltas, floodplains, rivers, waterfalls and gorges. So it stands to reason that wildlife in the Northern Territory is as downright bizarre as its landscape.

Wildlife tours banish the myth of the empty Outback. As it turns out, parrots chatter in the forests, crocs snap and splash in the rivers, and wallaroos ghost past Aboriginal rock art.

Car-sized saltwater crocodiles recline along the Adelaide River, confident in their throne at the top of the food chain. Oversized flying foxes cloud twilight skies in their thousands in Kakadu National Park. Scrub fowl peruse their kingdoms from three-metre-high nests, while magnetic termites turn their nests to the compass points. There are 25 species of venomous snakes – but the four-metre pythons are harmless (unless you're a rock wallaby).

But while the Northern Territory wildlife might include some of the toughest creatures on the planet, they're incredibly vulnerable to human interference. Widespread mining cracks up land and wildlife corridors, while climate change has kicked off drier wet seasons. Leather and meat farms swipe thousands of crocodiles out of the wild every year and non-native feral camels gulp Aboriginal wells dry.

Read on to find out more about responsible wildlife holidays in the Northern Territory – and about how your trip can help some of the most curious creatures in Australia.
Our Northern Territory Holidays
Where to see wildlife in the Northern Territory
Kakadu National Park
Forget the dawn chorus –
Kakadu National Park
has a dawn cacophony. It's home to around a third of the bird species in Australia. The lanky jabiru stork is the symbol of the park, but you'll also get the chance to hear cockatoos sing in the sunset and voyage Jim Jim Creek for magpie geese and comb-crested jacanas.

The magnificent saltwater crocodile lives in huge numbers in Kakadu. It's been around since the time of the dinosaurs – and it shows.

The South Alligator River, meanwhile, does what it says on the tin. The king of the crocs lives here: the inimitable estuarine (saltwater) crocodile. Over 200 million years, it's been hewn into the perfect predator – think double-lined teeth, a bite that's three times as strong as a tiger's, and the lethal "death roll" assassination technique. And they really do sleep with one eye open. Unpredictable and dangerous – and really quite magnificent – you'll need to travel with a guide who knows how to treat salties, and the distance they require, with respect.

Water pythons and buffalo also turn up in the wetlands and waterways of Kakadu National Park. A great guide will take you on the surrounding footpaths to look for a range of NT specialities – antilopine or short-eared rock wallabies, perhaps, or flying squirrel-like sugar gliders and olive pythons. Termites are an unexpected wonder; the magnetic termite builds huge mounds that angle themselves north to south. You might even get the chance to watch the sunset blacken under the nightly exodus of flying foxes.
Adelaide River
A cruise along the Adelaide River could pick out hundreds of birds, from white-bellied sea eagles to acrobatic harriers. Fogg Dam takes root on the floodplain, and it's a birder's Eden. Take a guided walk along the boardwalks that thread through the monsoon rainforest for the chance to see lemon-bellied flycatchers, red-tailed black cuckoos, little curlews and rainbow pittas. The viewing platforms are perfectly perched.
Arnhem Land
There's only one way to see the visually and spiritually powerful landscape of Arnhem Land: with an Aboriginal Australian guide at the helm. They'll give you permission to access their land, whisk you downriver past crocs and pythons, seek out endemic (and chronically shy) short-eared rock wallabies, and tell you exactly what the Nourlangie rock art site means to them. Arnhem Land is just a wallaby's hop over the South Alligator River from Kakadu.
The Outback
The rare animals of the Outback scrape a living in the desolate desert. It's an extreme place of extremely rare animals, including black-footed wallabies and thorny devil lizards. Bird watchers flock to the West MacDonnell Range. Spinifex pigeons wear a jaunty feathered cap, spiny-tailed monitor lizards flicker over the red rocks, and night hides reveal marsupials on the brink of extinction.
Uluru-Kata Tjuta National Park
The Red Centre is more famous for
Uluru
and Kata Tjuta (previously known as the Olgas) than its wildlife line-up. But a great tour guide will tear your attention away from the sunset and set your sights on emus, peregrine falcons, pied butcherbirds and black-breasted buzzards. In typical Northern Territory fashion, the monitor lizards (AKA perenties) grow up to two metres long. You can also watch out for dingoes, Tasmanian devil-like mulgaras, woma pythons and… Arabian camels. These camels are the biggest – and most destructive – wild camel herd in the world, originally imported for hard labour in the 19th century.
It's always best to travel with a responsible tour operator that'll match you up with knowledgeable guides. They'll impart their wisdom, show you how to respect the land, creatures and people – especially Aboriginal people – and explain the behaviours that you're seeing. They might be locals or zoologists; conservationists or environmental activists. Aboriginal Australians will add an enlightening layer to the tour, guiding you through issues dear to them – from irresponsible mining practices in Kakadu to the feral camel takeover in the Outback. Whatever the guide's speciality, it'll be a real honour to follow in their bootsteps.
There's no such thing as a guaranteed sighting on a wildlife tour, but a great tour guide will position you for the absolutely best sightings possible. You'll soon learn to do as they do: speak quietly, walk slowly and stop often. It's the only way to see wildlife at its most relaxed, just doing whatever it needs to do. Responsible guides will also know to keep a good 10 metres away from high-strung marsupials.
Read more about
responsible tourism issues in the Northern Territory
.
Our top Northern Territory Holiday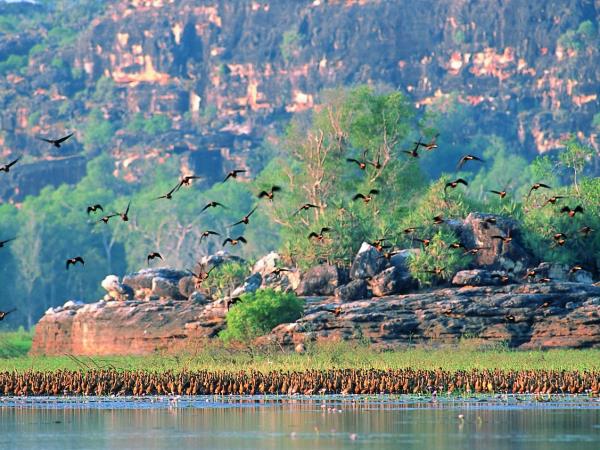 Explore the Kakadu and Arnhem Land on this epic safari trip
From
£3537
10 days
ex flights
Tailor made:
This itinerary starts and finishes in the state capital of Darwin, making it ideal to add to any of our tailor-made itineraries to Australia utilising the extensive flight connection possibilities.
If you'd like to chat about Northern Territory or need help finding a holiday to suit you we're very happy to help.

Northern Territory wildlife tips
Janine Duffy is the co-founder of our wildlife holiday specialists Echidna Walkabout Tours. She took time out while leading a tour in Judbarra National Park to share her most memorable wildlife story.
Rare roos
"Australia's rarest kangaroo is the black wallaroo of Arnhem Land and Kakadu, Northern Territory. We had travelled through Kakadu several times, and like most people, had not seen one. We did our research and heard that people sometimes saw them at Nourlangie Rock Art site. So we went there ourselves, morning, midday and evening. Always looking and listening, never finding."
Third time lucky?
"Part of our tour is the Guluyambi cruise on the East Alligator River that separates Arnhem Land from Kakadu. It is run by the local Aboriginal People, and it is both cultural, educational and great for wildlife. It was our third cruise with guide Neville, and he knew we loved wildlife."
Warm welcome
"Neville, a Traditional Owner, invited us to step off the boat and onto Arnhem Land. This is an honour – Arnhem Land is fully owned by the local Aboriginal People, and permission is required to enter. We walked around listening to white-lined honeyeaters and channel-billed cuckoos in this bountiful place."
With friends
"Quietly, Neville beckoned us over. 'Look there,' he said, pointing high up in the escarpment above. 'There's a friend watching.' Framed by the sky, in a hole in the cliff in Arnhem Land, was a beautiful black male wallaroo, shown to us by our fellow Australian – a man from the oldest culture on earth. It still makes me teary to think about it. Since then we have seen several other black wallaroos (it's like that moment broke the dam), and I always think of that first sighting."
To pack in as many wildlife experiences as you can, you'll be bushwalking at dawn, clambering up plateaus in time for the flying foxes' mass flight, and hiking in hot desert. It's active stuff, so a certain level of fitness is needed. For this reason, children usually need to be at least 15 years old.
Small group wildlife tours usually last five nights. You'll be in a group of 6-16 likeminded croc aficionados/emu enthusiasts/dingo devotees.
Longer trips of up to three weeks take a wider focus of the Northern Territory and Australia. Wildlife tours will be in the shape of day hikes or river cruises.
Whichever holiday you choose, park fees, transport, most meals and accommodation are usually included. You'll often move on to a different wilderness lodge or bush camp every couple of days. Choose a tailor made holiday if you'd like a say over the accommodation and itinerary.
Most wildlife holidays start and end in Darwin. It feels pretty poetic to start off in a city named after the legendary naturalist (even if he never visited).
You're exploring saltwater crocodile country, so listen to your guide at all times. These ambush predators kill at least one person a year in NT; even walking along a river's edge is risky. Only swim where government signage gives the thumbs up.
The best time to go on a wildlife tour is during the dry season – especially August. Read more about the best time to go to the Northern Territory.
Northern Territory is huge, so expect long drives to national parks and through the Outback. Some roads – Mary River National Park, for instance – are all bone-shaker dirt roads.
More about Northern Territory