Things to see & do in Kakadu National Park
Kakadu National Park is a mindbogglingly large protected landscape east of Darwin. This is the Top End: where the Outback meets the tropics; where bird-packed wetlands, crocodile rivers and waterfalls share space with chopped-off sandstone escarpments and monsoon forests. It's also where Aboriginal traditional land owners face off against mining companies on a mission to dig deep for uranium deposits.

The biodiversity of Kakadu is astonishing. Keep an eye on the water as an Aboriginal guide paddles you down the South Alligator River. Around 10,000 saltwater crocodiles, plus flatback turtles and waterfowl, lurk in the myriad waterways. Or hike the forests in search of rare black wallaroos and chatty cockatoos.

Kakadu is the biggest national park in Australia – so how do you know where to begin? Easy: travel with a tour operator that knows Kakadu National Park inside-out. They'll suggest extras – say scenic bush flights or a tour of the living millennia-old Mawurndaddja art galleries of neighbouring Arnhem Land. They'll also arrange the best accommodation – like a permanent tented camp – and organise tours with experts that range from zoologists and naturalists to lifelong birders from NT.

Organised tours will also put you in contact with the holiday operator's most knowledgeable contacts: the original land owners. You'll learn about the storylines, creation myths and traditions that make the Northern Territory so important to Aboriginal Australians.
Our Northern Territory Holidays
Jim Jim, Gunlom & Barramundi
Barrkmalam (or Jim Jim Falls) is taller than a cathedral, running 200m down to a pool and beaches – your rewards for hiking through monsoon forest and boulder fields to get there. After the rains, it's full-out Niagara; in the dry season it's a trickle. Elsewhere, Twin Falls runs over a red escarpment. Or you could go for a swim in the glassy waterhole of Gunlom Falls. It's a steep climb to the gum tree-shaded plunge pool, but well worth it for the head-turning views over Kakadu National Park. Maguk (Barramundi Gorge) has cascades, too, and plenty of swimming room. Just watch out for crocodile warnings.
Salties, bandicoots & wallaroos
If there's one thing that Australia can guarantee, it's weird and wonderful wildlife. Most trips to Kakadu National Park include a boat trip along Jim Jim Creek or South Alligator River, where water pythons and buffalo mooch. Or take on the Yellow Water wetlands at night to spotlight nocturnal creepers like cat-like northern quolls and rotund bandicoots.

These waterways are also the realm of the saltwater crocodile. These reptiles can grow up to three times the size of a man and weigh around 900kg. They're perfectly tuned for what they do – snatching unwary prey from water level with their infamous "death roll". With that in mind, you'll want to travel with a tour company that uses a reputable billabong boat company with a guide that knows when to keep a respectful distance while maximising your chance of seeing these impressive predators.

Kakadu National Park is a-flutter with one of the most the most diverse line-ups of birds in Australia. Let a guide be your Attenborough with a commentary that picks out comb-crested jacanas, whistling ducks and magpie geese. You'll need to hike the trails in the wake of a guide to find the rarer residents, too: black wallaroos and short-eared rock wallabies.
Rock art & river cruises
Aboriginal Australians have hunted and gathered in Kakadu National Park for roughly 65,000 years. The ancient rock art of Anbangbang is protected by Mirarr and Djok clans, after the Warramal clan became extinct. The best tours will pair you up with an Aboriginal guide who'll show you the Nourlangie rock art site, while drawing a picture of Aboriginal and Torres Strait Islander lives – both ancient and modern.

Alternatively, you could join a Bininj guide on a Guluyumbi cruise along the border of Kakadu National Park and Arnhem Land. The Bininj are the traditional custodians of the river, so you'll learn lots about the local mythology and customs from the people who know it best.
Mining in Kakadu National Park
Kakadu National Park is a prime of example of how Aboriginal rights and environmental rights often march together. Take the Koongarra Project Area: until 2013, this 12,000-hectare woodland was surrounded by but not included in Kakadu, stuck in a tug of war between mining companies that wanted access to the rich uranium deposits in the area and the Djok clan – the traditional owners who campaigned to include it within Kakadu National Park. The Djok clan won, protecting it from mining.

The promises never last but the problems always do.

– Senior Traditional Owner Yvonne Margarula
There are two other uranium mines in Kakadu National Park: Ranger and Jabiluka. After almost 40 years – and over 200 spills, leaks and breaches of license conditions, according to the Mirarr – the Ranger mine is winding down in 2021. Jabiluka has never been mined, thanks to a campaign by the Mirarr that led to a 2015 agreement that mining can only begin with written consent from the Mirarr Traditional Land Owners.

When you choose a responsible holiday to Kakadu, you're choosing to directly support a national park. When you use tour operators that work with experienced, passionate Aboriginal guides, you learn about the importance of the land – for storylines, myth and simple survival – and show the Australian government that Kakadu is of cultural, environmental and (often most powerfully) economic worth.
Our top Northern Territory Holiday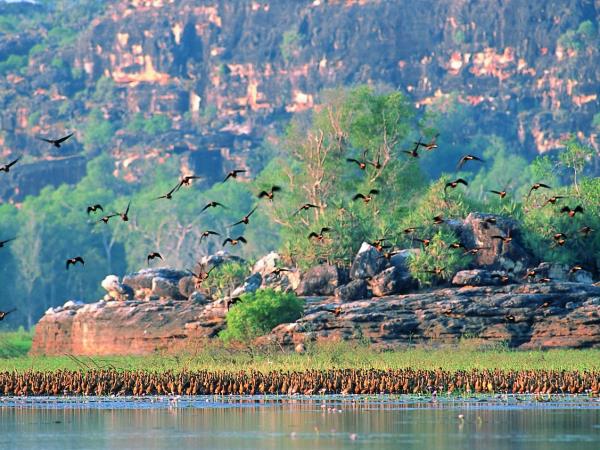 Explore the Kakadu and Arnhem Land on this epic safari trip
From
£3537
10 days
ex flights
Tailor made:
This itinerary starts and finishes in the state capital of Darwin, making it ideal to add to any of our tailor-made itineraries to Australia utilising the extensive flight connection possibilities.
If you'd like to chat about Northern Territory or need help finding a holiday to suit you we're very happy to help.

Organised tours are the best way of seeing Kakadu National Park. They'll usually include transfers (often private), accommodation (perhaps camping grounds) and most meals (think barbecues under the stars).
Small group tours usually spend four to five days exploring the Northern Territory, splitting the time with other national parks like Nitmiluk and Litchfield.
Tailor made holidays can be longer, so you might spend three weeks exploring Australia. Your tour operator will arrange guided tours and activities in Kakadu, depending on your preferences. Will it be a sunset hike, river cruise or stint in a night hide?
Whichever type of holiday you choose, there'll be lots of walking involved, so bring sturdy hiking boots and sun-proof layers. You'll need a good level of fitness to complete hikes in the desert and scramble up to waterfalls.
Temperatures in Kakadu live life to the extreme. Days can be scorching and evenings chilly, so tours often run from April to October or November – AKA the dry season that comes without the sweeping floods. Sunscreen and refillable water bottles are a must. Read more about the best time to go to Kakadu.
Kakadu National Park is one of the most sought-after spots in the Northern Territory. The popular trails and caves can be crowded from June to mid-August, as visitors aim for the cooler dry season. A great guide will steer you away from these.
Fancy staying overnight in the park at a bush camp? You might have to bring your own sleeping bag.
Holidays usually start and end in Darwin, so it's best to fly in there.
Be prepared for long drives. It's around 170km – or a three-hour road trip – from Darwin to Kakadu National Park.
More about Northern Territory