Northern Territory travel advice
Pippa Collins is an Australia specialist at our partners Audley Travel. She says:
Kakadu National Park
"I spent some time living and working in Kakadu National Park. One of my most standout memories is climbing to the top of Jim Jim Falls, which is accessed by a two-hour drive on a rubble road and 3-4 hour hike up. But you are rewarded by the most spectacular view over the surrounding national park, as well as a swimming hole to cool off in."
Go with Ghan
"The distances between destinations are very far in Australia, and train is the only way to feasibly see the landscape in between without a lot of tiring driving. The Ghan train journey offers a glimpse of the true Outback of Australia from the comfort of a train cabin, retracing the journey of the explorers of Australia."
Hot days; cool nights
"In the day it's very hot, so light clothes are essential, however the evening often turns cool, so definitely take a jumper. A good pair of trainers or walking boots is a must, as a lot of the paths are uneven."
Our Northern Territory Holidays
Aimy Hasson, from our luxury adventure specialists Lekker Boutique Travel, shares some tips from the NT tour guides she works with.
Road to nowhere
"Highways are dirt roads…there is no phone reception outside the little towns. The distances are huge, you can easily get lost and that can actually be life threatening. There are also big contrasts between the regions – you have the deserts in the middle of the country and the tropical climate in the North, with swamps and birdlife and crocodiles."
When to go
"The best travel time for the Red Centre is June to November, when daytime temperatures are still bearable. (At night it can be freezing, so it's necessary to bring warm clothes.) For the Top End the best time is April to October. From November, the wet season causes camps to close down for the season and some areas are not accessible due to flooding."
Get your swag out
"Camping is a fantastic experience and very popular. It is just the best way to experience nature and sleep under the magnificent stars. The ultimate Aussie experience in camping is to take it one step further and sleep really in the open in a swag. One has to be aware that there are insects and lizards and the occasional snake around."
Packing tips
"Definitely pack warm clothes during the Australian winter months in the Red Centre. It's best to wear layers you can peel off. Insect repellent and a hat, sunnies, sunscreen, protective clothes, a fly net hat or a cork hat, lots and lots of water when you are on a self-drive camping trip, extra fuel and a second spare tyre when off road driving."
Janine Duffy is the co-founder of our wildlife holiday specialists Echidna Walkabout Tours. She took the time to talk to us while leading a tour in Judbarra National Park, one of the most remote parts of Northern Territory.
Kakadu National Park
"A surprise for visitors is to stand on Nawurlandja lookout in Kakadu at sunset and look north, east and south all the way to the far horizon – and there is not a road, building, power line or communications tower to be seen. To look up as a camp of little red flying foxes flies out for the night: 20,000 mammals with a 60cm wingspan flying above your head."
South Alligator River
"Cross the South Alligator River, mangroves thick lining both sides for hundreds of kilometres inland. It's full of mangrove-specialist birds like red-headed honeyeaters, chestnut rails, yellow white-eyes, Torresian kingfishers and mangrove gerygones. You might hear a strange, squeaky sound in the distance and find a super-flock of 100 red-tailed black cockatoos flying over you."
Dawn clamour
"All this wildlife greatness means that nights are not silent – dingoes howl and bush stone curlews cry – and mornings start early with the fly out of thousands of squealing little corellas. The dawn chorus in Kakadu is more like the dawn clamour!"
HEALTH
Ring 000 in an emergency. Healthcare is very good in Australia, but you should always have decent travel insurance cover.
Make sure you're up-to-date with routine vaccinations like measles-mumps-rubella (MMR), diphtheria-tetanus-polio and tetanus. You'll need a yellow fever vaccination certificate if you're travelling from countries at risk of yellow fever transmission.
There is a risk of mosquito and tick-borne diseases like Ross River virus and West Nile virus. The best tactic is avoidance, so use mozzie spray and cover your legs when hiking.
Australia seems to horde the world's most venomous animals: snakes, ants, toads and spiders can all have nasty bites. Don't panic if you're bitten – just head to hospital pronto. And remember to shake out your sleeping bag or boots before jumping in.
Long trousers, hats, socks and hiking boots are a must when walking in the bush or Outback. Carry sun cream and a two-litre reusable water bottle, too.
Cover up between 10am and 4pm, even on cloudy days.
Check Travel Health Pro for the latest information on travel health in NT.
SAFETY
The Top End of the Northern Territory is tropical, so cyclones do pummel the coast several times a year. They mainly spring up between November and April, so if you're travelling then keep an eye on weather advice. Always use a local guide when bushwalking. They'll know what provisions you need, how to rig up a shelter for shade, which sacred Aboriginal paths to follow (or avoid) and whether that swimming spot is frequented by saltwater crocs. Self drive holidays can take you hundreds of kilometres out of the cities. Make sure you travel with a tour company that hooks you up with a well-stocked hire car: think GPS, two spare tyres, extra petrol and oil canisters, detailed maps, breakdown numbers and ideas for provisions. Make sure you have a well-planned route. If driving in the Outback, it's a good idea to leave your route details with friends or family and check in along the way. Avoid driving in extremely hot weather: it can reach 35°C in summer and drop to 0°C at night in winter. Northern Territory is croc country. Avoid swimming in lakes, pools, estuaries or tidal rivers. Signs – or your guide – will tell you whether it's safe to swim. If in doubt, keep your toes out. Wildfires spring up in the summer. Check park websites for current fire reports and only light fires in designated areas. Phone signal can be limited in remote areas, so check what coverage you have with your phone provider before setting out.
Our top Northern Territory Holiday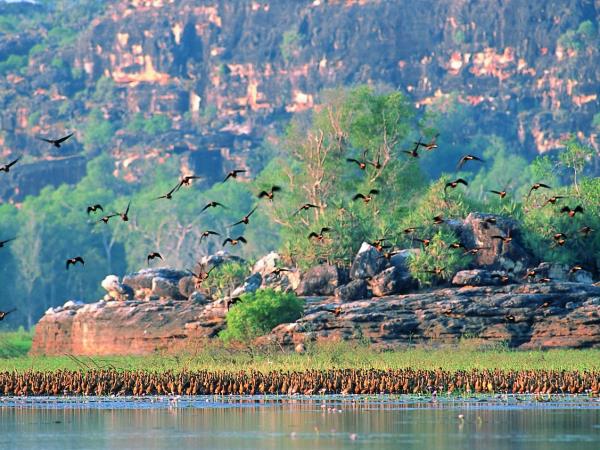 Explore the Kakadu and Arnhem Land on this epic safari trip
From
£3537
10 days
ex flights
Tailor made:
This itinerary starts and finishes in the state capital of Darwin, making it ideal to add to any of our tailor-made itineraries to Australia utilising the extensive flight connection possibilities.
If you'd like to chat about Northern Territory or need help finding a holiday to suit you we're very happy to help.

Northern Territory tips from our travellers
At Responsible Travel, we think the best people to advise our travellers are often…other travellers. They always return from our tours with packing tips, weather reports, ideas about what to do – and opinions about what not to.

We have selected some of the most useful Northern Territory holiday tips that our guests have provided over the years to help you make the very best of your holiday – and the space inside your suitcase.

Meeting the travelling group and getting to know their travel history and sharing ours was most memorable. Also, sunset at Uluru was fantastic.

– Takeaki Chijiwa on an Uluru and Kings Canyon holiday
"The tour of Kata Tjuta was most memorable…the guide's knowledge and experience was simply wonderful. I've never met someone who could talk with such knowledge about geology, wildlife, country lore. Camping was a bit basic but a wonderful experience – cooking over an open fire under a clear unpolluted night sky was simply ethereal." – Farida Parkyn on an Uluru and the Olgas tour

"Pack warm clothes for early mornings." – Carole Scott on an Uluru and Kings Canyon holiday

"Ensure you book well in advance to get the best fare deals. Take out additional insurance if you book a car, as an accident could cost you over AUD 3,000. Use cash where possible, as the surcharge on credit cards is high." – Jan Baker on a tailor made Australia holiday

"Probably more important for Europeans than Canadians or Americans (who live in big-scale countries): realise emotionally, not just intellectually, that once you leave the eastern coast, Australia has a whole lot of geography with relatively few communities, people or manmade attractions/distractions. You're going to spend many hours travelling through countryside before you hit on another community or Thing To Do. If you think that countryside is empty, rather than rich in and of itself, pick a different holiday. Canadians get this fact automatically, because that's our own reality. For Europeans (including Brits), it can be dismaying." – Penny Williams on an Adelaide to Alice Springs tour
More about Northern Territory