When rain falls in Salalah between June and September, local people celebrate by camping and eating out in the rain.

The best time to visit Oman is, quite simply, when you arenít going to bake. If getting a sun tan is all you are after, Oman probably isnít the right place for you anyway, as sauntering around in a swimsuit all day is so not the done thing here. Plus, it is just too hot from June to August, so you will get serious skin damage. Or just pass out. Head to Oman from October to March, when the temperatures subside a little, and you can enjoy all the wilderness wonders that it offers.
If you want to head to the province of Dhofar in the south, the monsoon, or khareef, comes in from June to September. Omanis head here during this time to enjoy the rain and mist, and so prices push up to peak season silliness in this region. However, itís also green and lush during this time, so a wonderful sight in the otherwise desert landscape. You will bake here in summer, with temperatures reaching 38įC during the day and dipping to about 29įC at night. So if you want to trek, stay clear of May, June, July and August. However, if you just want to hang by the pool, the hotels all drop their rates hugely at this time. Just donít head into the interior. Seems a shame to come all this way and not see the country though. If you want to see turtles, come from late May to September to see several species on Omanís beaches. Nesting takes place early on in the season, with hatchling emerging a few weeks later; if you visit in July and August, you may be lucky enough to observe both nesting mothers and tiny new hatchlings. A lot of places close during the Muslim period of Ramadan, so it is good to discuss that with your tour operator.
Our top trip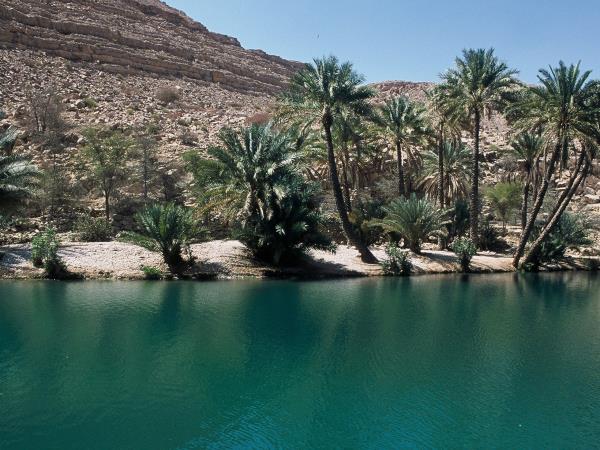 Ancient spice trails, Wahiba Sands, superb coastal scenery
From £2395 8 days ex flights
Small group travel:
2024: 8 Jan, 5 Feb, 11 Mar, 7 Oct, 4 Nov
2025: 3 Feb, 3 Nov
If you'd like to chat about Oman or need help finding a holiday to suit you we're very happy to help.

Expert tips on when to go to Oman
Liz Pepperell, Managing Director of our supplier Odyssey World shares advice on the best time to visit Oman: "From October through until March, the temperature is perfect and it is not too hot for things like camel rides in the desert, or walking in the mountains. It is an all year round destination but when it is really hot, you just donít go outside between 11am and 2pm. A visit to the souks should be made in the evening because they all stay open late."
Nigel Fisher, Director at our supplier Wild Frontiers Adventure Travel:
"The best time to travel to Oman is October. The summer is quiet here, so by October everyone is raring to go. Ramadan has gone, and everyone is eager to deliver a good service and welcome tourists."
Festivals & events in Oman
Muscat Festival
For a cultural hit, the Muscat Festival from late January until late February is Arabia at its most vibrant. For a hit on the senses, head to Jebel al Akhdar during March and April, when the smell of Damask roses, which are in full bloom at this time, fills the air.