Oman map & itineraries
---
Make the most of your time
There are eleven regions in the Sultanate of Oman, known as Governates, but generally tourists stick to the northern section of the country, with Muscat not to be missed. From here you get a snippet of what Oman has to offer, the twinkling bay a starter for the Indian Ocean that lies beyond. The souks are a showcase for the crafts and cuisine that you will find all over Oman, with spices, frankincense, perfumes and sweets creating a heady Arabian mix. The Grand Mosque and Jabrin Castle are fine examples of other Omani architecture and the backdrop of the Western Al Hajar Mountains invites you to explore the adventures to be had in the mountains and desert wilderness beyond.
Click on the blue map points below to find out more about places to visit in Oman.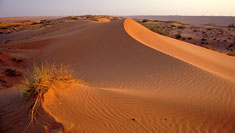 Al Sharqiya Sands
If you are going to camp out, do it here, enveloped by the undulating red and white sand dunes that rise up to 200 meters and stretch as far as the eye can see, with spectacular views down miles of the coast. Stay with Bedouin hosts to learn about their extraordinary culture, with star gazing, camel riding, sharing dinner round a campfire, or listening to traditional Oudh songs all thrown in.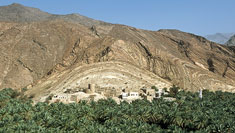 Bilad Sayt
There are many remote villages in Oman, but this oneís draw, in the middle of the Jebel Shams range, is its collection of clay dwellings set into rocky terraces. It is a typical Omani settlement, with labyrinthine pathways connecting huddled homes. Nearby villages of Al Hamra and Misfah are also on this route of villages that rock.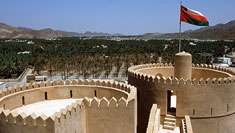 Jabreen Castle
Built in 1670 for Imam Bil'arab when he switched the capital from Nizwa to Jabrin. One of the most intricately designed forts in Oman, and also very cool. Literally, as it was designed to channel air around the Imamís living quarters, all now beautifully restored and famed for its intricate carved and painted ceilings. The views of nearby Bahla and the surrounding date plantations are one of the ĎOh Maní moments.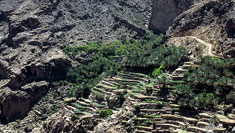 Jebel Shams
Jebel Shams means Mountain of the Sun and, given that it is the highest peak in Oman at 3000 m, you certainly feel the solar power up here. Part of the Al Hajar range, this is also canyon territory, with sheer drops down to valleys 1000 metres below. There is a trekking route up to the south summit.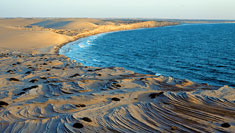 Masirah Island
A desert island but not a deserted one, the most famous visitors being the endangered green turtles that come to lay eggs in the sands of this secret hideaway every year. There are also 12,000 human residents on this 95 x 12 kms wide island too, long empty beaches, fishing villages, and lovely hiking in the cooler seasons. Just a 1.5 hour ferry ride from Shanna port, although only at high tide.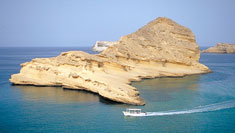 Musandam Peninsula
Right up on the north coast, tucked in beside the UAE, this remote part of Oman is other worldly. The people here are fishermen and Bedouin who have traditionally lived off the waters and valleys of this fjordic landscape. Take a fjord cruise with a difference here on a traditional dhow, snorkeling and fishing, dolphin watching with on-board dining, for a truly local welcome.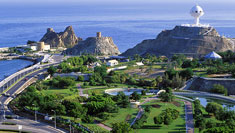 Muscat
Even the name is evocative, with westerners associating it with an aromatic drink that awakens the senses. This capital city certainly awakens the senses too, from old souks to the Sultanís Palace, the jewel bedecked Grand Mosque to a state of the art Royal Opera House. And the backdrop is certainly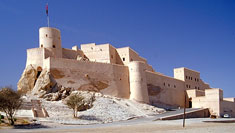 Nakhl
The magnificent fort here dates from pre-Islamic times, and is another example of Omanís fine desert architecture restored to perfection. Originally built to protect the picture postcard oasis of date palms and pomegranate trees, itís also gateway to the Hajar Mountain range with wadis and wonderful rural villages . Check out the Nakhl hot springs and Al Kasfa hot sprints nearby in Rustaq.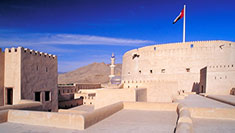 Nizwa
A former capital city always comes with a fort and this one doesnít disappoint. Nor does the city souk, which you will sniff out thanks to the feisty aroma of vanilla, saffron and cardamom. There is people watching extraordinaire at the Friday goat auction but, for gobsmacking scenery, head to the nearby heights of Jabal Akhdar, aka Green Mountain - named for its fertile land, an oasis of orchards and palm trees.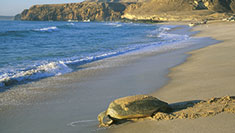 Ras Al Jinz
A fishing village in the Ras AI Hadd Turtle Reserve, itís a top choice for the turtles that return year after year to lay their eggs. In particular, the endangered green turtle that thrives in this turtle reserve, protected by Royal Decree since 1996. The turtles can be seen late at night or just before dawn always with expert rangers. Accommodation is onsite or in the nearby tented camp Ė book ahead to avoid disappointment.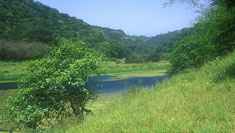 Salalah
This is the Dhofar region of Oman, far South, and a chosen favourite with Omanis in the monsoon, or Khareef season, where they go in seek of rain and valleys that turn from arid to almost ambrosial. Itís a port town, with plenty to do for a few nights, a great gateway into the deserts of the South and pristine Indian Ocean Beaches. With unique archaeological sites such as the alleged Queen of Shebaís Palace and Jobs Tomb as well as Mirbat Castle and the Frankincense route.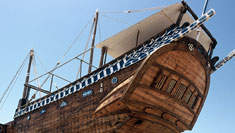 Sur
This is the home of the dhow, or traditional fishing boat still used by Omanis. Known as a safeena (ship) in Arabic, you can visit the yard where artisans still work on these boats today. This whole stretch of desert coast is still relatively undeveloped, although changing slowly, with small fishing villages like nearby Al Ayjah destined to become coastal chic in the near future.

Hello.
If you'd like to chat about Oman or need help finding a holiday to suit you we're very happy to help.
Rosy & team.
01273 823 700
Oman itineraries
---
10 day cultural highlights

Muscat ► Nakhl ► Wadi Bani Awf ► Nizwa ► Bahla ► Wadi Ghul ► Misfah ► Wahiba Sands ► Wadi Bani Khalid ► Sur ► Muscat

8 day wild walking itinerary

Muscat ► Tiwi Beach ► Wadi Shab ► Hajar Mountains ► Wadi Bani Kalid ► Al Shargiva Sands ► Nizwa ► Jebel Shams ► Muscat
Travel times in Oman
---
The following times give you a rough idea of the travel times between the main attractions in Oman.
Muscat to Shanna - 5 hours by car
Shanna to Masirah Island - 1.5 hours by ferry
Muscat to Musandam - 7 hours by car
Muscat to Musandam - 5 hours by ferry
Muscat to Salalah - 12 hours by car
Muscat to Salalah - 90 minutes by air
Muscat to Nizwa - 2 hours by car
Nizwa to Jebel Shams - 1-2 hours by car
Muscat to Al Shargiya Sands - 4 hours by car
Muscat to Ras al Jinz - 3 hours by car
Photo credits: [Photos: Oman Ministry of Tourism]