Best place to see orangutans
---
MAKE THE MOST OF YOUR TIME
Orangutans are native to the islands of Borneo and Sumatra – and there are numerous forest reserves where wild populations are still found, as well as rehabilitation centres and sanctuaries, with most occurring in Borneo. Some sites offer daily feeding sessions, increasing chances of a sighting – though we do recommend making the effort to see these magnificent creatures in their natural habitat in one of the national parks. You won't get as close, and it might take a couple of days – but as forest turns to farmland across the region, this may be one of the last chances to see truly wild orangutans enjoying the freedom of the jungle.
Below are our best places to see orangutans. Click on the blue map points for more information about each location.
Batang Ai National Park
A wonderful example of community led conservation, the Iban tribes are the custodians of this lush national park and its rare wildlife, including orangutans. Batang Ai is a remote spot on the Indonesian border; transport is via boat along the rivers and accommodation is in traditional Iban longhouses. Volunteers can participate in the rehabilitation centres here, learning from the Iban - descendents of Borneo's legendary headhunters.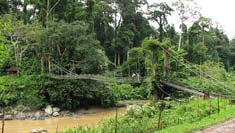 Danum Valley
This virgin tropical forest shelters endangered orangutans, proboscis monkeys and pygmy elephants, as well as newly discovered species and rare birds. There are numerous waking trails and a suspended walkway; night time safaris reveal the nocturnal creatures that call this forest home. Although orangutan sightings are not guaranteed, the sheer wildness and isolation of Danum make any encounter seem extra special.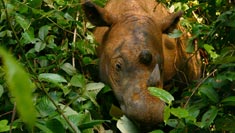 Gunung Leuser National Park
This vast park shelters some of Asia's greatest and most endangered mammals, including the orangutan, elephant, tiger and rhinoceros. With mountain peaks soaring to 3,400m above the dense jungles and rivers, this is a magnificent backdrop for your orangutan tour. While sightings are not guaranteed, a feeding platform at the forest's edge increases your chances of seeing these inquisitive primates.
Ketapang Orangutan Rehabilitation Centre
One of the newest centres, Ketapang is run by International Animal Rescue in response to the growing number of orangutans, macaques and slow lorises displaced or orphaned by ongoing deforestation in this neglected region. Ketapang is still growing, and volunteers will be kept busy building holding cages and enclosures, roads and fences. You'll need to be fit and enthusiastic, but the work is worthwhile.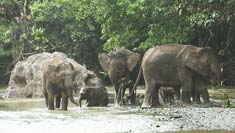 Kinabatangan Wildlife Reserve
Kinabatangan's lakes, mangrove swamps and lowland forests comprise one of the planet's richest ecosystems, and river cruises are one of the most tranquil wildlife experiences. It's one of only two places on earth where 10 primate species are found. Crocodiles and proboscis monkeys are two of the most commonly seen species, but this is a great place to look for wild orangutans, as well as pygmy elephants.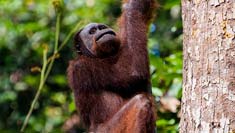 Lamandau River Wildlife Reserve
This is one of the key spots for orangutans in
Kalimantan
, with around 700 estimated to live here. It has six monitoring and release camps supported by Orangutan Foundation UK, including Camp Bulu. While not open to general visitors, long- and short-term volunteers can sometimes come here to work on construction projects and get exclusive glimpses into orangutan rehabilitation and protection.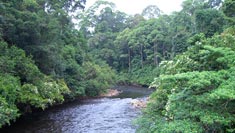 Maliau Basin Conservation Area
Visitors to
Sabah
are only just starting to discover the untamed Maliau Basin, a pristine forest ecosystem with a "lost world" feel. Long hiking trails lead to the epic Maliau Waterfalls – a seven-tiered cascade. Wild cats, pygmy elephants, the banteng ox, noisy gibbons and sun bears are found here, and if you get lucky, this is one of the wildest, wonderfulest places for an orangutan encounter.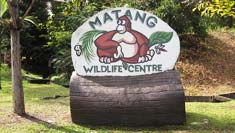 Matang Wildlife Centre
Located within Kubah National Park, this centre is a refuge for rescued orangutans - as well as sun bears and cats – in contained areas of rainforest as well as smaller enclosures for those not ready for release. Day visitors can observe feeding sessions, while longer volunteer placements include working on the infrastructure and learning animal husbandry techniques. You can also meet the local Iban communities.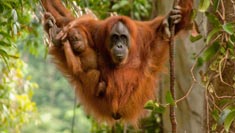 Quarantine Centre at Batu Mbelin
The only care centre for Sumatran orangutans, Batu Mbelin cares for around 50 rescues Sumatran orangutans – much rarer than their Bornean cousins. Tours are led by an orangutan expert, who will share information about how the orangutans are rehabilitated and released, the threats they face and the palm oil industry, which has all but destroyed their habitat. All visits support the work of the centre.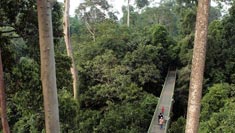 Rainforest Discovery Centre
This centre started life as an education centre for local schoolchildren, and is now open to the public. The huge canopy walkway is in fact a wobble-free "bridge", and orangutans can be seen in the treetops, with fewer crowds than Sepilok. This is a phenomenally informative excursion, and adults will be as gripped as kids.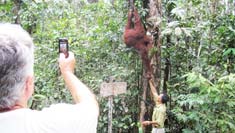 Semenggoh Orangutan Centre
Easily reached from Kuching, this is a sanctuary for semi wild orangutans which have been injured, orphaned or kept illegally as pets. Babies are taught, over several years, how to survive in the forest, learning to climb, forage and build nests. Semi rehabilitated adults are most likely to be spotted at feeding times, when they dangle on vines, swing through trees and play with each other and the wardens.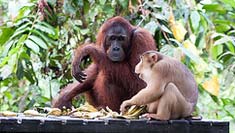 Sepilok Orangutan Rehabilitation Centre
This 43km2 sanctuary is the largest of its kind in the world. Illegally captured, orphaned and injured orangutans are taught to survive in the wild, by pairing younger individuals with older ones – this may take up to seven years, just as it would in the wild. Visits generally take place during morning feeding sessions when they come down from the trees.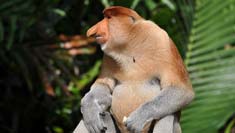 Tanjung Puting National Park
Orangutans, proboscis monkeys, gibbons and over 200 species of birds roam through this road free park. Exploration takes place on foot or on a traditional Klotok boat, where you can sleep on deck at night. The Orangutan Foundation has several rehabilitation and release sites here, as well as Camp Leakey Research Centre; volunteers can help construct enclosures and are given exclusive access to wild orangutan habitats.

Hello.
If you'd like to chat about orangutan watching or need help finding a holiday to suit you we're very happy to help.
Rosy & team.
01273 823 700
Where to watch orangutans
---
RESPONSIBLETRAVEL.COM'S SUPPLIERS RECOMMEND

Nicki Hollamby, from our supplier, Audley Travel shares her best place to see orangutans:
"If someone's on a tighter budget then
Sarawak
's cheaper than Sabah, but in order to see the orangutans there you have to go to Semenggoh as you won't see them in the wild. In
Sabah
you've got many places where you're quite likely to see them in the wild, but it's a much more expensive trip."
Daniel Waters, from our supplier Wild Frontiers, shares his best place to see orangutans:
"I would recommend seeing orangutans in Danum Valley. It's one of the best national parks in Borneo, incredibly rich in plant and animal life. There is a lodge in the middle of the jungle, it's eco friendly, they've got on-hand naturalists and tour leaders and there's a pretty good chance of seeing orangutans there as well as things like pygmy elephants, proboscis monkeys, hornbills... it's one of the richest areas for the range of animals and plants you can get in the world so it's a brilliant place to go to."

Kate Tyler, from our supplier Odyssey World, shares her best place for orangutan watching:
"
Indonesian Borneo
is definitely a road less travelled. Camp Leakey is a great place to see orangutans in a place with much fewer tourists. It certainly gives you that off-the-beaten-track feel, with conservation taking place here too."
Harriet Whitmarsh, from our supplier The Great Traveller, shares her best place to see orangutans:
"At the International Animal Rescue Centre we work with in Kalimantan we have just over 100 orangutans, whereas at Matang in Sarawak, for example, there are only around 40. So the number of orangutans is much higher in the Indonesian rescue centres, it's much more of a struggle and more significant. Palm oil plantations are taking over Indonesia, which puts the orangutans under a lot more threat than in the Malaysian side – the numbers coming through are crazy. There's another centre in Indonesia that we are launching soon, and they have over 250 orangutans. Another centre has over 600... When you compare that to centres in Malaysia you really see what's going on, and you really just need to get stuck in and help!"