Best place to see orangutans in the wild
---
Orangutans are only native to two islands in the world: the Indonesian island of Sumatra, and Borneo, which is split between Indonesia and Malaysia. Given how threatened these species are, mainly due to severe deforestation, there are sanctuaries and rehabilitation centres throughout Sumatra and Borneo which shelter rescued, injured or orphaned orangutans. But there are also a number of national parks and wildlife reserves, in which orangutans continue to live, undisturbed, in their natural wild habitat.
Seeing orangutans in Sabah
---
Sabah is arguably the best place to see wild orangutans. It has national parks, reserves and conservation areas with varied levels of infrastructure, depending on how 'wild' you like your wilderness. There is plenty of accommodation, hiking trails, board walks and suspended canopy walks – as well as the option to view wildlife from a klotok boat.
Kinabatangan Wildlife Reserve
---
This is where most visitors seek out wild orangutans. Not only are the chances of spotting them pretty good, but there are nine other primate species to look out for, including proboscis monkeys and gibbons. If you're lucky, you might also encounter pygmy elephants. There are plenty of good, if basic, accommodation options – but the real luxury in Kinabatangan is that most safaris are carried out by boat. Cruising along the river at dusk, listening to the forest coming alive and looking out for orangutans amid the foliage is a wonderful wildlife experience.

Getting here: Fly to Sandakan from Kota Kinabalu. From there, it is a 90 minute journey via road and river to Kinabatangan.
Maliau Basin Conservation Area
---
While Sabah is possibly the most developed and popular of all the places to see orangutans in the wild, this province still has plenty of wilderness regions where few visitors venture. Maliau Basin is one of the best examples of this – a pristine rainforest which shelters orangutans along with pygmy elephants, sun bears and wild cats. Unreachable for decades, from the 1980s Maliau was open only to scientists and researchers, but limited tourism is now permitted. Sightings may be trickier, but this is a true immersion into the world of the orangutan – an experience few travellers will have. You must visit as part of an organised tour, and you'll need to be fit.
Getting here:
Maliau is around a five to six hour drive along reasonable roads from either Keningau (which is two to three hours from Kota Kinabalu) or Tawau, on the Indonesian border.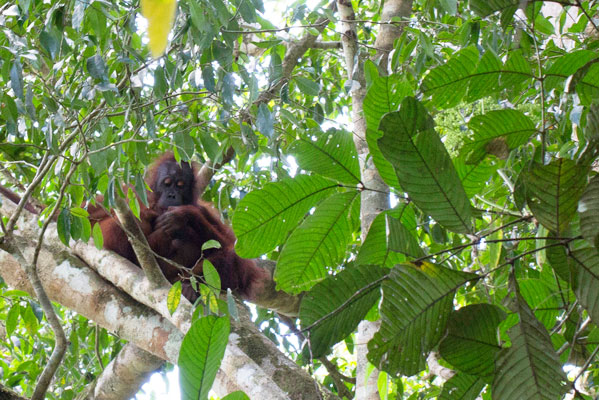 Danum Valley Conservation Area
---
Isolated and wild, Danum Valley is an ancient tract of tropical rainforest which has suspended canopy walkways and numerous trails. Head out in the daytime to increase chances of spotting rare orangutans as well as proboscis monkeys, pygmy elephants; nighttime walks reveal the forest's nocturnal wildlife. This is also a superb area for bird watching.

Getting here: Danum Valley is around a two hour drive from the town of Lahad Datu. Lahad Datu is around two to three hours from Sandakan or Tawau by road, or a short flight from Kota Kinabalu.
Seeing orangutans in Sarawak
---
Sarawak has fewer opportunities to see wild orangutans than Sarawak, but if you like to combine culture with conservation, it is an excellent option.
Batang Ai National Park
---
Batang Ai spans the border with Indonesia, creating a huge, 240km
2
conservation area which protects plenty of rare species of wildlife – including the Borneo orangutan. But the most special aspect of this national park is the
involvement of local Iban communities
, who actively participate in national park management, surveying the orangutans and in tourism activities. The region can only be reached via river, after which trails of varying difficulty take you deep into the forest to pass Iban burial jars, pig wallows, sacred rivers and – if you are lucky – orangutans.
Getting here:
It is a three to four hour drive from Kuching to the town of Lubok Antu. From there, it's a 45 minute boat ride to the park accommodation. You'll need to be part of an organised tour.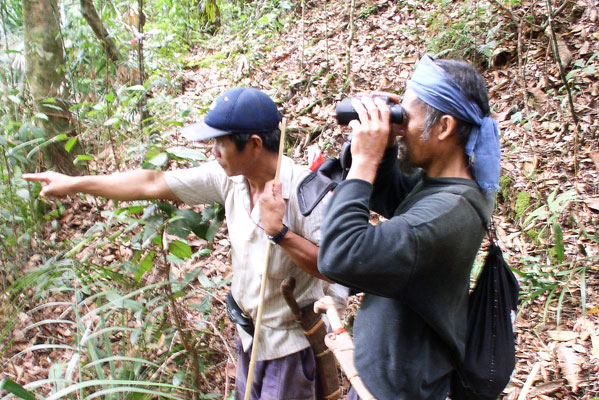 Seeing orangutans in Kalimantan
---
The Indonesian province of Kalimantan is vast and far less developed than its Malaysian counterparts. This is real pioneer territory, however, and as Indonesia's forests are rapidly disappearing – mainly to make way for palm oil plantations – your visit will help conserve orangutans as well as many other endangered species that inhabit the remaining tracts of forest.
Tanjung Putting national Park
---
This is the place to observe wild orangutans in Kalimantan. No roads pass through Tanjung Puting, so you'll head out on foot or in a traditional klotok houseboat, sleeping on deck at night. Keep an eye out for over 200 species of birds as well as proboscis monkeys, sun bears, barking and sambar deer, civets and gibbons. The national park also has the world's largest orangutan population, thanks partly to its vast size (3,040km2) but also to a number of excellent rehabilitation centres which release rescued orangutans into the park.

Getting here: You'll need to fly into Pangkalan Bun, the gateway city, usually from Jakarta, Bali or Kuching. From there, it is a short drive to Kumai Port, where klotok boats can take you a couple of hours upriver into the park.
Seeing orangutans in Sumatra
---
The Sumatra orangutan is a different species to its Borneo cousin. While they were once found right across the island, today they only inhabit the northern tip as a result of habitat loss; some 14,600 individuals remain.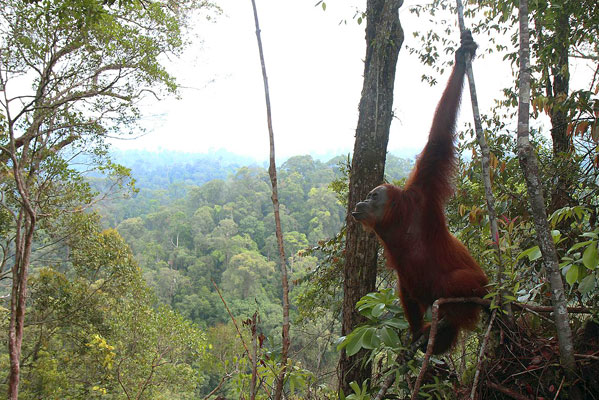 GUNUNG LEUSER NATIONAL PARK
---
This UNESCO rated national park is home to wild and semi wild orangutans, thanks to the presence of a rehabilitation and release centre in touristy Bukit Lawang. The rehabilitated animals continue to be monitored, and food is provided at feeding platforms, which greatly increases the chances of sightings. This is far from a wild encounter, however; to really experience that you'll need to head away from Bukit Lawang, much deeper into the pristine jungles of the Aceh section. Keep an eye – and an ear – out for gibbons, the funky-haired Thomas's leaf monkeys, and hornbills. Sumatran tigers and rhinos also inhabit the park, though given how few remain here, sightings are virtually impossible.

Getting here: Fly from Jakarta, Malaysia or Singapore into Medan, which is around three hours by road from Bukit Lawang.
Why see orangutans in the wild?
---
Most visitors, to Borneo in particular, will be sure to pay a visit to one of its superb orangutan sanctuaries. These centres provide medical attention and rehab for orangutans, which are subsequently able to live in semi wild conditions in tracts of private forest. As there are daily feeding sessions, when the animals have the option to clamber down from the canopy to eat fruit, sightings are virtually guaranteed – and the chances are they'll be pretty close up, too.
So given how easy it is to see orangutans at a sanctuary, why go to the trouble of trying to observe them in the wild, where sightings are not guaranteed and the orangutans may be high in the forest canopy?
Quite simply, it's like comparing a zoo to a safari. When sightings are not guaranteed, it makes it all the more thrilling when you do set eyes on these shaggy orange beasts, even if they are high up in the forest canopy. Silence descends, and it's magical to just live in the moment. What's more, even in the more popular protected areas such as Kinabatangan, you won't experience the huge tourist crowds that flock to the daily feedings in the rehabilitation centres. And in some of the wilder tracts of forests, chances are you won't encounter any other tour groups at all.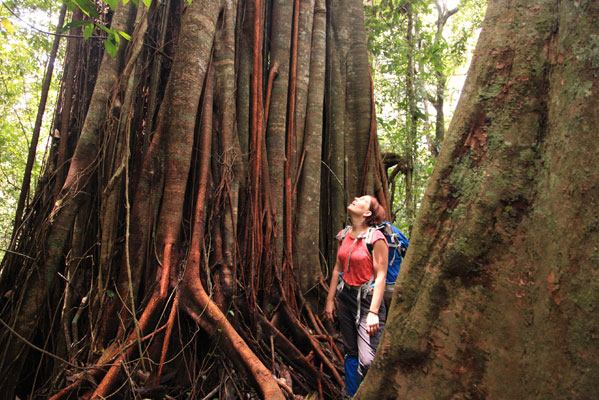 The best wildlife encounters aren't just about seeing an animal; they are about being immersed in its habitat, witnessing natural behaviours, looking out for clues – such as prints or discarded fruit – and being fully aware that you are in their territory, not the other way around.
What's more, while the sanctuaries are doing an excellent job of helping orphaned, injured or displaced orangutans, visiting national parks and wildlife reserves puts much needed funding into preserving these wild areas, which reduces illegal logging and hunting, and means there is less chance of the forest being sold off for logging or industrial agriculture. If Borneo and Sumatra's rainforests were left intact, there would be no need for the sanctuaries in the first place. Tourism can also support local communities, which incentivises them to protect their surrounding landscapes and conserve local wildlife. In short, it's better for you, better for local people, and better for the orangutans.