Budget Peru map & highlights
Travelling around Peru on a budget tour can involve domestic flights from Lima to Chachapoyas, in the northwest, or Puerto Maldonado in the Amazon, from where you can also fly to Cuzco, 72km from Ollantaytambo and the start of the Inca Trail to Machu Picchu. Although it can be tempting to whizz from place to place by air, we implore you to take your time overland. Peru has an excellent public and tourist bus service that some small group tours take advantage of and this is a responsible, low carbon alternative to flying. Acclimatising to altitude and getting to know towns over a series of days, rather than hours, makes a budget go further as you find the local hang outs rather than expensive tourist alternatives.
1. Amazon rainforest
Head to a thatched roof eco lodge in the Amazon and you'll be surrounded by some of the world's best preserved primary rain forests where numerous species of bird flock to clay licks and a motorised canoe takes you deeper via verdant river banks and oxbow lakes. A short flight from Lima to Puerto Maldonado, and the Madre de Dios region, allows instant access to Amazon adventures.
2. Bolivia
A two-country tour is well worth considering if you have time. Crossing the
Bolivian border
, close to Lake Titicaca, is a great way to understand the influence of the pre-Columbian and indigenous communities at the confluence of Quechua and Aymara cultures. Compare and contrast the cultural customs found within everything from the food to the handicrafts and sacred coca leaf.
3. Cuzco
Once the capital of the Incas but now seen as more of a gateway to the Inca trail and Machu Picchu, Cuzco still has plenty to offer first-timer visitors to Peru including extremely well preserved Spanish-era architecture and plenty of classic Quechua culture and Inca heritage. Budget travellers will do well to take their time in Cuzco both in terms of acclimatisation and browsing at San Pedro Market.
4. Inca Trail
There are around 40,000km of routes to Machu Picchu including the classic stone path Inca Trail and the less frequented Quarry Trail. Options include five day budget backpacker treks where you'll be camping while porters carry tents and cooking equipment. You can go on a tailor made trek or join a small group – either way you need a permit, a guide, a cook and porters, before you set off.
5. Lima
Many travellers bypass Lima which is a shame as this huge city promises a bounty of bohemian and colonial chic, and street food style, that's sorely missing in more touristy areas. Lima's metro and bus network will whisk you to the UNESCO listed historic area where the Plaza Mayor, Saint Francis Monastery and Museum of the Inquisition make the start of an exciting and eclectic cultural tour.
6. Puno
The setting for Puno, on the shores of Lake Titicaca, between the Andes and the Amazon, makes it a must for travellers. On arrival most head on to the water for homestays and reed boat rides with Uros islanders. Don't discount Puno entirely though, especially the steep steps leading into the mountains, as this is where the poorest villagers live, in reach of the condors – views and living conditions are both jaw dropping.
Peru budget holidays advice
The team at Tucan Travel has been organising holidays in Peru for over 30 years. Here's Rosanna Neophytou and Hattie Seal's top tips on how to have a successful budget tour:
Budget bites
Rosanna Neophytou:
"Keep your eyes peeled for picarones, delicious deep fried doughnuts made with pumpkin and sweet potato, and anticuchos which are barbecued sliced beef hearts. They taste way better than they sound. The absolute must try food in Peru is ceviche, which can be fish or mixed seafood marinated in lime juice and served cold with a touch of spice. The best option to eat cheap especially for lunch is to look for restaurants that have a 'menu del dia'; depending on the city you can find a two to three course lunch including a drink for as low as 8 soles. Approx: $2.50 USD."

Hattie Seal:
"The food was a personal highlight for me, trying so many new and unusual dishes from alpaca steak to guinea pig (not the one for big animal lovers – it comes out looking like road kill)."
Taxi!
Rosanna Neophytou:
"In Lima the Uber and Beats apps are a very safe and efficient way to hail taxis, they are very cost effective and they take the guess work out of haggling. In Cusco however, even though Uber is available, it is much more expensive than hailing a taxi, but with the taxis you just need to negotiate! For example an Uber from the Cusco airport to the main plaza costs about 25 soles, but if you walk just outside the airport to the main road and hail a taxi (and negotiate), you could find one for as low as 7-8 soles. In many places in Peru you can also find "mototaxis", basically very similar to the tuk tuks seen in much of Asia, and they cost even less than taxis."
Livin' la Vida Local
Hattie Seal:
"We only use local guides in Peru so you can trust in their knowledge and expertise of each area. The majority of our guides have been working with us for over five years. In some regions we use specialist guides that are local to the region for example for the Inca Trail/ Machu Picchu and Sacred Valley. When the guides are talking you get a real feel for their passion as you can see that they really want you to see and experience their home country as much as possible."
Read our
Inca Trail travel guide
for tips and advice on hiking the Inca Trail.
If you'd like to chat about Peru budget or need help finding a holiday to suit you we're very happy to help.

Budget Peru travel tips from our travellers
At Responsible Travel, we think the best people to advise our travellers are often... other travellers. They always return from our tours with packing tips, weather reports, ideas about what to do - and opinions about what not to.

We have selected some of the most useful Peru budget travel tips that our guests have provided over the years to help you make the very most of your holiday - and the space inside your suitcase.

Physically tough going through the pretty high altitudes with long hours riding in the bus/ van even before committing to the 4days trekking. Be prepared! However, it's totally worth seeing all the wonders Peru can offer us.

"My most memorable moments include swimming in the Amazon, learning about the jungle, meeting a Shaman, Salsa dancing in Cusco, staying with a local family in Armanti and folk dancing to traditional music. I also remember the colours, textiles and crafts, music, food and drink (I'm vegetarian and it was all incredible and fresh), breathtaking scenery, spiritual mythology, Inca ruins, learning about different ways of life and meeting fantastic people!" - Amanda Whittington

"This is an excellent company who look after their travellers. Peru is not an easy option and requires some support on a first visit in terms of organising long distance travel to different sites etc. all within (for me) a reasonable budget." - Valerie Featherstone

"Making the Inca Trail and seeing Machu Picchu was my most memorable moment. Bring clothing for a variety of weather. Be prepared for early mornings and the possibility of altitude sickness. The more in shape you are, the more you will get out of the trip! Also, I think the homestays were great and the trip encompassed ecotourism, especially in the Amazon." - Rachel Carbonell

"Pack well, all types of clothing are necessary and be prepared for the unexpected." - Michelle Zammit

My most memorable moments include swimming in the Amazon, learning about the jungle, meeting a Shaman and folk dancing to traditional music.

More about Peru budget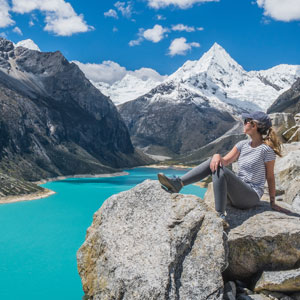 Find out what budget Peru holidays entail and whether it's still possible to trek on the Inca Trail and make the most of Machu Picchu without breaking the bank or the environment.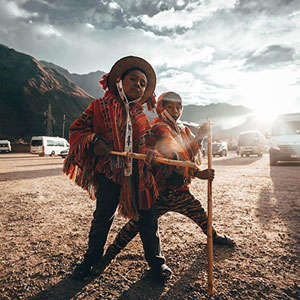 Cuzco isn't the capital of Peru (that's Lima), and it's not even 'the gateway to the Inca Trail' (it's actually 72km from Ollantaytambo), but it is a beautiful city to explore and enjoy on its own merits.