PICOS DE EUROPA TRAVEL GUIDE
---
2 minute summary
Picos de Europa National Park is where Spain comes alive with jagged limestone turrets thrusting skywards whilst mile deep canyons and unexplored subterranean caves carve out hollows below. Wolves and bears are known to inhabit pine and beech forests, but you're more likely to glimpse eagles, buzzards and vultures wheeling on high whilst chamois, sheep and goats graze beneath. The dairy farmers of the Picos know full well the qualities of mild and moist conditions with punchy piquant blue cheese a direct result of cows consuming the plentiful pastures of the Asturias. Cable cars whisk you up to over 1,800m where high altitude walking routes take in the phenomenal surrounding peaks, often still snow dusted in summer.

Funicular railways descend into tiny, out of the way mountain villages where time stands still and travellers are welcomed in Spanish making phrase books as essential as waterproofs and camera. This is the real Spain, so keep it to yourself.
Read on in our Picos de Europa travel guide.

Hello.
If you'd like to chat about Picos de Europa or need help finding a holiday to suit you we're very happy to help.
Rosy & team.
01273 823 700
PICOS DE EUROPA MAP & HIGHLIGHTS
---
MAKE THE MOST OF YOUR TIME
Caught between two classic Camino de Santiago routes: the more popular Camino Francés to the south, and the Camino del Norte, running parallel along the north coast, the Picos de Europa is a section of the Cantabrian mountain range that stretches across the regions of Asturias, Cantabria and Castile and León. The highest point, Torre de Cerredo (2,650m), is one of several dominating peaks and taking the cable car from Fuente Dé, about 20km west of Potes, makes short shrift of the ascent en route to some fabulously rugged, high elevation hikes. The 13km Ruta del Cares gorge path is an equally exciting option with the funicular railway down to Puente Poncebos making for a great precursor at the start of Cares Gorge.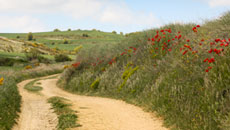 Camino de Santiago
The Camino Francés and the Camino del Norte (Northern Way) extend from France to the shrine of St James in the UNESCO city of Santiago de Compostela in northwest Spain. Connections to both routes lead directly through the Picos de Europa with the Camino Vadiniense, especially, exemplifying the dynamism of the region where solace and spirituality is sought in several guises.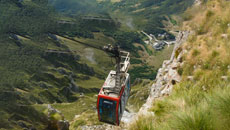 FUENTE DÉ CABLE CAR
Although the ascent from Fuente Dé (762m) to the top station (1,830m) takes just a few minutes, the views on the way up are simply staggering. Once you've disembarked you'll discover well posted and straightforward trails leading to Torre de Horcados Rojos, Pico Tesorero and Peña Vieja as well as a walking route back down to the base station. Top tip: Arrive around 9am to avoid queues.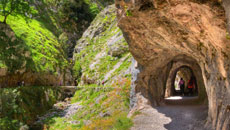 GARGANTA DEL CARES
High above the River Cares, carved into the limestone rockface, there's an old maintenance route that once offered access to the hydro-electric power plant. This 15km path is now used by walkers heading from Poncebos to Cain and winds with the river through rock tunnels and over ridge tops some 300m above the floor below. Keep an eye out for goats, vultures and weekend crowds.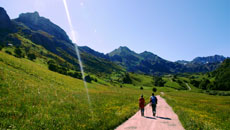 PANES
Situated right at the foot of the mountains, Panes is one of those tucked away villages that time forgot, where you'll still get friendly nods from hospitable local people and any attempt to speak Spanish will be met with enthusiasm – although don't expect an English reply. A charming gateway to the mountains oozing authenticity and promising a warm welcome after a good day spent outdoors.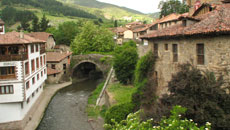 Potes
Potes more than lives up to expectations with surrounding valleys covered in walnut trees and flowering poplars as the River Quiviesa idles under 13th century bridges en route to the Atlantic. The complex of medieval alleyways in the Old Town add to the Sunday morning ambience with the cubic Torre del Infantado always popular alongside chances to tuck into a bowl of cocido lebaniego (chickpea broth).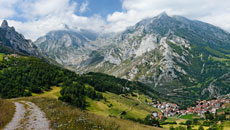 Sotres
Access to the Euro GR footpath network is just one of the reasons to be tempted by Sotres and the bowl-like setting makes for a fantastic early morning ascent over ancient mule tracks and alpine pastures dominated by the Central Massif and views over the Rio Duje Valley. No hike out of Sotres is complete without squirrelling away a hunk of bread and slab of queso de Cabrales for the journey.