Where to go on a self guided walking holiday
---
MAKE THE MOST OF YOUR TIME
Self guided walking holidays allow you that independence, while leading you gently by the hand into regions you might not have thought of before. So, the Alps are always mind-blowing, but the Mercantour National Park in the Southern Alps is stunning. And empty. The Italian Riviera is dreamy, but the Amalfi Coast is verging on walking pornography, the views are that obscenely good. And the Camino de Santiago is world famous as a self guided walking holiday but, to escape the crowds, you will have more than a few heavenly moments walking through the deserted coves of Catalonia. These are some of our highlights, but the experts who create your itineraries along each self guided walk, are the ones who hold the real secrets within.
The Alps
Alpine walking holidays vary greatly, from 'the hills being alive with the sound of music' type to the more full on conquering Mont Blanc type. You can go winter walking or summer meadow walking. You can take a guide or a donkey. You can touch toes with the Alps in France, Switzerland, Germany, Austria , Italy or Slovenia. Take your pick. Which you will need, when the snow hits.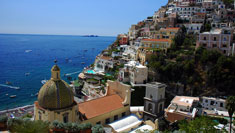 Amalfi Coast, Italy
This is coast candy for hikers. Mountains rise up from the Mediterranean, picture perfect towns nestle neatly into isolated coves and fine food and drink tumbles out of every trattoria. Follow ancient mule paths up from affluent villa clad beaches, and bash your boots through the likes of Naples, the Valle delle Ferriere national park, Pompeii, Ravello, Capri and Positano.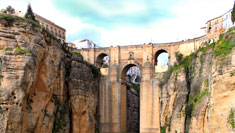 Andalucia
Welcome to the Moorish heartland of Spain with walking holidays revolving around the famous Arab-infuenced ciites of Seville, Cordoba, Cadiz and Huelva. Hike your way through Arab, Jewish and Christian history, or enjoy the timeless beauty of the Sierra Nevada, the highest mountain range in Europe after the Alps with sheer gorges, glacial lakes and powder dusted peaks. All very moor-ish.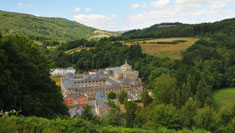 Camino de Santiago
This humble trail across northern Spain draws pilgrims from across the globe to share in the classic landscapes, the hearty northern dishes and the very Spanish sense of "solidarity". Roughing it in hostels is still possible – but plusher accommodation is now springing up along the Camino, meaning you can enjoy the trail's highlights but with a quiet, comfy bed to collapse into at the end of each day.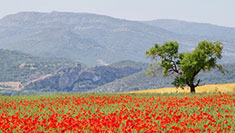 Catalonia
This is one of those, 'why have I never come here before now?' places. As you walk, you will see that the famous Catalan regional pride is totally justified, boasting snowy Pyrenean peaks to sun-soaked Mediterranean coves as well as a volcanic park. There is a plethora of hiking trails traversing wild, deserted coasts and dainty turquoise coves, or the inland Aiguamolls Nature Reserve.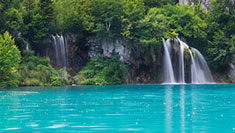 Croatia
Although the coast is what most of us know about, there are extraordinary walking holidays to be had in Croatia even just an hour inland, with five national parks to explore. Such as the sixteen emerald green lakes of Plitvice, the canyons of Paklenica or the waterfalls and karst formations of Krka. You can just walk the coast too, of course, hopping the islands and hiking around them.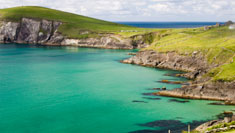 Ireland
There are many ways to see Ireland, but walking along their Kerry, Dingle or Ulster Way are three great ones. Yes, you'll need rain gear on these wild mountain and coastal hiking routes, but you will never be far from a traditional hot whisky to warm you up again. Or a restaurant serving local seafood chowder and homemade Irish bread. Or, in true Irish style, a fine welcoming smile.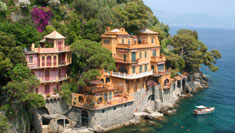 Italian Riviera
This is Liguria. Say the name a few times with an Italian accent and you'll feel as if you are reciting a love poem. Liguria has that effect with walkers falling in love with beauties like Portofino or the medieval Portovenere. Following the coast path, there are stunning views of the Apennine Peaks along the way. And beautiful swimming too, such as below the ancient monastery at San Fruttuoso. Liguria, ti amo.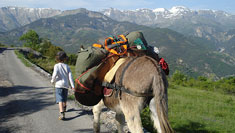 Mercantour National Park
In Nice, take an hour long mountain train into the other worldly wonders of the Alpes Maritimes and Alpes de Haute Provence, all part of the relatively unknown Mercantour National Park. A popular area for walking with donkeys to carry your bags, you follow in the steps of shepherds who still do the same, along waymarked ways through ancient forest, up rocky inclines, and along icy river valleys.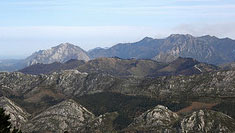 Picos de Europa
Extraordinarily, this 2,650m high mountain range has not popped up on most hikers' compasses. The limestone massif is frequently snow-draped, and shelters chamois goats, bearded vultures, Iberian wolves and even brown bears. The villages here are isolated yet welcoming, the food is possibly Spain's finest – and you're still just 10km from the craggy Costa Verde.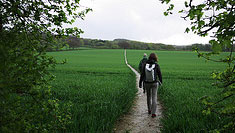 Pilgrims' Way, UK
Closer to home for most, this 200km trail follows an ancient track between Winchester and Canterbury, with a good part of it following in the footsteps of those taking on the North Downs. A popular section is from the historic cathedral town of Rochester, following the chalk ridge along the edge of the North Down, to the medieval and cathedral town of Canterbury.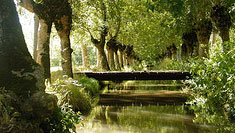 Poitou-Charentes
Rural rambling for Francophiles who don't want to tackle the Alpine peaks, but crave a few hits of Gallic gorgeousness. Such as Les Cinq Communes walk through wild orchid filled woods, or Le Beugnon Lake, with leafy valleys and overflowing orchards. And the Marais Poitevin, a vast patchwork of ancient canals surrounded by pastures, woods and the obligatory picturesque French villages.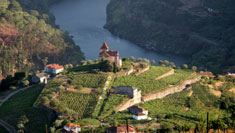 Portugal
The recently opened 350km Rota Vicentina waymarked way, along the Portugal's southwest coast gets douze points from the European hiking jury. Hike through coastal wildflower valleys, cork forests and up into the Alentejo uplands. Inland, the Serra de Monchique's ancient paths through orange and almond groves, or if you want to aim high, head for the Serra de Estrela mountains.
Scotland
You have to walk in Scotland. It's against the law not to. Well, actually, the right to walk all over their varied landscape is enshrined in law, so even if they don't make you hike, it's rude not to really. There are good guides galore to show off the delights of the Cairngorms National Park as well as the islands and Highlands. A hipflask full of malt is also the law.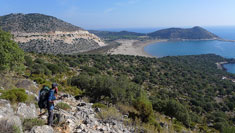 Turkey
Far from the madding crowds of the coastal resorts lie almost deserted hiking routes, such as the Lycian Way coastal trail from Fethiye to Antalya, which takes you up to the limestone peaks of Mt Olympos. Or St Paul's Trail into the hiking heartlands of Central Anatolia, following ancient Roman paths through the Taurus Mountains, with plenty of cool down options in river canyons and mountain lakes.

Hello.
If you'd like to chat about walking holidays or need help finding a holiday to suit you we're very happy to help.
Rosy & team.
01273 823 700