Breweries & vineyards
---
TOUR, TASTE & TAKE SOME HOME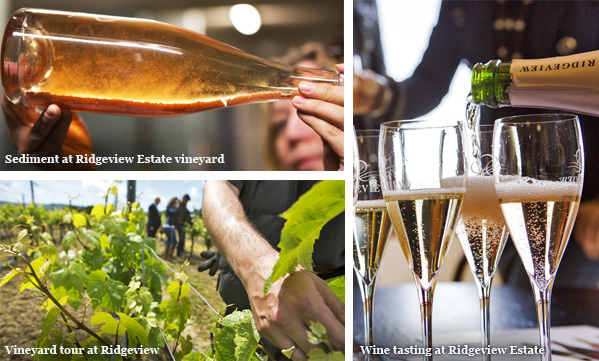 The South Downs is falling down with wine and beer producers, and you might be too if you sample goodies from them all. So book your train before hitting the trails. Here are just a few aperitifs to get you started:
Harveys of Lewes
is the oldest brewery in the region, and has paved the way for newer ones to follow. But this institution, established in 1790, with its winning combination of malt, hops, spring water from its own artesian well, and of course, its own special yeast, has made this a multi award-winning brewery. Try them yourself at the shop in
Lewes High Street
or find out more on one of their brewery tours - but be warned, there is a two year waiting list for one of those. Told you it was good.
The English Wine Centre, Berwick, stocks over a hundred English wines, including some from the South Downs region such as that of the Ridgeview Estate in Ditchling. They also host a wine tasting event on the first Saturday of every month at 11.30am. Luckily there is a train station at Berwick, so you can keep tasting all day, moving on from a tasting to a tasty lunch in their
celebrated restaurant
. Highdown Vineyard doesn't hide its light under a bushel, its vines gleaming on the sunny southern slopes of the South Downs, between Littlehampton and Worthing. They have a shop, tastings and tours on site, and also a tea room for a more sober approach to things.
Ridgeview Wine Estate
is just north of Ditchling Beacon, one of the highest points on the South Downs. It specialises in sparkling wines, all available in their winery shop as well as during their
tours and tasting events
.
Upperton Vineyards
, Tillington, may only have planted its first vines in 2005, but it already has a vintage reputation. Run by the Rogers family, they specialise in sparkling wines having grown from five hundred to 32 000 vines. They subscribe to sustainable and integrated management of the vineyards, using organic products wherever possible. The shop is open Friday and Saturday 9-5 with tours of the vineyards at 2pm as well as many special events. Upham Brewery, Upham brew three beers: Tipster,Punter and Stakes all with a horse racing metaphor, and it is always a photo finish to decide which one is the winner. But of course the real winner is the brewer, Derek Lowe, who has 40 years' experience brewing. Taste his pedigree produce at one of many local stockists or, even better, at the pub in their village, The Brushmakers Arms.