Walking in the South Downs
---
LACE UP YOUR BOOTS!
Organised walking holidays
---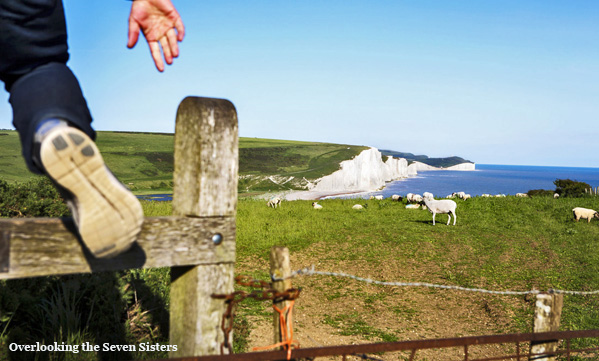 There are a number of ways to take an extended walking holiday in the South Downs National Park, run by walking holiday experts who know the Downs, upside down and inside out. The South Downs Way National Trail Walk is an annual event, for example, organised by passionate walkers, Footprints of Sussex from the South Downs region. This is a nine day journey of the whole trail, with coach connections organised at the start and end of each section. Pied a Terre Adventures is a West Sussex company offering a range of guided walks in the South Downs, including a ladies' walk and talk day out, children's orienteering sessions, as well as creating bespoke walking breaks for you, working around the areas of the Park that you most want to see. And like all good walking break providers, who want to keep the Park free of cars, they will collect and drop you at the nearest train or bus station on these extended breaks.
Another walking company called So Sussex adds delicious extras to their walking trips if you fancy, such as foraging and fishing, canoeing and kayaking, and love to take walkers who might know the popular tourist trails into some of the lesser known spots of the South Downs. They also provide picnics full of local produce and collect you from a South Downs location of your choice. Award-winning responsible tourism walking company, HF Holidays, one of the oldest walking companies in the UK, offers several guided walking tours on the South Downs, basing themselves at Abingworth Hall in Thakeham. The nearest station is at Pulborough with a seven mile taxi journey after that. Another old stalwart in the hiking world, Ramblers Worldwide offers a five night holiday with daily guided tours across the South Downs, staying at Cooden Beach Hotel, just a skimming stone's throw from the railway station at Cooden Beach. They also offer a break which includes spa pampering at the divine Champneys Forestmere Hotel and Spa. For unguided walking holidays which help organise accommodation, maps and luggage transfers as you walk your way freely from one place to the next, check out Walk and Cycle Holidays. Macs Adventure, Footpath Holidays, Celtic Trails, Sherpa Walking Holidays, Absolute Escapes and Contours Walking Holidays all of which will set you on your way safely across the South Downs National Park.
Independent walking
---
The South Downs stretch from the stunning, historic cathedral city of Winchester in Hampshire to the Victorian seaside town of Eastbourne in East Sussex. The Downs, meaning hilly terrain, are like the artery of the region, pumping wild, natural energy across this dynamic region of traditional market towns, and allowing it to breathe. Within minutes of stepping off the train at Winchester you can step onto
the South Downs Way
and breathe in its goodness. The South Downs Way is a 160km National Trail, open to walkers, cyclists and horse riders. It cuts through chalk escarpment, which has made it historically accessible, and why it has always been favoured for traditional means of transport, and still is.
You can start the Way the green way, by taking the
train
or
bus
to the start of the trail in Winchester, or use this handy
South Downs National Park Discovery Map
to see all other options. But basically the South Downs Way sweeps West to East (better to walk it this direction to cope with prevailing winds), and is inter-cut by various train lines along the way, allowing you to just take on a section of the trail and still start and finish your expedition by train. Stations such as Petersfield, Amberley, Hassocks and Lewes are all served by various rail services, as detailed in the transport guide or on the superb website
Traveline
. So, none of those worries about where to leave the car when taking on a linear stretch of the South Downs Way allowing you to leave the roads clear, the car keys at home and the Park in peace.
You can choose your section of the trail by ordering one of the wide array of maps
here
. Once you have chosen your walking route, or series of routes, the best value train ticket is the
Downlander
ticket offered by Southern Trains. This is an all-day pass to hop on and hop off all Southern Trains in the South Downs, as long as they are during off peak hours. It also enables you to use various bus services in the region, so you really won't get lost. Starting from £14 (£2.50 for children) the Downlander pass is great value but note that it is only a one day pass, and also you have to buy it online. You have to spend a few minutes registering for the service, and also order it minimum two days in advance of travel. It does give you freedom to come and go, however, and so if you are too impatient to see the sea, just cut short your walk, hop on the nearest train to get you there before the clouds come in.

There are also many other walking routes available, all clearly detailed in the South Downs detailed
Walk and Rides leaflets
. Such as the 8km circular walk from Plumpton, taking in woodland, marshes and streams of the area, all accessible by train to and from Plumpton, as detailed in the leaflet. Or an 11.5km walk around the South Downs villages of Steyning, Chanctonbury and Washington, all accessible on the 2A bus from Brighton.
If woodland walking is more your thing, then it is the West Weald area of the South Downs that will appeal, with a series of walks through ancient woodland, intercut with traditional old pasture land, and archaeological surprises tucked away like ancient holy wells, ruins, bridges and forges. For details of magical walks in this ancient landscape, see the West Weald's downloadable leaflet which also includes information on how to access them by public transport.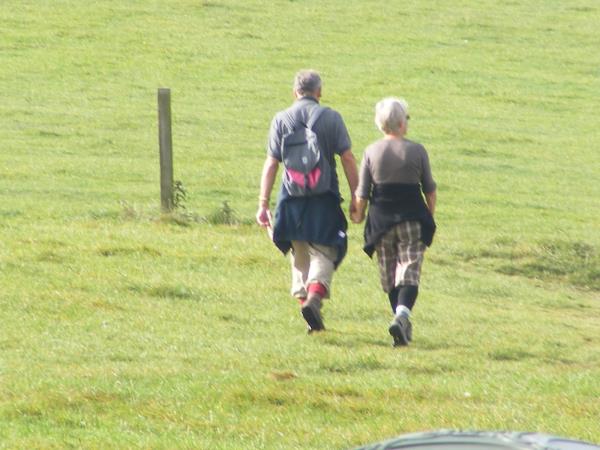 Walk The South Downs Way in Southern England.
From
£980
11 Days
ex flights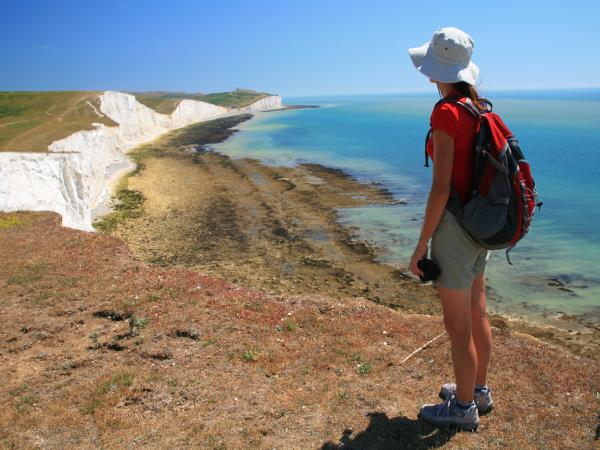 The complete South Downs Way, stretching for a hundred miles
From
£930
10 Days
ex flights