South Downs National Park map & highlights
---
Make the most of your time
Within easy reach of London and ringed by the towns and cities of Winchester, Chichester, Haslemere, Brighton and Eastbourne, the South Downs National Park is supremely accessible. Arriving and exploring by train is an absolute pleasure, with country views you wonít see any other way except by bike or on foot. There are around a dozen railway stations in the park and many more nearby, plus a decent network of bus routes, particularly on the east side of the park.
The A27 and A272 run roughly parallel to the coast and will get you from one region to another fairly speedily. But there are large tracts of land in the heart of the park with nothing but lanes, bridleways and footpaths crisscrossing them Ė great news for walkers, cyclists and horse riders.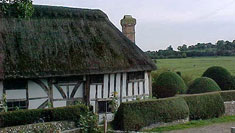 Alfriston
Picture a perfect downland village with medieval pubs and cottages, cute tea shops, a splendid flint church and a grassy village green. Got it? Thatís Alfriston. Set beside the lovely River Cuckmere, itís home to the Clergy House, the first property acquired by the National Trust. The South Downs Way runs right through the village, making it a crossroads for walkers, cyclists and horse riders.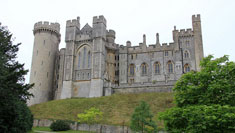 Arundel
You canít miss
Arundel Castle
Ė a muscular display of medieval power, brooding above the River Arun. The nearby
Catholic cathedral
makes a worthy counterpoint, tall, Gothic and imposing. Together, they dominate the small, but rather grand, market town of Arundel. It was West Sussexís first Fairtrade Town, signing up in 2004, and is a good place to shop for antiques.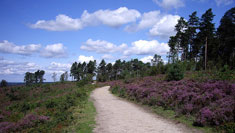 Black Down & the Serpent Trail
With magnificent deciduous woodlands, swathes of heather and panoramic views, itís no wonder that Black Down has inspired poets and dreamers Ė among them, Alfred Lord Tennyson. At 280m, this hill is the highest point in the national park and a highlight of the Serpent Trail, which winds through the heathlands of West Sussex. You can walk here from the attractive town of Haslemere where the Trail starts.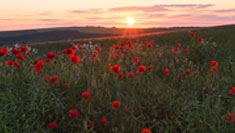 Ditchling Beacon
Just seven miles north of Brighton Pier, this stunning hilltop spot, the highest point in East Sussex, has fabulous views and is a good starting point for walks.
Brighton and Hove Breeze Buses
run up here hourly on Saturdays and Sundays. The road from the pretty village of Ditchling is unforgivingly steep Ė if you ever cycle from London to Brighton, youíll never forget it.
Lewes
Modest for a county town, Lewes is an arty, one-of-a-kind place, with great bric-a-brac shops and cosy pubs. It was one of the first towns to join Totnes in the
Transition Network
, creating its own currency, the Lewes pound, to support local businesses. Its outdoor swimming pool, The Pells, is enchanting in summer and its November Bonfire processions are the biggest and maddest in Sussex.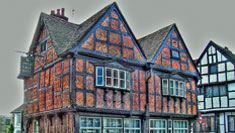 Midhurst
This pretty little West Sussex town is the South Downs National Parkís centre of gravity. Itís home to the South Downs Centre, a listed building thatís been given an eco-friendly makeover to turn it into an information point and community hub for the park. Inside, thereís an exhibition introducing the landscapes, geology, produce and heritage of the region.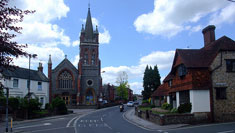 Petersfield
Once a staging post for horsedrawn coaches, this handsomely historic town sits at a crossroads between London, Portsmouth, Winchester and Royal Tunbridge Wells. Its market used to deal in livestock, but these days the twice-weekly gathering is all about local flowers, food and household oddments.
Secrets of the Heath
is a free family event each August, celebrating the wildlife and history of heathlands.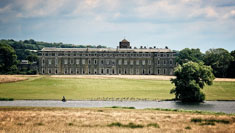 Petworth House
Wider than Buckingham Palace and with grounds twice the size of Hyde Park,
Petworth House
is thoroughly impressive from the outside. But wait till you see the interior. An astonishing art collection featuring works by JMW Turner and Van Dyck takes pride of place alongside extraordinary ornamental carvings by Grinling Gibbons. Helpful guides are on hand to show you every detail.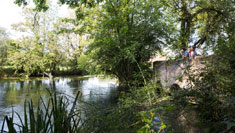 River Itchen
Clear, glossy and just 45km long, the Itchen is one of the loveliest of the National Parkís rivers. Its chalk-filtered water creates a perfect habitat for watercress and wildlife such as water voles, otters, white-clawed crayfish, brown trout and salmon. It curves around the far west of the park and flows through the beautiful city of Winchester before heading south to Southampton.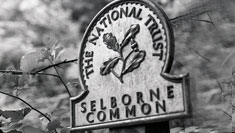 Selborne Common
Immortalised in the expressive writings of Gilbert White, an 18th century parson with a passion for natural history, Selborne Common remains a leafy retreat of beech woods and wildflower meadows, home to woodpeckers, whitethroats and rare plants. Managed by the National Trust, itís free for anyone to explore.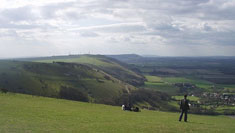 South Downs Way
What could be more satisfying than exploring the only National Trail to run right through a national park? There are loads of short, manageable sections to choose from. Cover all 100 miles, and you can expect a tremendous sense of achievement. People of average fitness can walk its full length in under a fortnight. By mountain bike, it takes two to four days Ė or just one, if youíre superfit.
Sussex Heritage Coast
The first stretch of British coastline to be designated a Heritage Coast is classic walking country. The South Downs Way leads from the bird-rich bends of the Cuckmere, up over the white cliffs and down to the genteel resort town of Eastbourne, passing the Seven Sisters and Beachy Head, Birling Gap and Belle Tout Lighthouse. Reach it by a scenic bus route between Brighton and Eastbourne or the open top tour from Eastbourne.
South Downs National Park Itineraries
---
Travel times in the South Downs National Park
---
The following times give you a rough idea of the travel times between the main attractions in the South Downs National Park.
London to Petersfield: 1 hour by train
London to Lewes: 1 hour by train
London to Haslemere: 1 hour by train
Gatwick Airport to Lewes: 34 minutes by train
Winchester to Petersfield: 35 minutes by car
Petersfield to Midhurst by bus: 26 minutes (bus) or 17 minutes (car)
Midhurst to Arundel: 30 minutes by car
Arundel to Brighton: 40 minutes by car
Brighton to Lewes: 15 minutes (train) or 20 minutes (car)
Lewes to Eastbourne by train: 18 minutes (train) or 31 minutes (car)
Brighton to the Sussex Heritage Coast: 75 minutes by bus
Havant to Haslemere: 27 minutes by train

Plan your trip with the South Downs National Parkís new interactive journey planning tool and Discovery Map