BEST TIME TO VISIT SOUTH GEORGIA

South Georgia from late April to early October is frozen solid, bleak, inhospitable and inaccessible for all but seals, seabirds, penguins and mad scientists.

The best time to visit South Georgia is Oct-Mar, as although weather condition ns can still turn on a sixpence this is when warmer temperatures at sea level coincide with a flurry of activity on land during breeding and nesting times. In Oct/Nov, ice formed during the winter shimmers and shines in far greater quantities before breaking up with the 24hr sunshine, and you'll find far fewer cruise ships setting off before the peak months of Jan-Feb. Spring flowers bring surprising colour to monochrome landscapes in Oct-Nov as elephant and fur seals establish breeding grounds and last season's penguin chicks rule the rookeries.
South Georgia Weather Chart
Our South Georgia Holidays
THINGS TO DO IN SOUTH GEORGIA
Things to do in South Georgia…
The only way for tourists to reach South Georgia is onboard a specialist polar cruise ship. Choose a small ship (50–260 passengers) for maximum experience with minimal environmental impact, as only 100 people are allowed to disembark at any one time. All South Georgia expeditions are accompanied by wildlife, history and other polar experts to instill the fragile nature of marine and land ecology on passengers through presentations, lectures and conversations over coffee so do your research and find out who's onboard before you set sail.
Tourists photograph animals. Photographers photograph behaviour. And you're not going to take great wildlife photographs unless you're lying down. So, if you're looking to get on photogenic, more intimate, terms with penguins then ground level, simplicity and patience will stand you in good stead. Choose a South Georgia cruise that includes a pro photographer to check what ISO you're using, and what shutter speed, and give you general tips on how to take better photographs.
Trips to South Georgia are always filled with fascinating characters and that's just your fellow passengers. Keeping an open mind and initiating conversations is the best way to pass the time on-board and although socialising is not imperative it will help you get more from the experience. Also, you'll get to meet conservationists and scientists, listen to onboard presentations, and rediscover your inner geek as you fill your mind, hit the books, and make the most of each and every moment.
Things not  to do in South Georgia…
There are strict guidelines for all Antarctic visitors. You will be briefed before departure, onboard your ship and before you disembark so don't touch, feed or handle animals, no matter how cute they appear or even if they seem to be in distress. If you're worried, tell one of the expedition team. However, if a penguin, for example, comes towards you, take a breath, prepare for a peck on the boot and smile as you manage to get close up to wildlife on their terms, not yours. People tend to bring too much with them, but what's needed are thin layers, not bulky coats. If you've got clothes that will get you through a cold winter in Britain then those will suffice – winter in the UK is South Georgia's summer with temperatures hovering around zero before climbing up to 7 or 8°C. Of course you can hit adverse, colder conditions, but in that case you just get back on the boat, enjoy the warmth and wait for it to pass. Stepping foot on South Georgia is an amazing experience with thousands of penguins and seals greeting your arrival with a blend of curiosity and blatant disregard. Although it can be tempting to mark such a moment by swiping a seemingly insignificant shell or stone this is not the place to take souvenirs, only photographs. When visiting a research centre there will be a few well trodden paths used by scientists. Stick to these and don't stray further than you're instructed. Don't drop litter either. We know you wouldn't dream of it but, well, you never know.
If you'd like to chat about South Georgia or need help finding a holiday to suit you we're very happy to help.

SOUTH GEORGIA TRAVEL ADVICE
Bill Davis, an Antarctica expedition leader for many years with our supplier Intrepid, shares his thoughts on trips to South Georgia and Antarctica:
Expect the unexpected
"Something unexpected happens every day – that's the beauty of what we do. This is what makes it an expedition rather than a cruise. If we have the opportunity to stop and engage some whales for an hour or two, that's what we're going to do. The captain will turn the ship around and we'll go and have a look. We won't say no - sorry - we're on a tight schedule and we have to be at this destination at this time for our slot."
Addictive Antarctica
"We raise awareness throughout the trip of different areas of concern, and we raise money as well. We have auctions, and it's incredible to see the number of our guests participating and contributing and keenly interested in our educational programme onboard. That makes me really happy. People come down for a holiday, and they leave as true ambassadors to the area. They get infected with the polar fever."
Cabin essentials
"If you're sharing a cabin, earplugs would be a good tip. And we feed people very well on board, but sometimes there is a little treat that you like from home - whether it's peanut butter or vegemite or marmite."
Charlotte Caffrey is a marine scientist and a polar guide for our Antarctic cruise supplier Aqua Firma:
Life afloat
"We don't even call our trips cruises because of all the connotations associated with the term. We keep our trips small; you're not expected to go to dinner in your finery; and there's no musical entertainment or band playing each evening. Part of the joy of these trips is making conversation with people you may not have met otherwise."
Paying your respects
"People are very keen to visit Shackleton's grave to pay their respects and to learn more about what happened on his ill-fated last expedition. On the trip, we try and reach Elephant Island, where Shackleton's men were marooned awaiting his return, but the weather conditions are notoriously bad there making it difficult to land, so we have to be flexible with our itinerary expectations."
Fellow passengers
"Apart from the amazing scientists and researchers at research stations that we visit who are happy to show us around and usually come on board for a shower and a meal, you meet people on board with surprising stories to tell. Once at dinner I sat opposite an Australian man who had funded his trip by digging up gold nuggets from his own garden. The lady sitting next to him was an incredibly sophisticated diplomat who had travelled the world. It was such a great contrast the three of us chatting, all from very different walks of life."
SOUTH GEORGIA TRAVEL ADVICE
At Responsible Travel, we think the best people to advise our travellers are often... other travellers. They always return from our tours with packing tips, weather reports, ideas about what to do - and opinions about what not to.

We have selected some of the most useful South Georgia travel tips that our guests have provided over the years to help you make the very most of your holiday – and the space inside your suitcase.

Set your expectations high and you still won't be disappointed because nothing prepares you for a trip to the Antarctic, South Georgia and The Falklands. The latter 2 are well worth taking in. Do not skimp on this holiday, of all the holidays you will ever take.

"It cost a heck of a lot of money, but worth every penny as it really was a trip of a lifetime. The seasickness struck me low as soon as we sailed out of the Beagle Channel into open waters, but it only took a day to reach the outer islands of West Falkland for our first zodiac landings and some amazing wildlife spotting. Getting up close to nesting albatrosses was a huge thrill. I was warned that there isn't much to see or do in Ushuaia so I took a trip out to the Tierra del Fuego National Park, which is outstanding and made an excellent start to the trip." – Roger Bilder

"Read about the history and the wildlife in advance and bring a really good camera, but more importantly a good pair of binoculars! Also, the jacket you are given is incredibly warm! The additional highlights for me were to have been able to follow the route of the Irish explorers Shackleton and Crean and by camping out for a night. Part spent in a snow hole and part in a tent, I really appreciated the harsh conditions which they endured but for me thankfully only for one night. Also by visiting the old whaling station on South Georgia and Shackleton's grave and trekking part of the Shackleton route down to it I felt a sense of history. – Helen Connolly

"I think the British Antarctic Survey guys enjoyed the distraction of attending the ships BBQ at Grytviken, S Georgia ;-). Our guides – wonderfully enthusiastic, knowledgeable people – gave us strict instructions on how to behave around wildlife and we were given a talk on rules & regs. It sounds oppressive – but honest it wasn't. Both guides & crew made every effort to minimise the environmental impact. Am selling my sisters on Ebay to help raise funds to do it all over again ;-) Seriously though – wow!!!!" – Sara Page

South Georgia is an amazing place. The beaches were packed with tens of thousands of penguins and they weren't afraid to come right up to us.

More about South Georgia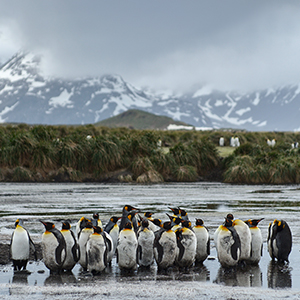 Tread carefully through our South Georgia travel guide and learn that a flexible, positive attitude and an adventurous sea faring soul are all that's needed to make the most of your time.