Things to see & do in Fiji

There's more to Fiji than just beaches; think thick forests, lofty peaks and ramshackle frontier towns - all washed down with a healthy serving of
kava
.

The most visited of all the South Pacific Islands, Fiji receives nearly the same number of tourists as the rest of the region combined. So it's no surprise that it has a solid offering of all inclusives and good-time hotels; think sealed off couples' pamper palaces or party islands selling cocktails by the bucketload. But if you're after tranquility and authenticity, there's still plenty to go around; you just need to head away from the main travellers hubs of Nadi, Mamanuca and Yasawa.

The main island of Viti Levu has some rugged and little visited mountains and national parks, as well as chilled surf and yoga spots along the coast that are a far cry from the manicured perfection of the country's brochure-ready resorts. Hop on a boat or a plane and you can get to wild, green Taveuni Island or Vanua Levu, a rustic spot full of dirt roads and sugar plantations, both of which promise a much more authentic and memorable experience. Fijian people are incredibly hospitable so you're more than likely to be welcomed with a cupful of 'grog' (otherwise known as the mildly narcotic drink, kava) or a richly spiced curry and roti as you make your way across these friendly isles.
About a third of Fiji 330 volcanic islands are inhabited. The largest and most heavily populated is Vanua Levu, home to the capital, Suva, and the town of Nadi, a busy tourist hub, where the majority of travellers enter the country. Due to the relatively close proximity to Nadi, the Mamanuca Islands, Sacred Islands and Yasawa Islands often appear on small ship itineraries and are known for their tropical island perfection, while further flung Taveuni and Vanua Levu attract hikers and bikers with their rugged green interiors.
Culture in Fiji
Fiji's chequered history has gifted it a diverse population, the most multicultural in the South Pacific. It's a mixture of indigenous Fijian (Melanesian and Polynesian backgrounds), as well as those with Indian, European and Chinese heritage, many of whose ancestors were either colonisers or indentured workers brought to the islands to toil in plantations. As you pass through Fijian towns and countryside, you'll see Christian churches, mosques and Sikh and Hindi temples; attending a Sunday service is a great way to gain insight into Fijian communities.
Village visits
Traditional Fijian society holds the family unit, the local village and the land in high esteem, with multigenerational homes the norm. A village visit is one of the highlights of a Fijian sojourn but remember a few key points: wear modest clothing which covers arms and knees, remove your hat and sunglasses and bring a gift for the local chief. If you are invited into a home, take your shoes off before entering and leave them at the door. Never touch anyone's head, children included; this part of the body is considered sacred.
Fijian music
Music is part of everyday life in Fiji and if you spend time there you're likely to come across the meke. A traditional song and dance that tells the history and legends of the islands, it includes a percussion orchestra (vakatara) that sits on the ground and sings or chants for the dancers (matana).
Fijian cuisine
Food is a big deal here too, with excellent Chinese and Indian cuisine available as well as tasty local fare. You might well come across a traditional Fijian feast called a lovo – pork, fish or chicken is wrapped in banana leaves or palm fronds and cooked in an earthen pit for several hours, along with root vegetables such as taro.
Our top trip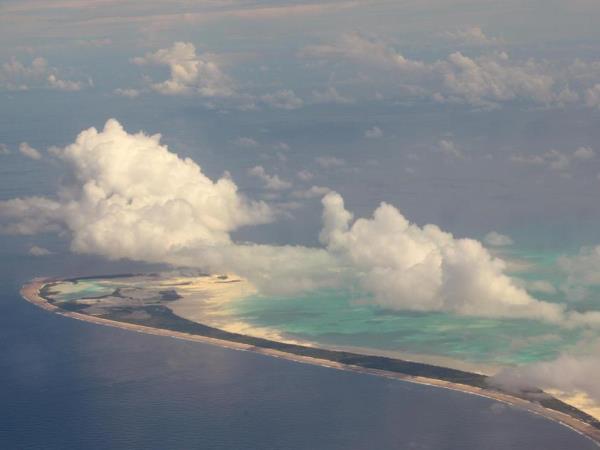 Discover some of the world's smallest nations
From
£17595
27 days
ex flights
Small group travel:
2024: 20 Jun, 26 Sep
2025: 19 Jun, 25 Sep
If you'd like to chat about South Pacific Islands or need help finding a holiday to suit you we're very happy to help.

Since this might be the only chance you get experience such tropical perfection, you need to set aside some time to just soak up your surroundings. Lie back on the beach with a book, spend time at a beachside yoga retreat or chill out and do absolutely nothing. Then get up again and take on some of the top activities that Fiji has to offer.
Small ship cruises
Exploring Fiji by
small ship cruise
lets you get right up to hidden coves and untouched shorelines in a way that larger ships can only dream of. This leads to days anchoring in sheltered waters to snorkel, dine or view coral from a glass-bottomed boat; and gets you close to local communities in a way that wouldn't be possible if you were with a larger crowd of cruise ship passengers.
Diving & snorkelling
Of course, getting under the water is the reason that many people flock to Fiji, and the opportunities here are endless. You could, for example, encounter the underwater ecology of Drawaqa Island in the company of a marine biologist or snorkel Taveuni's famous Rainbow Reef. If you'd rather get your kicks above the water, then you could surf Fiji's best breaks while spending nights camping among the dunes; or kayak offshore remote islands imagining what life was like for the early settlers.
Homestays
If you get the opportunity to stay in a local home in Fiji, you should snap it up right away. Some of our operators do offer home stays as part of their tours, and they're a rare chance to get far away from the trappings of your everyday existence and experience the life of a Fijian villager. Stays often include crafty pastimes such as cooking classes and basket weaving, and there's nothing like an invite to an authentic kava ceremony to really get your Fijian adventure started in style.
More South Pacific Islands articles