Things to see & do in Kiribati

In a world where travel has become easy and accessible, Kiribati is for those that like to get as far away from the tourist track as possible.

When people talk of far flung idylls, Kiribati (pronounced Kiribas) is perhaps what they have in mind. This truly remote island nation is one of the world's smallest and least visited, receiving a mere 6,000 visitors a year. This means all that castaway perfection is there for the taking and you won't be bothered by happy hours, all-you-can-eat buffets or hordes of cruise ship passengers. As well as soaking up the rays on these low lying isles, there's plenty to keep you active too, from excellent snorkelling and diving, to renowned fishing and bird watching.
With its remote location in the middle of the Pacific and its vast spread (33 islands scattered over 3.5 million sq km of ocean), Kiribati has the biggest water to land ratio of any country in the world. Even the country's largest individual atoll, Kiritimati (Christmas Island), is around 5,000km from any other nation. The largest coral atoll in the world, it's the heart of Kiribati's tourism. With an average height above sea level of just 2 metres, Kiribati has plenty of beaches, but is also one of the most at risk countries in the South Pacific, thanks to encroaching ocean levels.
Although part of a wider pacific island community, Kiribati's population of just over 100,000 has its own individual culture and language, much of which remains intact because of the country's isolation. Te Katei ni Kiribati (the Kiribati way of life) is illustrated through the maneaba (a traditional meeting house) where community decisions are made and people meet to eat and socialise. People value family ties and social obligations very highly – the elderly are accorded great respect, most people live in extended family units and hospitality is taken seriously.
Kiribati is far flung and difficult to reach, so it's not well suited to independent travel or a one-stop trip. Most people will spend just a couple of days here as part of an organised, multi country
small group expedition
, where you'll explore lesser known atolls, visit small villages, swim off uninhabited islands and immerse yourself in traditional Kiribati lifestyles.
Village tours
Spending time with local people is a great way to inject a little culture into your Kiribati visit, and our operators will make sure you spend time in a Kiribati village, with local guides to help you get the most of it. You'll likely visit a traditional village in North Tarawa where you'll hear old legends and learn traditional skills such as weaving and coconut husking.
Our top trip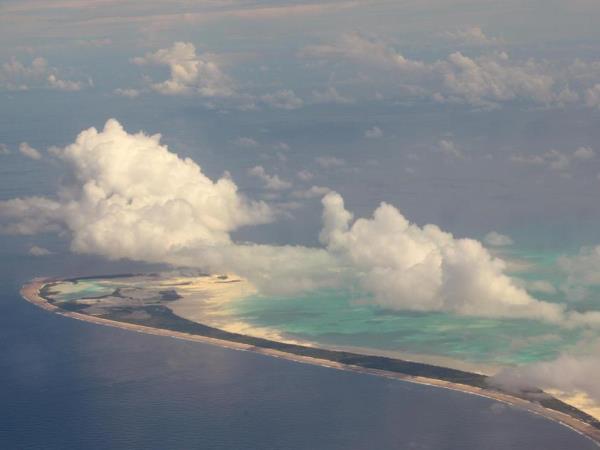 Discover some of the world's smallest nations
From
£17595
27 days
ex flights
Small group travel:
2024: 20 Jun, 26 Sep
2025: 19 Jun, 25 Sep
If you'd like to chat about South Pacific Islands or need help finding a holiday to suit you we're very happy to help.

Diving & snorkelling
As with Kiribati's Micronesian neighbours, water-based pursuits are big news here. Diving, snorkelling and canoeing on the brilliant turquoise lagoon in North Tarawa are all worthy highlights and fishermen won't go home disappointed either. Kiritimati is home to marlin, wahoo, barracuda and massive shoals of tuna; as well as huge swathes of saltwater flats.
Bird watching
Kiribati supports a thriving bird population. There are plenty of seabirds such as boobies, petrels and gulls, but head inland to the forested areas and you'll be surprised by the variety of land-based birds, too, which include the Pacific long-tailed cuckoo and the endemic Christmas Island warbler.
War history
South Tarawa, Kiribati is the sight of one of the bloodiest battles in the Pacific during World War II and tours will take you to explore the sites, visit memorials and hear stories about Kiribati's role in the war and its impact on the country.
More South Pacific Islands articles