Things to see & do in Vanuatu

Anchored firmly in Melanesia, Vanuatu bobs dreamily in the ocean, draped in tropical foliage, surrounded by shimmering lagoons and pepped up with a hint of
je ne sais quoi
.

Want your tropical rainforest, golden beaches and underwater adventures to come with a side order of brie and fine wine? Then Vanuatu will see you right. An Anglo-French colony until 1980, this gem of a country has all the untamed tropical island beauty you can handle, but also has paved roads and solid infrastructure on its main islands – and it even produces its own coffee. Efate, the main island, is home to the nation's capital Port Vila, which is where you'll find the country's resorts, harbours and international restaurants.

To get more of a feel for traditional village life and customs, you'll have to get away from the tourists and yachties in Port Vila and head for the outer islands, such as Vanua Lava, which is crowned by the volcanically active Mt Séré'ama and Espiritu Santo, Vanuatu's largest Island and location of James Michener's 'Tales of the South Pacific'.
Our South Pacific Islands Holidays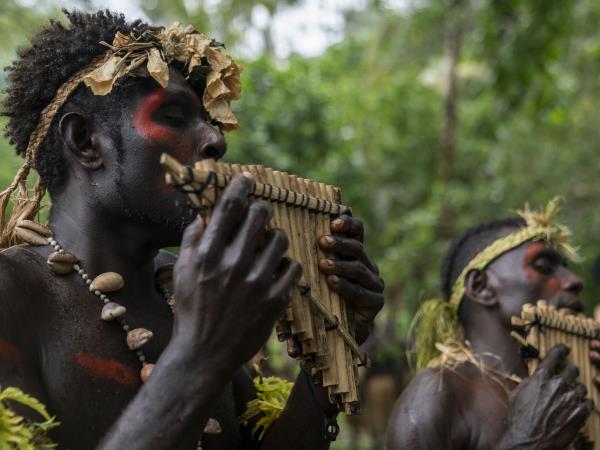 Exploring Papua New Guinea, Solomon Islands & Vanuatu
From
US $11995
17 days
ex flights
Vanuatu is a collection of over 80 islands. As with many of its South Pacific island neighbours, there are both tropical beaches and dense rainforests here, so you'll find all the diving, snorkelling and jungle trekking you can handle; bird watchers will be kept happy by the stunning endemic species on offer. The world's most accessible live volcano, Mount Yasur belches away on Tanna Island, a short flight away from Port Vila.
With over 80 inhabited islands and hundreds of spoken languages in a country with a population of only 250,000, Vanuatu is perhaps the most culturally diverse destination in the Pacific. Some languages are spoken in only one village, which is why most people can speak Bislama, an English-based creole that has developed as the common tongue.

As a former French colony, Vanuatu still clings to some elements of French culture. Local supermarkets stock pates, baguettes and French wines and cheeses; while in some Port Vila restaurants you're welcome to place your order en Français.
Our top South Pacific Islands Holiday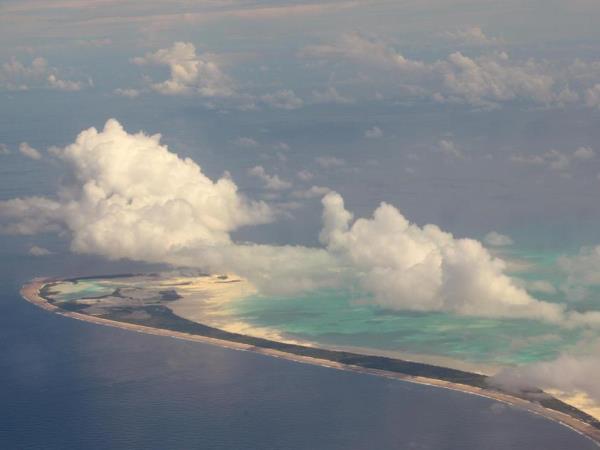 Discover some of the world's smallest nations
From
£17595
27 days
ex flights
Small group travel:
2024: 20 Jun, 26 Sep
2025: 19 Jun, 25 Sep
If you'd like to chat about South Pacific Islands or need help finding a holiday to suit you we're very happy to help.

Diving, swimming & snorkelling
For lovers of the underwater world, Vanuatu is heaven. There's some spectacular and easily accessible wreck diving here – including sunken ferries, yachts, cargo ships, and off the island of Espiritu Santo, the remains of the SS President Coolidge, a former luxury liner and troop ship that was downed by mines in 1942. Espiritu Santo is also home to a number of 'blue holes' – large pools formed by limestone rocks and filled with bright blue water anywhere from 3m to 30m deep. Many have rope swings or platforms built around them, from which to leap into the water, or you can do it the old fashioned way and plop in from an overhanging tree. Alternatively, don a snorkel to take a gander at the unique underwater landscape.
Caves & volcanoes
With Mount Yasur just a 45-minutes plane journey from the capital it would be rude not to visit to this active volcano. Most tours begin with a 4x4 journey across Tanna Island, passing local villages and thick native bush, and crossing plains of volcanic ash. Once you near the summit by car (vehicles can get to within 150m of the crater's edge), it's then a 10-minute uphill walk to the crater's edge – if you dare. Also on Tanna island is the Blue Cave – a natural cavern filled with bright turquoise water that has to be accessed via a short underwater swim.
Cultural tours
Village visits provide insight into ancient ways of life in these islands. Take a small group tour that passes through Vanuatu and you'll be introduced to local customs and practices such as traditional crafts and fire walking, and spend time in local villages, including the village of Numba, whose self sufficient inhabitants continue to live much as their ancestors did, maintaining their kastom and beliefs.
More about South Pacific Islands