Luxury fitness retreats in Spain
The best fitness holidays are those that see you returning home happier, healthier, revitalised in mind, body and soul, with a noticeable glow about you. And if you can achieve all of that while also enjoying a little extra style and luxury, well, who's complaining?
Luxury fitness retreats in Spain are boot camps, but not as you know them. There's no competitive element. No drill sergeant barking out commands. No pressure to take part in any activity if you'd prefer to go for a walk, a massage, or simply have a lie-in. Instead, there is a welcoming, supportive and nurturing atmosphere where the staff are focused on helping you to meet your fitness and lifestyle goals, and sustain them into the future.Week-long residential programs take a holistic approach, with attention given to diet, flexibility and wellness by attentive staff; sure to tune up your body, and air out your mind.
Our Spain wellness Holidays
Luxury fitness retreats on
the Costa Blanca
Spain's northern Costa Blanca is reputed to have one of the healthiest climates in the world, basking in sunlight and refreshed by an invigorating sea breeze. Private airport transfers deliver you to a secluded and peaceful eco-resort, built to the principles of feng shui and very much a 'word of mouth' place where guests tend to return regularly, often with family and friends in tow. Suites are generously proportioned, each with a private balcony or terrace, and there's no single supplement for solo guests.

With a maximum of 16 guests you're guaranteed a high level of personal attention, and the fact that these retreats are only available on fixed dates between March and December ensures staff remain fresh and focused, too.

You'll start your journey on the road to 'wellville' with a comprehensive consultation and health check, during which you can define your goals and create a personalised fitness plan. From there you'll embark on an intensive program targeting weight loss, flexibility, physical fitness and/or general wellbeing, with positive motivation key.
From one day to the next you might be joining in gentle yoga or Pilates classes to improve your flexibility; circuit training on a nearby beach; hiking along the magnificent coastline or into the mountains; or working on your core at a Swiss ball class.
You will have use of the resort's various pools: indoor, outdoor lagoon and spa, or you can, of course, make the short walk down to the sea. Join a lecture on nutrition, indulge with a facial or a Thai massage and take part in meditation sessions designed to promote relaxation, stress reduction and restful sleep. Essentially, if you're looking to get fit and get away from it all at the same time, on a luxury retreat on the Costa Blanca you'll quickly forget just what it was you were hoping to get away from in the first place. But you'll love how reinvigorated you feel at the end of it.
"Relaxing by the pool outside my luxury apartment each afternoon I knew the food and exercise meant I was going to come home feeling and looking better… I loved the yoga and Pilates but chose to take a walk along the cliff path instead of doing circuits - there's no pressure to do everything. Embrace the detox - there was all sorts of contraband in our group but the food was so good you didn't need it. There are 2 bed (but only one bathroom) apartments but even if you're with a friend (or daughter) I'd opt for separate apartments, it's the same price and it's great to have the privacy and a bit of separation …luxurious accommodation, delicious healthy food, excellent instructors, a great group of people, stunning scenery and sunshine - and we came back lighter, detoxed and relaxed." – Kate Hindley in a review of her luxury fitness holiday in the Costa Blanca
Julie Slade from our holiday specialist The Ultimate Retreat Company on the art of luxury fitness:
"Our guests trust us to provide health fitness and wellness programs designed to not only help them to achieve their goals but also to offer a true boost to both body and mind. We have a results-oriented fitness program supported by a highly qualified fitness team that provides interesting and transformative exercise options, including yoga, pilates, circuit training, HiiT, box fit, kettle bells, core, body toning plus stunning hikes along our coast, up into the mountains and down into the picturesque valleys. Combined with super fresh healthy food and stress reduction workshops, and strategies to offer lasting positive changes to diet and lifestyle choices, and it's pretty comprehensive."
Our top Spain wellness Holiday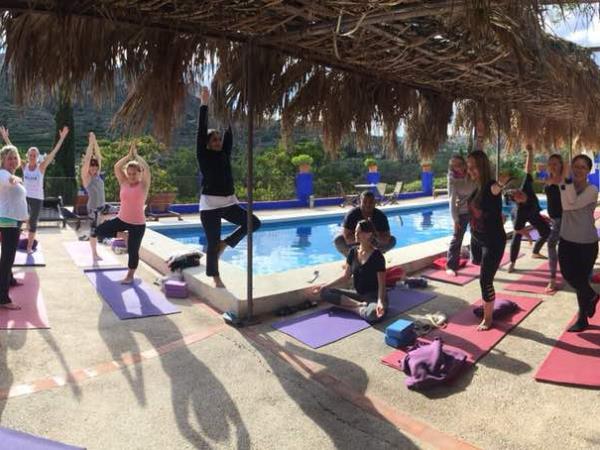 Yoga and meditation in the magical countryside of Valencia
From
€495

to

€1195
6 days
ex flights
Small group travel:
2021: 29 Aug, 5 Sep, 19 Sep, 26 Sep, 10 Oct, 24 Oct, 31 Oct
If you'd like to chat about Spain wellness or need help finding a holiday to suit you we're very happy to help.
Luxury retreats in Granada
Situated in the foothills of the Sierra Nevada, Moorish Granada is ideally located for outdoor training sessions, bike rides and hill walks. You'll stay in a luxury villa, with healthy meals prepared by personal chefs, as you take part in expertly crafted programs that span weight training, nutrition and injury prevention advice, yoga and physiotherapy. A musculoskeletal screening is effectively an MOT for your body, while you can also relax with pools both indoor and outdoor, or in a sauna. And as a just reward for all this exertion, how does a farewell meal at one of Granada's finest Michelin-starred restaurants sound?
Luxury retreats in Marbella
Staying in a luxury hotel in one of Spain's most divine destinations, take a tailor made program that allows you to be as active or as mellow as you prefer. Experienced and results-driven professionals, including fitness coaches, nutritionists and wellness practitioners, are on hand as you take part in everything from yoga and Pilates to krav maga, chi-walking, endurance running and boxercise. Of course just exercise alone is not enough for everyone, so you can also add in clinical treatments, skincare packages and therapeutic massages.
More about Spain wellness