Best time to go to Swedish Lapland

The lives and work of Sami people are so bound up with nature that they consider Swedish Lapland to have eight seasons.

In a place where summer and winter temperatures can vary by up to 70°C, it's easy to become preoccupied by the weather. The best time to visit Swedish Lapland for a snow based holiday is from December to March. During these months the conditions are usually perfect for a wide variety of outdoor activities such as snowmobiling and sledging with huskies. Your chances of seeing the Northern Lights improve the longer you stay and the further you are from light pollution. Christmas and New Year tend to be the busiest times to go, while March is a lot quieter.
Swedish Lapland, month by month
December, January and February tend to be the coldest months in Swedish Lapland, with average temperatures of around - 16°C, but wind chill can cause it to fall to -30°C. Snow generally falls from October or November through to May, but the air is pleasantly dry and crisp, making even the extreme cold bearable. Be aware that December and the first half of January will have very short daylight hours, so consider how active you want to be during the day. While the majority of small group trips to Swedish Lapland take place in winter, there are tailor made tours that operate all year round. June, July, August and September are ideal for boating and hiking, and in June and July best you'll experience the disorientation of midnight sun. Your trip might also be combined with a few days in Stockholm, where life is lived on the streets at this time of year. March, April and May are superb for outdoor pursuits, with snow on the ground but longer days and bright, sunny weather. As the wilds become more accessible, thinning ice can be an issue, so travelling with a guide is advisable.
Our Swedish Lapland Holidays
Swedish Lapland Weather Chart
Our top Swedish Lapland activities
Things to do in Swedish Lapland…
Life this far north can be tough, but it equips you with useful survival skills. An activity holiday in Swedish Lapland will unleash your inner Ray Mears in no time. Strap on snow shoes as you forage for your meals, cut a hole in lake ice so you can fish for pike and perch, and cook reindeer stew over a campfire. Within a few days, you'll be a master at mushing your huskies.
Why settle for a regular room with a view when you can choose a super stylish tree hotel, with floor to ceiling windows offering amazing forest views? Another famous accommodation is the Ice Hotel, which is painstakingly rebuilt every year in Jukkasjärvi, near Kiruna. There's no heating (hardly surprising) in individually designed rooms, where guests sleep in polar sleeping bags under reindeer furs. There is an onsite sauna though, and a church where wedding ceremonies are performed.
Keep an eye out for the wildlife. Moose can frequently be seen in forests, or from the car window, and reindeer are everywhere. Lynx are much more of a rarity, but there are small group tours that attempt to track them using binoculars and remote cabins. There are no wolves in Swedish Lapland any more, but there are still a few brown bears around.
Things not to do in Swedish Lapland…
Leave the Northern Lights until the end of your trip. Viewing expeditions are at the mercy of weather conditions and the level of solar activity, so success can never be guaranteed. Many Swedish Lapland itineraries will include a stay in a remote area where aurora borealis are best observed. If you can schedule that into the early part of your holiday, then if they don't appear, there is always the chance of rescheduling for another attempt. Forget your thermals. Temperatures can vary erratically, so layering thin undergarments helps you quickly adjust. Tours operating in remote areas will often provide good winter clothing, but you may prefer to bring your own instead. Essentially, pack as though you were going skiing and you should be okay – and if you're going dog sledding, a pair of ski goggles will come in very handy. Let go of the sledge! Dog sledding is a very popular winter activity in Swedish Lapland, but in patches of thick snow, passengers sometimes need to get out and push for a while. Unfortunately the huskies don't always appreciate this gesture of solidarity, and may not stick around once they get going again. You might then have to wait for your guide to round them up.
Our top Swedish Lapland Holiday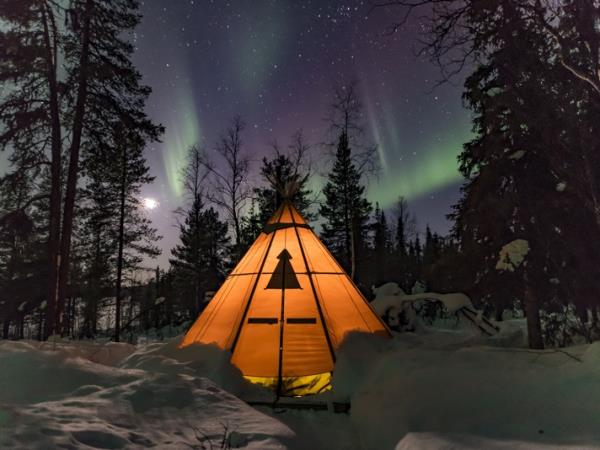 Winter glamping, wildlife, dogsledding and Northern Lights!
From
€2800
8 days
ex flights
Small group travel:

If you'd like to chat about Swedish Lapland or need help finding a holiday to suit you we're very happy to help.

Swedish Lapland travel advice
Sleeping with the squirrels
Sleeping with the squirrels
Laura Greenman from our supplier Magnetic North:
"Staying in the tree hotel is a magical experience. When you climb the ladder up it's a bit unnerving, but once you get inside it feels truly luxurious. Each room has a unique design and furnishings, and you have a real sense of nature. The silence up there is incredible. They are proper solid wood buildings, so they don't move around and they're well-insulated. It's like a higher level of glamping – literally."
Tips on what to wear
Tom Wilkinson from our supplier Exodus explains how to dress for the weather:
"The weather conditions dictate activities a lot of the time. Winter temperatures this far north can be ridiculously low. On arrival, you're equipped with a set of Arctic clothing, like an adult romper suit, with sturdy and mega-warm boots. It's up to you how many layers you wear beneath that, but it's far beyond your standard cold weather gear."
Aurora advice
Laura Greenman from our supplier Magnetic North offers some tips on viewing the Northern Lights:
"Because the aurora borealis is tricky to predict, the longer you can stay the better. Remote places far from light pollution offer the best chance, and the tree hotel also offers panoramic vistas. My main advice would be not to make the Northern Lights the main focus of your trip. If they happen, they happen. If not, there's plenty of other things to do."
Dog sledding tips
Tom Wilkinson from our supplier Exodus on what to do when the going gets woof:
"The dog sledding is fantastic fun. The family running the place introduces you to the dogs beforehand and gives you some basic training – what to shout when you want to go left or right, and how to brake – but essentially the dogs do pretty much everything for you. Then you can either take it in turns driving the sled, or just sitting in front to enjoy the ride through the trees."
What to do in summer
Laura Greenman from our supplier Magnetic North:
"The tree hotel is lovely all year round. A good summer activity we often recommend is to spend a day with a local Sami family, during which you can learn a little about their ways of life and cultural heritage. Most people stay 2-3 nights at the tree hotel, and combine it with another place, such as by taking the scenic Arctic train over to Kiruna and the ice hotel which is open year-round now as well.
Arctic survival skills
Tom Wilkinson from our supplier Exodus:
"Another really popular aspect of these trips is practising things like snow shoeing in the forest, or using basic sparking tools to make a fire and heat up some hot chocolate. Ice fishing can be hard work if there is a lot of snow on the lake – you have to drill a hole in thick ice first, then wait patiently in the cold for a bite. When groups do get lucky and catch a few Arctic char we'll grill them up back at the lodge for dinner."
Swedish Lapland travel tips from our holiday reviews
At Responsible Travel, we think the best people to advise our travellers are often... other travellers. They always return from our tours with packing tips, weather reports, ideas about what to do – and opinions about what not to.

We have selected some of the most useful Swedish Lapland travel advice that our guests have provided over the years to help you make the very most of your holiday – and the space inside your suitcase.

The husky dog sledging day was wonderful – you get your own set of huskies & sledge with a fur rug.

"The outdoor clothing provided at the Ice Hotel is excellent but take your own base layer and a neck warmer/buff. For evenings just take normal indoor clothing. The food is excellent but you may want to take some snacks if you don't want lunch everyday." – Mary Andronowski

"Make sure you book up "activities" before you go. We were disappointed not to be told this before hand, as most of the activities were booked when we arrived at the Ice Hotel." – James Harrison

"Pack plenty of warm thin layers to help you adapt to the constant changes in temperature (it varied between -2 and -35 degrees during the week we were there) and take some ski goggles for the snow-mobiling they really helped us!" – Carolyn Dann

"If you enjoy skiing or snowboarding, head to Levi or Ylaas and enjoy the local slopes. Floodlit skiing, with quiet slopes and frosty trees is a great experience." – Jodie Potts

"The husky dog sledging day was wonderful – you get your own set of huskies & sledge with a fur rug. Remember your ski goggles though – we had a lot of snow & you can go quite fast (particularly if light) - afterwards hot chocolate & homemade cake in a tippee with roaring fire! Fab. The other thing was just playing in the snow - building igloos and snow slides, the right clothes mean you don't get cold and wet. Also had a really good day at the musuem near the botanic gardens. Very hands on and interactive - great for kids (old & young)...The tree hotel is really expensive - wine £10 a glass and sprite £5! Don't underestimate - take some wine for the room! Also don't book your Northern lights tour on the last night - ours got cancelled and so we couldn't reschedule it!" – Cindy Chattaway

If you enjoy skiing or snowboarding, head to Levi or Ylaas and enjoy the local slopes.

More about Swedish Lapland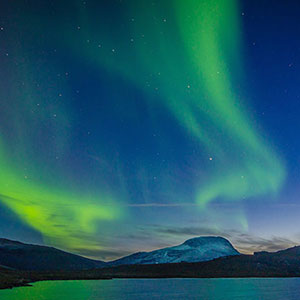 Our Swedish Lapland travel guide entices you deep into a vast Arctic expanse illuminated in winter by one of the world's most incredible natural phenomena: the Northern Lights. It's a magical, pristine landscape where you can steer sledges pulled by willing huskies, snow shoe through forests, and sleep in a hotel carved from ice.