Hill tribe trekking in Thailand
There are tens of thousands of indigenous Thai people and ethnic minority groups living in the highlands and dense tropical forests of Northern Thailand. Each group has their own customs, language, handicrafts, clothing, and system of beliefs. Collectively they're known as hill tribes.

Many have been forced to migrate into Thailand from Tibet, China, Myanmar and Laos. Persecution, deforestation and a lack of natural resources – due to slash and burn farming methods – led these traditionally transient tribes to set up more permanent camps. These camps have long since grown into large, well-established villages with dirt tracks, bamboo buildings and concrete constructions.

Surrounding the villages are sections of mountain slope that have been set aside for subsistence crops such as rice and wheat. Cash crops are also grown including: decorative flowers, pineapples, coffee and strawberries. These fields were once used for growing opium. The Thai government put pay to poppy production in the 1960s by setting up the Royal King's Agricultural initiative which encouraged communities to swap opium harvests for organic crop alternatives.
Hill tribes were also encouraged to integrate more with Thai society. Over time, tourism became another source of income, both for the hill tribes and for Thai tour operators. Unfortunately, where there's baht to be made there are also many unscrupulous people willing to cash in. Some hill tribes, especially those living closer to Chiang Mai, have found themselves exploited. Tour buses turn up and leave within a couple of hours with villagers performing for an audience or selling 'traditional' wares that are far from authentic or locally handmade.

Trekking tours to hill tribe villages with travel companies that have the welfare of hill tribes at the heart of their experience, allow both travellers and villagers to benefit. Cultural customs and beliefs can continue alongside sustainable tourism initiatives that encourage cultural exchanges and better living standards without detriment to a tribe's traditional values.

Hill tribe trekking should be a win/win solution to helping some of Thailand's poorest communities escape a tourist poverty trap that has, unfortunately, affected many other areas of Thai society.
Who are Thailand's hill tribes?
The
Karen hill tribes
are Thailand's largest ethnic minority group and are thought to have originated in Tibet before moving south to Myanmar and then Thailand. Intergenerational family communities live in well established villages within Thailand's poorest province, Mae Hong Son, and neighbouring Chiang Mai province. These traditional mountain dwellers are subsistence farmers and silversmiths with a strong belief system in spirits inhabiting the natural world. Karen villages can be found across the whole of Northern Thailand and they can be recognised by their handwoven tunics, sarongs and turbans – colourful embroidery denotes a woman's marital status. Some Karen or Kayan women wear heavy brass rings around their necks as well as on their arms and calves. This practise is thought to have started to make women more beautiful, or less beautiful to put off slavers – depending on who you listen to. Whatever the reason, neck adornments are losing traction with young Karen women and it might only be a curious tourist industry that's keeping this tradition alive.
We implore travellers to
avoid visiting these types of 'long-neck' or 'giraffe women' tourist villages.
They are nothing short of human zoos. Tourist entry fees aren't going directly to villagers and, as many of the inhabitants are considered stateless, they can't leave or look for other work for fear of reprisals from the Thai government or third party tour operators. Research who these women are and the struggles they've had to overcome. Find out how you can help them retain their cultural traditions without downgrading them to a tourist attraction. By visiting hill tribes in more remote regions with a responsible tour operator you will be voting with your feet and helping to end the exploitation of Karen women for future generations.
Find out how the
Karen Hill Tribes Trust
is helping to empower communities.
H'mong people are said to stem from stretches of the Yangtze River and over time they've been forced south, through Laos and Vietnam, as China expanded. H'mongs are now considered the second largest ethnic minority group in Thailand and mainly occupy areas within the Thai highlands, close to the borders with Laos and Myanmar in the provinces of Chiang Mai, Chiang Rai and Mae Hong Son. Women often wear their hair in a bun and favour ankle-length pleated and embroidered skirts whilst men opt for smart baggy pantaloons that are often embroidered around the trim.

The Akha are another tribal group who have migrated south from China to live in the Northern Thai provinces of Chiang Mai and Chiang Rai. The Akha are revered for their hunting ability and this is still a popular pastime amongst male Akha as well as a means of gathering food. Deteriorating land quality has led to homestay tourism becoming an important means of economic support for Akha, perhaps more so than any other hill tribe. Akha women, wearing conical headdresses adorned with coins, shells and beads, can often be seen selling their wares at the night markets of Chiang Mai.

Other hill tribe groups that you might meet in Thailand include the colourfully dressed Lisu, who originate from eastern Tibet. There are also Lahu hill tribes who have migrated south from Yunnan province in China and also favour colourful textiles including baggy blue or green pyjama type trousers. Mien or Yao people also originate from China, close to the Yangtze in Hunnan province. Mien are still strongly associated with the Chinese religion of Daoism and are thought to have been practising farming, rather than slashing and burning, for far longer than any other hill tribe in Thailand. Mien people are well known silversmiths and tailors, and can be recognised by their red and black embroidered clothing, which includes a large black turban and red fluffy scarf.
What is hill tribe trekking in Thailand?
Trekking through the jungles and highland areas of Northern Thailand is one of the most exciting ways to visit hill tribe villages that are inaccessible to vehicles. Trekking tours usually start after a three hour road transfer by songthaew (open sided passenger vehicle) or minivan from Chiang Mai. Other trekking tours will start out from the riverside town of Pai in Mae Hong Son province.

Small groups (average 12 people) will follow local trekking guides from the start of trail heads as they lead through the jungle to hill tribe villages. These treks usually take between two to three hours. Trails are often undulating and conditions are hot and humid. Sensible hiking boots are recommended although trainers are often the norm. Sandals or flip-flops are not recommended.

Paths though the jungle aren't signposted but many lead past waterfalls, like Mai Phai and Mae Klong waterfalls, as well as starting out from hill tribe markets, such as Baan Khun Klang.

Trekking tours might include one or several hill tribe villages within an itinerary. Treks aren't particularly tough although the conditions can get tiring, especially if you suffer from asthma or other respiratory issues. A head or wristband is recommended for soaking up the inevitable sweat.
Our top trip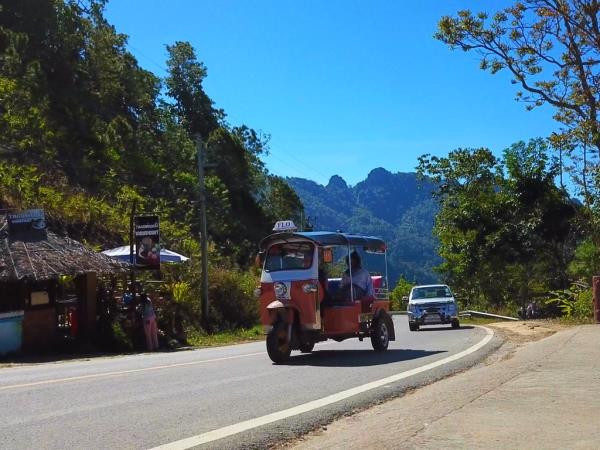 A Tuk Tuk Adventure in the stunning mountains of Thailand
From
£1395

to

£1695
11 days
ex flights
Small group travel:
2024: 3 Jun, 10 Jun, 8 Jul, 15 Jul, 22 Jul, 29 Jul, 5 Aug, 12 Aug, 19 Aug, 4 Nov, 21 Nov
2025: 4 Jan, 11 Jan, 18 Jan, 25 Jan, 5 Feb, 12 Feb, 19 Feb, 26 Feb, 5 Mar, 12 Mar, 19 Mar, 26 Mar, 2 Apr, 23 Apr, 30 Apr, 7 May, 14 May, 21 May, 28 May, 4 Jun, 11 Jun, 18 Jun, 25 Jun, 2 Jul, 9 Jul, 16 Jul, 23 Jul, 30 Jul, 6 Aug, 13 Aug, 20 Aug, 27 Aug, 3 Sep, 10 Sep, 17 Sep, 24 Sep, 1 Oct, 8 Oct, 15 Oct, 22 Oct, 5 Nov, 12 Nov, 19 Nov ...
If you'd like to chat about Thailand or need help finding a holiday to suit you we're very happy to help.

What do you do at a hill tribe village?
On arrival you'll be introduced to the tribal elders and shown where you'll be sleeping. This will usually be in a communal hut with the rest of your trekking group, not with members of the hill tribe community. Woven mats will form your sleep space on the bamboo floor as well as a safe place to stash your day pack. You'll then be invited to look around the village, meet other villagers and maybe find out more about their handicrafts or organic farms. Evening meals are communal affairs and you might even be invited to help chop vegetables or prepare food to be cooked over the fire.
Do I have to trek to see a hill tribe in Thailand?
There are also other opportunities to visit hill tribes where you can homestay with a family in Ban Hua Tung village or stay in a H'mong hill tribe lodge. These experiences are just as authentic as trekking trips it's just that the villages can be reached by road. This makes them accessible to everyone with modes of transport ranging from a small minivan or songthaew to a self-drive tuk tuk.