This incredibly unique travel experience does just what it says on the tin – roof. You're in charge of your very own three person (you can also travel with two kids and two adults) tuk tuk as part of a small convoy. You'll be led by an experienced lead guide/driver and supported by other guides and mechanics in a back up vehicle. Convoys are never more than seven tuk tuks – usually far fewer – and the lead tuk tuk is always in walkie talkie contact with the following support vehicle to ensure everyone can keep on truckin' without having to worry about what's around the next bend.

Breaks are frequent, usually one an hour, with roadside coffee shops, scenic viewpoints and decent toilets all providing passengers, and drivers, with plenty of opportunities to rest, chat and stretch.

As tuk tuks don't have doors or windows, other than a windscreen, you really get a sense of the scenery as you pass through. You get to experience Thailand with all of your senses. The heat, the smells, the sounds, the smiles – you just don't get this sort of sensory experience in an air-conditioned minibus.

So, in a nutshell, that's a self-drive tuk tuk tour in Thailand. If you'd like to know more, please read on as we've got the low-down on everything from road quality and filling stations to how to miss rush hour traffic on recommended routes.
Our Thailand Holidays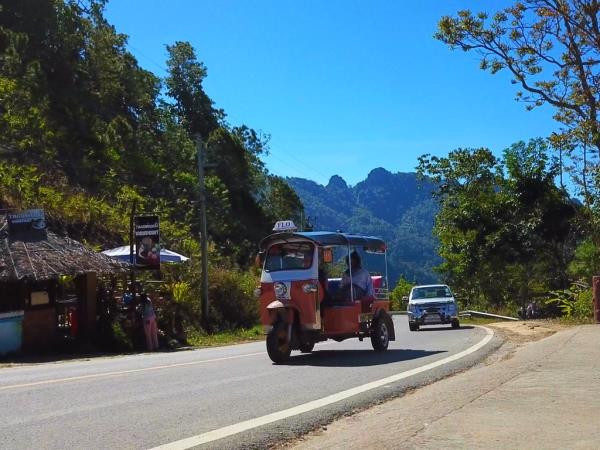 A Tuk Tuk Adventure in the stunning mountains of Thailand
From
£1395

to

£1595
11 days
ex flights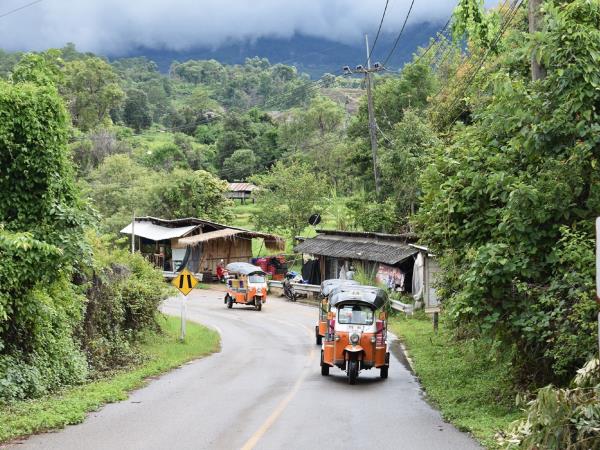 A unique adventure in the mountains of Chiang Mai
From
£575

to

£650
5 days
ex flights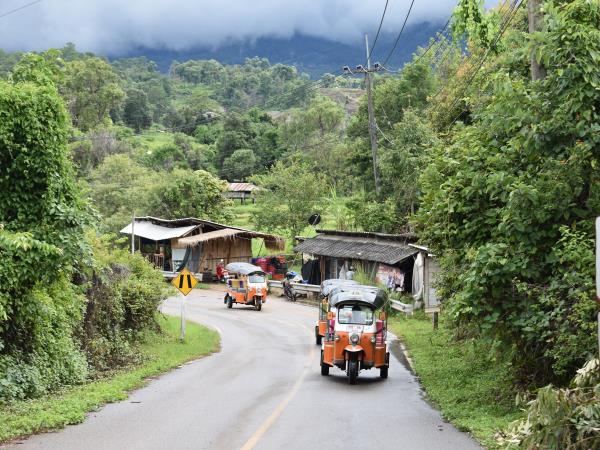 A stunning Tuk Tuk Adventure in Northern Thailand
From
£329
3 days
ex flights
What do I need to drive a tuk tuk in Thailand?
It's very straightforward to drive a tuk tuk and they take no time at all to get the hang of. Tuk tuks are basically a cross between a motorbike and a car. You have motorbike handle bars to steer and accelerate. Going faster is achieved with a twist of your right hand. You then have brake and clutch pedals at your feet and a gear stick in between your legs.

Plenty of time at the start of a tour is given to practise and getting used to driving the tuk tuk. This 'driving test' takes place off road and involves numerous manoeuvres starting from scratch. All the bilingual local guides on a self-drive tuk tuk tour have undertaken a three month training programme and are well versed in training, coaching and helping new drivers gain confidence as they take control. This sort of group leader training programme not only benefits travellers, it also empowers local people by offering employment and an opportunity for a mutual cultural exchange.

Note: on average, drivers get the hang of it in about an hour. In the rare event of someone not getting to grips with any aspect of the vehicle they can sit up front with the guide in the lead tuk tuk. No problem.
Do I need a special license/insurance to drive a tuk tuk in Thailand?
If you're undertaking a self-drive tuk tuk tour you'll need your standard driving license and an international driving permit . All tuk tuks, drivers and passengers are insured – every tour company in Thailand requires comprehensive accident insurance cover before they're allowed to operate – however, in addition, travellers are advised to take out their own travel insurance to cover all bases.
What are the roads like in Thailand?
Thailand's roads are actually extremely good. As self-drive tuk tuk tours don't go off road or down dirt tracks there are never any issues with the quality of road surfaces. Roads are well maintained and this type of tour itinerary aims to avoid major roads or busy traffic wherever possible.
How fast can a tuk tuk go?
Speed is limited to 50kmph although you'll often be driving a lot slower. Basically, no one goes faster than the lead driver and no overtaking is allowed. It's a scenic, relaxing and enjoyable experience rather than full throttle Formula 1. It's all about the journey not who's the fastest.
When/how do I fill up a tuk tuk?
Filling up usually occurs quite frequently although on average a tuk tuk can do about 200kms on a full tank. As these type of tuk tuk tours are fairly slow paced you can rest assured that fuel use is as efficient as possible and every effort is made to ensure nothing is wasted by 'burning rubber'. Petrol stations are often lots of fun, especially when travelling deep within the Thai countryside. Nowhere in Thailand do motorists, of any description, fill up themselves. There are nearly always pump attendants no matter whether you're at a Shell station or a massive wind up/suction petrol tank in the middle of nowhere.

Country garages, in particular, are a surprisingly enjoyable part of the adventure. A bit like pausing at a sluice or loch gate as part of a trip along a canal.

Local people, too, love the interaction with foreign tuk tuk drivers. The tuk tuks are bright orange and there's something about this that makes local people smile and react in a positive and genuinely interested way to travellers. It's like you become much more Thai in a tuk tuk. Local people respect this and want to find out more about you, your machine and your experiences on the road.

Bruce Haxton, Managing Director at our specialist tour operator, The Tuk Tuk Club, explains how his tuk tuks are same/same but different: "Our tuk tuks are specially built and around 6 inches longer and 5 inches higher than normal – this makes a huge difference to comfort levels and it's super easy to see out of when in the back. You can roll the roof back if you fancy getting some sun, and we have Bluetooth speakers to let people enjoy a great road trip playlist, if they wish. The engines are more powerful than a Bangkok tuk tuk to ensure no issues at all up the steepest of hills – but to an untrained eye they look just the same."
Are self drive tuk tuks suitable for families?
As tuk tuks are spacious enough to comfortably transport three adults you can easily take a family of four on a self drive tour. The minimum age is seven years old and you can fit two kids and one adult in the back whilst the driver sits up front.
Are tuk tuks accessible for wheelchair users?
Tuk tuk tours are suitable for people who might not be in the best of health or who might not be able to access other modes of transport quite as easily. OAPs and travellers on crutches have all been on this type of tour. Although wheelchair users have also undertaken a self drive tuk tuk tour it's worth bearing in mind that Thailand is a long way behind Europe in terms of providing accessible services and facilities for everyone. Best advice is to contact the tour company in advance and find out exactly what you can expect and what provisions are in places to ensure a successful trip.
Our top Thailand Holiday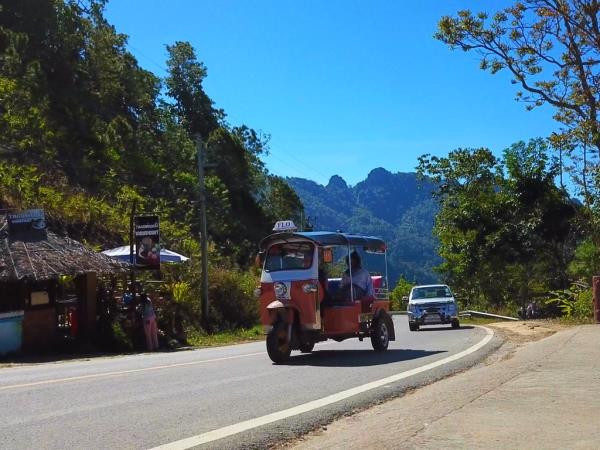 A Tuk Tuk Adventure in the stunning mountains of Thailand
From
£1395

to

£1595
11 days
ex flights
Small group travel:
2023: 23 Apr, 22 May, 26 Jun, 3 Jul, 20 Jul, 31 Jul, 7 Aug, 17 Aug, 24 Aug, 4 Sep, 21 Sep, 25 Sep, 13 Nov, 14 Dec, 27 Dec
2024: 8 Jan, 15 Jan, 22 Jan, 29 Jan, 5 Feb, 12 Feb, 19 Feb, 26 Feb, 4 Mar, 11 Mar, 18 Mar, 25 Mar, 29 Apr, 6 May, 13 May, 20 May, 27 May, 3 Jun, 10 Jun, 17 Jun, 24 Jun, 1 Jul, 8 Jul, 15 Jul, 22 Jul, 29 Jul, 2 Sep, 9 Sep, 23 Sep, 30 Sep, 7 Oct, 14 Oct, 21 Oct, 28 Oct, 4 Nov, 11 Nov, 18 Nov, 25 Nov ...
If you'd like to chat about Thailand or need help finding a holiday to suit you we're very happy to help.

Where do self drive tuk tuk tours go?
There's a great rural route from the city of Chiang Mai to the town of Pai, close to Myanmar, in Mae Hong Son province. The majority of the roads are minor apart from the stretch between Mae Sariang and Pai which is considered a 'main' road despite there being hardly any traffic. The road surface is wonderfully smooth as it's hardly ever used. This route has been chosen based on minimal traffic volume and to minimise the number of tricky right turns. It also takes into account locally-owned accommodation on the outskirts of larger towns or within smaller villages. Overnights are spent in Mae Wang (southwest of Chiang Mai), Mae Khlang Luang (a Karen village half way up Doi Inthanon Mountain), Mae Sariang (in southern Mae Hong Son province), Mae Hong Son town, and just outside the town of Pai, before a return trip to Mae Wang.
Tales from tuk tuk tours
Bruce Haxton, Managing Director at our specialist tour operator, The Tuk Tuk Club:
"I'd wanted to explore Thailand by tuk tuk for many years and wanted to see if I could combine a personal adventure with research for a fully guided and supported travel experience. I persuaded a friend (a tuk tuk driver near Bangkok) to let me 'borrow' his tuk tuk for a few weeks and headed off into the mountains. I loved every minute and from that moment I set about working out how I could properly do this. For instance, the tuk tuk I borrowed to do the research was gas powered (LPG), and it wasn't until I was deep in Mae Hong Son province that I realised that there are only two LPG stations in the whole province. That was quite interesting but I managed to rig up a large cooking gas cylinder to get me through. Our tuk tuks are therefore petrol powered so encounter no such problems."