Look at a map and its obvious why the 'W' trek is so named, winding its way in and out of three of Torres del Paine's most spectacular valleys. If you don't like doubling back on yourself then the 'W' will require some mental adjustment – but all the comings and goings simply offer one jaw-dropping view after another in one of Patagonia's most beautiful national parks. Torres del Paine may be quintessential Patagonian wilderness, but it's not untouched and you can't expect to keep the 'W's trails to yourself. However, if you're happy to share you'll be rewarded with some of South America's most staggering scenery.

The 'W' captures the essence of Patagonia in one epic hike, from glaciers to guanacos, waterfalls to wow-inducing mountain views

While you're going to need a decent level of fitness before
walking the 'W'
, this is a surprisingly versatile hike. If you want to camp feel free, but if you'd prefer a comfier bed at the end of each day then the convenient network of
refugios
– hikers' hostels –are at your disposal.
The 100km 'W' can be hiked in either direction – west to east from the Paine Grande guardería to Hosteria las Torres, or vice versa, and how you break up your days depends on your fitness and where you want to stay. These trails are well-trodden, and you'll need to tread lightly to ensure your footprints don't add to the destruction of fragile flora here. Stick to the paths – even if other hikers are in your way – as erosion around the trails is a serious concern and once damaged, the plants here take years to grow back. West to east, east to west, via campsites or hostels; however you trek it (the west to east route is outlined below) the 'W's highlights remain the same.
Lago Grey to Glaciar Grey
This section of the hike from Paine Grande follows the easterly bank of the inky Lago Grey, which stretches up the valley towards the towering turquoise snout of Glaciar Grey, part of the huge Southern Patagonian Ice Field. The first few kilometres into the valley are fairly flat and easy going – with the terrain becoming more challenging the closer you get to the glacier itself. Mirador Grey – a precipitous rocky ledge halfway up the valley - offers a glorious view up the lake to the calving face of the glacier.
Paine Grande - Refugio Grey walking time: approx 3 hours 30 mins to 4 hours.
If you'd like to chat about Torres del Paine National Park or need help finding a holiday to suit you we're very happy to help.

Valle Francés to Mirador Británico
Standing in the heart of the immense glacial French Valley, surrounded by its amphitheatre of sheer rock walls, with the sound of distant avalanches ricocheting around, is one of Torres del Paine's most humbling experiences. And quite possibly one of its toughest treks. The hike from the entrance to the valley all the way to the 360° viewpoint, the Mirador Británico, is the closest you'll get to scrambling on the 'W'. If it gets too tough, the Mirador Francés – about a third of the way in – is still spectacular. Walking poles will help.
Campsite Italiano - Mirador Británico - Refugio Los Cuernos walking time: approx 6 hours 30 mins to 7 hours.
Los Cuernos and Lago Nordenskjöld
The dramatic contrasting rock bands of the Cuernos del Paine are a majestic sight as they rise over the turquoise Lago Nordenskjöld. The Paine 'horns', with their instantly recognisable layers of granite, are often the iconic welcome to the National Park. This relatively gentle, yet up and down, section of the 'W' takes you around their base, along the beautiful shoreline of Lago Nordenskjold (and with a few hops over small streams) before you head into the Valle Ascencio towards the Torres del Paine themselves. Keep your eyes peeled for condors soaring over the lake as you trek.
Refugio los Cuernos – Refugio Chileno walking time: approx 6 hours 30 mins to 7 hours.
Mirador Base las Torres
Taking you along the Rio Ascencio, through its eponymous valley, the trail that climbs towards the viewpoint at the base of the iconic Torres themselves makes you work for your panoramic reward. The last few kilometres in particular are a rocky scramble over a steep, scree and boulder-filled slope – which hides the fingers of the Torres from you until the very last minute. At sunrise, as a wave of red light floods down each jagged pinnacle, the view is incomparable.
Refugio Chileno – Mirador Base las Torres – Hosteria las Torres walking time: approx 7 hours
How fit do I need to be?
The in-and-out nature of this hike means daily distances can be adjusted easily to suit you. The last stretch up the Valle Francés to the Mirador Británico can be particularly tough, but the views are still spectacular further down the valley and turning back early won't ruin your trip. Even so, you need to be prepared to walk for at least six to seven hours a day over uneven ground to consider the trip.

While altitude is not an issue on the 'W' trek – the trek reaches its highest point in the Valle Francés at 1,100m - you do still need to be prepared before you go. Regular day walks over hilly terrain of several hours in length will help get you used to the rigours of a multi-day hike – and are a perfect way to test waterproof gear, and wear in those walking boots before you land in Patagonia.

Experienced hikers will not find the 'W' to be too strenuous – although the moderately difficult trails can be considerably more arduous when the notorious Patagonian weather closes in. If you want more of a challenge then you can extend the 'W' into the full circuit, or 'O', which takes you round the more remote and wild back of the Torres Massif – an extra five days or so of more challenging hiking.
Where will I stay?
Torres del Paine's network of refugios means it is possible to trek the 'W' without the need to spend a night under canvas. These basic hikers' hostels offer comfortable dorm accommodation, hot food and a friendly, trekking vibe. If you prefer to camp your options are limited to a selection of designated 'wilderness campsites' or campsites attached to the refugios – which still give you access to their facilities. This is a UNESCO Biosphere Reserve, and with fires caused by careless campers decimating swathes of the park no less than three times since 2005, strict regulations are in place around the use of camping stoves, as well as prohibiting wild-camping and campfires.
Guided or self-guided?
Both options are possible, but as the 'W' route is well way-marked and well-trodden with excellent infrastructure, it lends itself well to independent exploration. As you'll be sticking to the paths – and not careering off cross-country – it's nigh-on impossible to get lost along the 'W'. With plenty of people passing on foot – and help available at the refugios and guarderías - should you have any problems along the way. Your Patagonia walking specialist will be able to book all your accommodation for you – and provide a guide if you prefer.
Best time to hike the 'W'
The Patagonian summer months of December to February are generally considered the best time to trek the 'W' – with (hopefully) warm days and up to 17 hours daylight offering plenty of time for you to reach your next refugio before dusk. The summer peak in Paine is getting busier, but with the 'W' trek only accessible through accommodation in the park – and camping outside of designated areas prohibited – tourist numbers are still limited, thankfully, by the accommodation available. You'll need to book early to secure a refugio bed or camping spot.

November spring or the mid-March to April autumn are quieter, but slightly chillier, alternatives, with the latter offering a backdrop of beautiful fall foliage. Whenever you travel, the weather in Torres del Paine is unpredictable – and can happily throw all four seasons at you in one day. Be prepared for strong, gusting winds at any time.
More Torres del Paine National Park articles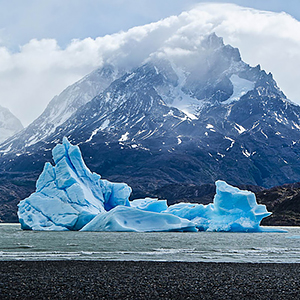 Torres del Paine National Park deserves its reputation as the jewel in Patagonia's crown.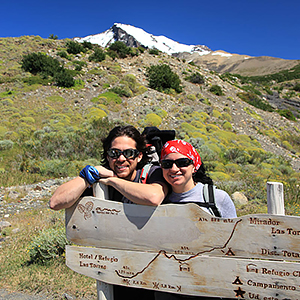 Dec -Feb are the windy, warm summer months, whilst mid-March to April is chilly and autumnal.