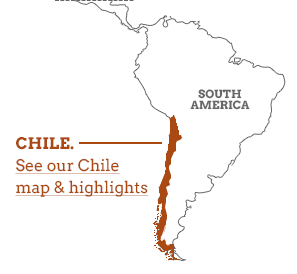 Running down South America's west coast for 4,300km (think Norway to Nigeria), Chile sweeps from the world's driest desert to glaciers in league with Antarctica, as sensual and elemental as the poems of its revered Nobel-winner Pablo Neruda. Far out in the western ocean, Easter Island's brooding monoliths are icons of humanity. NASA used the arid Atacama to stand-in for Mars but humans will only be rendered breathless by its vistas: salt plains, 6,000m peaks and ghost towns beneath star-spangled heavens.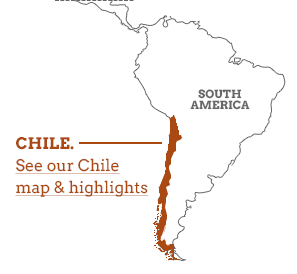 Geography makes Chile unique – a country as elongated as a Giacometti sculpture, slipped between the towering Andes and vast Pacific.

Patagonia is a hiking and wildlife mecca, from giant blue whales to sleek puma. And Chile's people are as striking as their land, from ancients preserved as 7,000-year-old Chinchorro mummies to the altiplano alpaca herders, Patagonian cowboys and indigenous tribes of today. If only our Chile travel guide could be as long as the country...
Chile is…
as long on pleasures as it is on the map.
Chile isn't…
just a stretched-out mirror of its Andean neighbours.
What we rate & what we don't
Native Culture
The superbly-preserved Chinchorro mummies pulled from a 7,000-year-old burial chamber near Arica are potent emblems of Chile's ancient cultural roots. But you can experience living native culture today among communities such as the Mapuche in the Lake District, the far north's Aymara, Patagonia's Kaweskar – plus the Rapa Nui who remain among the brooding statues of remote Easter Island.
Pablo Neruda
Chile's Nobel Prize-winning poet will beguile even the poetry phobic. Every Chilean has an opinion: excéntrico to some, maestro to most. Shop names quote poems, while tourist slogans lift lines celebrating the joys of a land as close to Neruda's heart as he is to Chile's. Three of his former homes have been converted into wonderful, quirky museums – try to visit at least one.
Stargazing
Atacama has among the clearest skies on Earth, making it a global centre for astronomy – both hi-tech observatories or visitors just gazing up at the cosmic galactic panoply above. You can visit observatories at Paranal. Ahlarkapin or Cerro Mamalluca (in the nearby Elqui Valley), or take star-gazing tours from towns like San Pedro de Atacama.
Potatoes!
The potato is a Chilean staple, wreathed in quirky traditions re times of sowing, and bringing locals together for communal labours known as mingas. Delicious potato dishes include mayocan (spud, seaweed and dried shellfish stew), colao (potato cakes with wheat, pork fat and crackling, cooked in hot embers) and papas rellenas – mash filled with meat or shellfish.
Patagonia
Chile's southern tip is where the land splinters into a cool adventure wonderland of glaciers, fjords and the granite peaks of the Torres del Paine, plus the remote islands of Tierra del Fuego. Alpine lakes nestle amid snow-capped mountains. Wildlife ranges from blue whales and penguins to sleek puma, flamingos, condors, skunk and llama-like guanacos.
Atacama
The world's driest and oldest desert is a 1,000km-long plateau of unique other-worldly beauty – a place of salt flats and emerald lakes, ancient lava fields and far horizons, dotted with 6,000m peaks. Atmospheric settlements like San Pedro de Atacama contrast sharply with over 170 ghost towns. In Sep/Oct, spring rains can spark stunning floral blooms in southern Atacama.
Easter Island
The haunting giant moai statues fashioned by the island's ancient Rapa Nui culture are among humanity's most distinctive icons. Gaze into the giant Rano Kau crated and the quarry at Rano Raraku. The sense of isolation in one of Earth's most remote places breaks in late Jan/early Feb with the Tapati Rapa Nui carnival celebrations.
Wildlife
Hemmed by the Andes, Pacific and Atacama desert, Chile boasts a unique biosphere, with a host of unique mammals like the pudu (pygmy deer) or colo-colo wildcat. High-profile beasts include puma, king penguins, dolphins, giant blue whales plus soft-furred vicuna. For twitchers, look out for gorgeous hummingbirds, soaring condor or wonderfully-named Hudsonian godwit.
Big city craft markets
It might seem convenient buying artisan products in a handy city craft market – but there is a big chance they weren't lovingly fashioned by indigenous craftspeople like the Mapuche. If you want Mapuche crafts, buy them from the Mapuche themselves in southern Chile and ensure you get genuine goodies which also benefit the indigenous people.
Santiago beach resorts
With thousands of kilometres of Pacific coast, Chile has some fabulous beaches. And since the 1800s, Santiaguinos have flocked to Viña del Mar and nearby Reñaca as seaside escapes from the city's summer heat. The beaches are fine but we're less keen on the towering condos, noise and expensive restaurants. Chile has many quieter, more charming beaches.
Concha y Toro winery
Chile's most famous wine brand has a winery outside Santiago firmly on the capital tourist itinerary. But though it's a pleasant enough setting, the tourist vineyard is mainly for show (main production is elsewhere), tours can be impersonal – and there are no free tastings. If you love wine, visit the Central Valley wineries instead.
Rodeos
Rodeos are a tourist draw in Chile's Central Valley, marketed as showcases for 'traditional' skills seen as a stirring part of cowboy culture. But 'traditional' doesn't necessarily mean 'good'. There is powerful evidence that animals suffer during many rodeo events – and we believe that isn't a part of responsible tourism.
Eating & drinking in Chile
Curanto is a classic stew of shellfish and smoked meat, most famously cooked in earth pits.

Giant king crab is a must-try treat from the cold southern oceans of Patagonia.

Picadas are restaurants specialising in traditional dishes.

Carnivores will love herb-fed flame-grilled Patagonian lamb.

Try Chilean pisco – but don't ever say the Peruvian version is better!

Chile's national dance is la cueca, featuring fluttering handkerchiefs and lovely costumes.

If you'd like to chat about Chile or need help finding a holiday to suit you we're very happy to help.

People & language
Chileans are generally quieter than some of their South American neighbours, quietly proud of their impressive cultural achievements and ancient heritage, as well as a long democratic tradition.
Poet Pablo Neruda is close to Chile's heart – widely revered, widely quoted. Learn at least some of his beautiful lines during your trip.
In 1945, Chilean poet Lucila Godoy Alcayaga (writing as Gabriela Mistral) became the first Latin American writer to win the Nobel Prize – and remains the only Latin American woman.
Gifts & Shopping
Gorgeous blue lapis lazuli jewellery is a Chilean speciality in craft markets (cheaper in the north) and the Bellavista area of Santiago. The deeper the colour, the better the quality.

Alpaca sweaters and scarves make attractive and affordable gifts – keep an eye out in northern altiplano villages, or in Arica and Iquique.

In the Central Valley, look for brightly coloured ponchos and stiff straw hats as sported by the local huacos cowboys.

Chile proclaimed independence on Feb 12, 1818 – but celebrates on Sep 18, when war began with Spain in 1810.

How much does it cost?
Plate of curanto in Chiloé: £6
Funicular (ascensores) ride in
Valparaiso 15p
Bus ticket from Santiago to
Valparaiso £6
Torres del Paine Refugio with
breakfast £60
Entry to Torres del Paine National
Park £24
A brief history of Chile
Most people may only recall two things about Chile – one heroic, one tragic. The heroic was the rescue of 33 miners in 2010 after 69 days trapped underground – a story that gripped the world. The tragic was the brutal dictatorship of Augusto Pinochet that began with a US-backed coup in 1973 to overthrow democratically-elected Socialist president Salvador Allende. Nearly two decades of oppression saw thousands of people murdered. Pinochet finally stepped down in 1990 in favour of the first of several recent leftist governments – though not before securing immunity from prosecution in Chile. However, in 1998, he was arrested under international law in the UK, at the request of Spain, triggering lengthy legal wrangling before Pinochet was sent back to Chile on highly suspect medical grounds in 2000. He died in 2006, without ever standing trial for his crimes.
Read more