Things to see & do on Easter Island
Easter Island, or to give it its Polynesian name, Rapa Nui, is a tiny pinprick in the southeast Pacific. The first European to land on the island, a Dutch explorer, arrived on Easter Sunday, hence the name, and since then this mysterious, remote island has never lost its fascination. And boy is it remote. This is one of the world's most isolated but still-inhabited outposts; the nearest neighbours, on Pitcairn Island, are over 2,000km away, no doubt making get-togethers something of a rarity.
Part of Chile's charmingly titled Sporadic Islands, Easter Island is formed of three extinct submarine volcanoes and it was from the solidified ash of one of these, Rano Raruku, that the iconic moai statues were carved. Often referred to as the 'Easter Island heads' the moai in fact usually have a torso and some have legs.

It's thought that to place them in position around the coast, the Rapa Nui cut down trees to make log rollers. This may have been a cause of the rampant and unsustainable deforestation which led to the erosion of the fertile volcanic soil, and a lack of wood to make fishing boats. The introduction of Polynesian rats, slaving and disease all also contributed to the population of Easter Island being virtually wiped out by the late 19th century, and with it the permanent loss of vast amounts of cultural knowledge. As such, we may never know the full story behind why the moai were created, or many other facets of early Rapa Nui ways of life.
Our Chile Holidays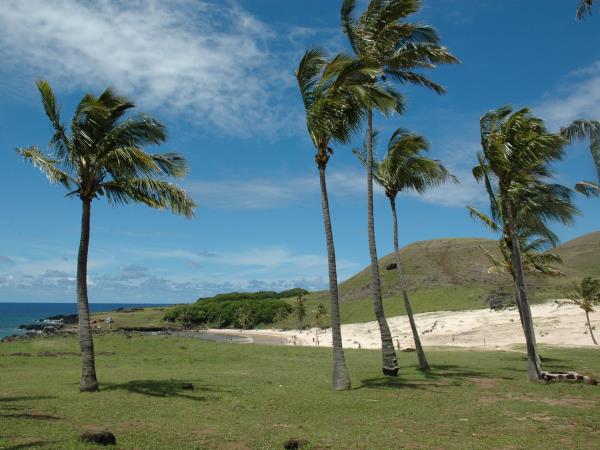 Photograph one of the world's most isolated inhabited islands
From
£4569
5 days
ex flights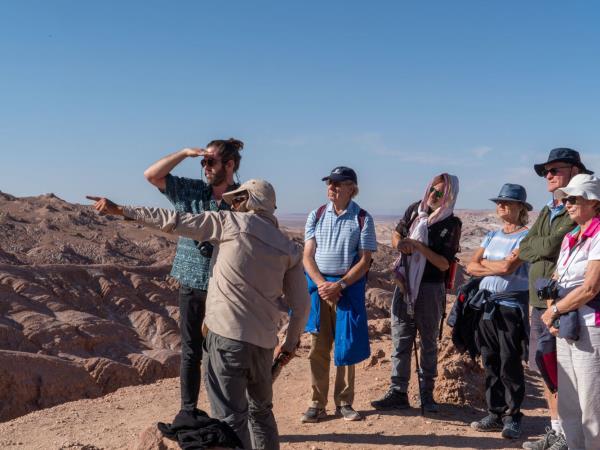 From archaeological wonders to the world's driest desert
From
US $4610
12 days
ex flights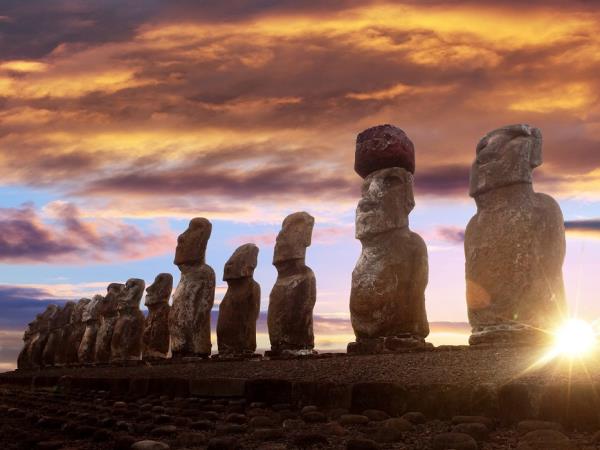 Explore the highlights of Easter Island & Santiago
From
£2150
7 days
ex flights
Silent Sentinels: The Moai
The famous moai figures that dot the island's rugged coastline are a haunting reminder of a once-thriving civilisation. Carved between the 12th and 17th centuries, the moai are part of Rapa Nui National Park, a UNESCO World Heritage Site, and speculation continues to this day as to their exact purpose and why, at some point in the late 19th century, they were all toppled over. Most moai stand three to four metres tall and weigh 12-13 tonnes, although the largest example stands some 10 metres tall.
There are over 900 of these monolithic statues and almost all were carved from volcanic ash in a quarry around the extinct crater of Rano Raruku. Each is thought to represent a deceased head chieftain and once complete they were transported to the coast, and set with their backs against the sea to watch over their descendents. Many bore topknots (pukao) and were positioned on stone ceremonial platforms called ahu. Only when in position would their eye sockets be carved, 'bringing them to life'.
Most of the moai never actually left the quarry, and one reason may be that the Rapa Nui ran out of trees to transport them. Another is that the Ancestor Cult was superseded by the Birdman Cult, with construction ending soon afterwards. While some moai have been restored, many are now substantially deteriorated. Yet their immense scale (the largest weighs some 80 tonnes) and the mystery behind their purpose is a source of enduring fascination.
Our top Chile Holiday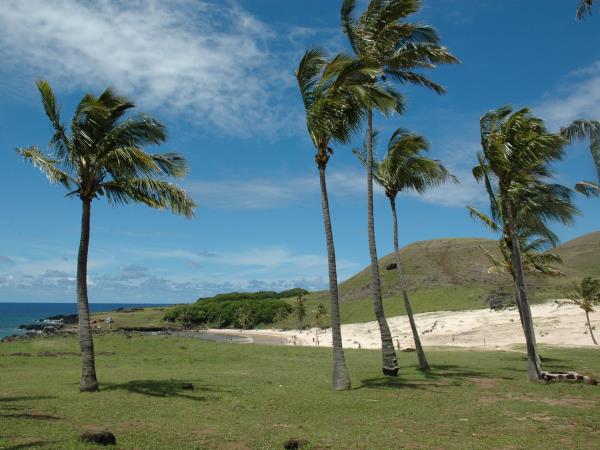 Photograph one of the world's most isolated inhabited islands
From
£4569
5 days
ex flights
Tailor made:
This trip is can be tailor made to depart anytime to suit you
If you'd like to chat about Chile or need help finding a holiday to suit you we're very happy to help.

Highlights of Easter Island
Easter Island is best known for the moai of course, and any holiday here is going to feature some of the key sites connected to them. But the island also has a superb reputation as a scuba diving destination, and you can find plenty of trails that lend themselves well to walking, horse riding and bird watching. There are also several attractive beaches perfect for swimming or a memorable sunset. At just 25km by 12km, you can explore a decent chunk of the island in just three or four days.
Orongo Ceremonial Village
The birthplace of the Birdman Cult which ended the period of moai building, Orongo consists of several low, round-walled and windowless houses that you need to crawl in to enter. The Birdman Cult originates from an annual competition where tribal warriors (hopu) would swim to the nearby islet of Moto Nui to collect the first eggs laid by the manatura (sooty tern). The first to return, scaling the cliffs to Orongo, would win significant power for his clan. The perils involved, falling from cliffs or being eaten by sharks, never seemed to discourage fresh entrants. Over 4,000 petroglyphs related to the cult can be seen around Orongo, a major cultural insight into the early Rapa Nui.
Moai sites
Moai statues can be seen all around Easter Island, but some of the most important locations include Ahu Akahanga, said to be the burial location of the first king of Rapa Nui; Ahu Akivi, which is the only site on the island where the moai are looking out to sea rather than inland, and Ahu Tongariki, where some of the best-preserved moai stand including 'Paro', the largest statue of all which weighs around 82 tonnes.
Moto Nui
The Birdman cultists would swim to and from the islet of Moto Nui to collect manatura eggs; they stayed in caves here waiting for the birds to lay before racing back. Today Moto Nui is a popular boat trip from the town of Hanga Roa, where most Rapa Nui people live, and also an acclaimed scuba diving site.
Anakena
This gorgeous white coral beach is said to be the landing place of Hota Matua, the island's founder. Another popular place for diving, the beach's warm and calm waters make it an idyllic spot. Several moai have been resurrected here, and numerous cultural and historical artefacts discovered.
Easter Island practicalities
Easter Island is usually reached via a five-hour flight across the Pacific from Santiago, with most accommodation in or around the town of Hanga Roa. Some shorter trips focus entirely on Easter Island but given the distances involved it can make sense to explore it as part of a longer tour, such as a Chile itinerary also taking in Patagonia's Torres del Paine National Park, and the Atacama Desert. Holidays on Easter Island can be either small group trips travelling November to March, or tailor made with the option to choose your own dates. All are led by local guides and some may have a particular theme, such as photography, where you will visit moai at sunrise or sunset to miss the biggest crowds and make the most of the light. The best time to visit Easter Island tends to be either side of the high season, which is the Southern Hemisphere summer of January to March, thereby avoiding the busiest period. Temperatures in these months average around 22°C but can easily feel cooler, as Antarctic winds race over the flat island. You're also well advised to bring along an overcoat, as Easter Island sees fair amounts of rain all year round.
What do our travellers say?
"Beautiful island. Doesn't take too long to see the major sites, but it's a very pleasant atmosphere. The restaurants are mostly fairly informal, but serve great food (the ceviche makes the trip worthwhile)." – Jeffrey Swensen

"Our time at Easter Island was truly magnificent! We had the same tour guide throughout our stay and he was fantastic – can't remember how to say his name in Rapa Nui language, but it translated to Sky. He was very passionate and super knowledgeable. We also loved the fact that the tours are so tailored – there was a maximum of 4 of us on each experience so it felt really personal and like we have the whole island pretty much to ourselves. Watching the sun go down behind the Moai was an amazing experience, but all other points of our tour were magnificent too so it's impossible to choose one memory that's most exciting – it was all super memorable and exciting. We went in August so although the winter temperatures are still warm – be prepared for changing weather with some rain and wind." – Nina Szewczak