Things to see & do in Chilean Patagonia
The vast region of
Patagonia
lies at the southern tip of South America, shared between Argentina and Chile. But whereas Argentinean Patagonia is all about vast empty spaces and ranches, Chilean Patagonia is, we feel, much more complex, with deep forests, crystalline lakes, channels threaded with islets and a jagged-toothed coastline.
Chilean Patagonia made the headlines in 2018, and instantly raced to the top of adventurous trekkers' dream destinations, with the announcement of a new
'Route of Parks'
linking 17 national parks and three existing scenic routes to span 2,800km from Puerto Montt south to Cape Horn.
Trips to Patagonia can easily be combined with other Chilean destinations including Santiago, the alien Atacama Desert, or the mysterious Easter Island. The northern Lake District and the Torres del Paine National Park are the big-ticket visitor hubs in Chilean Patagonia but there are many other quieter and enticingly remote pockets to discover here, too.
Chilean Patagonia practicalities
Patagonia trips can be either small group tours, giving you the benefit of well-organised itinerary to get the most from your stay and a ready-made social group, or tailor made so that you can be more flexible both on your travel dates, and what you see and do.

The sheer scale of Chilean Patagonia gives you enormous breadth on when to travel. Between December and February the days are long and generally warm, and this is consequently the peak season, though it's never difficult to find space. May to October tend to be damp and cold, with temperatures dropping precipitously at night.

The further south you go – as well as the higher, in terms of altitude – the colder it gets. Snow can make some areas inaccessible in midwinter, and although Torres del Paine National Park, for example, remains open, many of its refuges and campsites will close from May to August. The short days also mean early starts are needed for hikes.

We feel the best time to visit Chilean Patagonia is between March and May, when it's still pleasantly warm but there are fewer other people around. However the most important thing to remember is to come prepared for changes in the weather whenever you travel. You're familiar with the expression 'four seasons in one day' – in Chilean Patagonia that can be four seasons in just one hour.
Our top Chile Holiday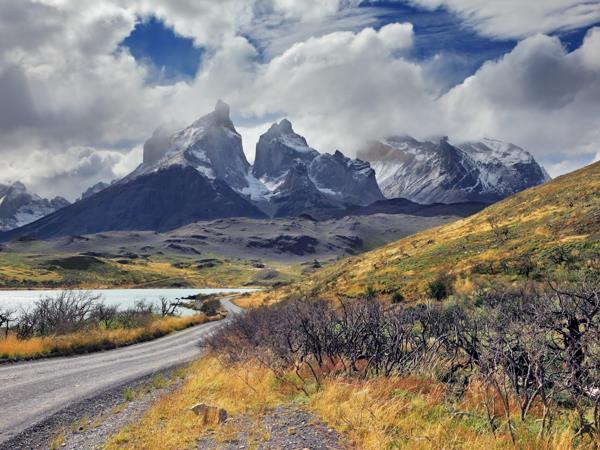 Explore the spectacular wilderness and mountains of Patagonia
From
£4900
20 days
ex flights
Small group travel:
2023: 10 Dec
2024: 14 Jan, 11 Feb, 10 Mar, 27 Oct, 17 Nov, 8 Dec
If you'd like to chat about Chile or need help finding a holiday to suit you we're very happy to help.

Things to do in Chilean Patagonia
Trekking
The main focus for
walking in Chilean Patagonia
is the, frankly spectacular, Torres del Paine National Park. The iconic 'W' Trail is made up of three interconnecting routes that lead you via the French Valley and the imposing Grey Glacier to the granite towers that give the park its name.
Grey Glacier, in a lake scattered with icebergs, can also be explored by kayaks or boat trips, while elsewhere you have the Cuernos del Paine, rose-tinted 'horns' of granite rising out of the Patagonian steppe, and numerous trails also ideal for mountain biking that lead you past emerald lakes and waterfalls. Puerto Natales is the launch pad for Torres del Paine, while further south you have the former pioneer town of Punta Arenas, which is the base for Antarctic cruises and the luridly beautiful island of Tierra del Fuego.
Sea kayaking
As remote as they are magnificent, the northern Patagonian fjords of Quintupeu and Cahuelmo are a stunning destination for sea kayaking, the Andes plunging dramatically down into the sea. Trips depart from the Germanic Puerto Varas, known as the 'City of Roses' and normally travel between October and March in groups of between six and 12. Expect to encounter noisy colonies of sea lions, bubbling hot springs and perhaps to enjoy some night paddling under the moonlight, too.
Rafting
White water rafting on the Futaleufú River takes you through an area of pristine wilderness, where deep canyons and dense rainforest are dominated by snowcapped volcanoes. No experience is needed for these trips but you will need a decent level of fitness to cope with some intensely challenging Class V rapids, which are interspersed with stretches of tranquillity where you can swim or fish from the raft. These adventures usually depart from Chaitén, another gateway to Chilean Patagonia, and see you staying in riverside campsites where you can relax in the evenings with beach barbecues, yoga and mountain biking.
Self drive tours
Another unforgettable way to experience the natural splendour of Chilean Patagonia is with a self drive tour. One popular route is to spend a few weeks travelling around a series of national parks around 700km south of Santiago: the primordial landscape of Conguillio National Park, Araucaria forests and Uerquehue National Park, Villarrica National Park and Chiloé National Park whose residents include dolphins, penguins and sea lions.

You can pause whenever you feel like it to trek around exquisite lakes, or to meet indigenous Mapuche people (perhaps staying in a traditional ruka house). Accommodation is arranged for you in advance, and you'll be provided with comprehensive directions, information packs and of course 24/7 support. You can go wherever you want with tailor made itineraries, even as far south as Torres del Paine National Park if you're so inclined.
What do our travellers say?
"Trekking with the most amazing mountain backdrop for several days, in Torres del Paine, culminating in the climb up to Las Torres themselves; there just aren't the words to do this place justice...This is easily one of the best holidays I've ever been on, and my first small group holiday, which I enjoyed more than I expected (as a general lone traveller).." – Chris Senior on an Atacama and Patagonia hiking holiday
"Be prepared for changeable weather, especially in Patagonia. Don't worry about taking too many of your own food supplies as the refugios in Torres del Paine give you plenty of food in the packed lunches." – Lauren Pavitt on a self drive holiday in Patagonia