Guide to self drive holidays in America
There's no better way to explore America than with a self drive holiday, giving you complete control over where you go, and what you do while you're there. Our guide to USA self drive holidays explores Native American history in national parks, the joys of seeing animals in the wild where they belong, and why taking classic routes needn't mean following the crowds.

America is a car country, and nowhere else is the idea of the epic road trip so deeply enshrined. The freedom of the open road awaits.

There are some truly epic drives to be had in the United States, including the Pacific Coast Highway, and Route 66. But our tours are just as much about getting you out of the car, and into nature, with activities carefully chosen to ensure they're responsible. And every night, you'll sleep well in locally owned hotels and guest houses that are full of character and warmth. Hit the road in confidence, with our guide to self drive holidays in the USA…
USA self drive holidays are…
all about the freedom of the open road; going wherever the mood takes you in a well-travelled country that still has capacity to surprise.
USA self drive holidays are not…
about staying in the car. Tailor made routes are packed with fun, adventure, nature, and cultural discovery. And a few epic drives, of course.
What is driving in the USA like?
Driving in America is incredibly good fun, especially if you enjoy being behind the wheel. I spent a big chunk of my son's preschool year road tripping around the United States with my family. Across 16,000km we travelled from Miami to Los Angeles via Louisiana, Texas, Tennessee, the Carolinas, New England, Niagara Falls, and national parks including Acadia, Yellowstone, Yosemite, Grand Teton, Zion, and Joshua Tree, as well as heading over the border into Canada.
The cities can be congested, but once you leave them behind, the highways become much quieter and, especially in less populated states such as Wyoming and Colorado, you can go big distances without seeing another vehicle. Those vehicles, when you do pass them, are often huge 18-wheeler trucks, or motorhomes pulling pick-ups behind them. Once, we saw a motorhome pulling a pick-up that had a golf cart in the back.
I remember whole days driving beneath the vast blue skies of Colorado and Wyoming; being chased by a tornado in North Carolina, and pulling over to the roadside to watch a momma bear and her cubs in Yosemite National Park. We escaped the casinos of Las Vegas to explore the stark scenery of Nevada's red rock desert, navigated twisty country roads between Nashville and Chattanooga during a torrential thunderstorm, spent a blissful week traversing the stunning Pacific Coast Highway, and crossed San Francisco's Golden Gate Bridge in atmospheric thick fog.
We had to endure plenty of long, tedious journeys too, of course. Not every route is scenic and some cities are so clogged with traffic it makes driving nightmarish – hello, Los Angeles. But I always loved getting behind the wheel every day – the thrilling feeling of freedom, discovery and adventure never went away.
From the national parks to New England, Colorado, or California – adventure is everywhere, and once you get behind the wheel on our
USA self drive holidays
, where you go and what you do along the way is entirely up to you.
The freedom of a self drive holiday
"I think the main reason to recommend a self drive holiday in America is the freedom," says Monty Bampfield, senior USA specialist at our partners Audley Travel, and a fount of first-hand knowledge on travelling here. "The freedom to reach areas of great natural beauty easily, to visit smaller communities, and just have a good old explore."

Self drive holiday itineraries are tailor made – you can go pretty much wherever you like according to your interests, and many activities can be included as you go. Suggested routes are available that give you an idea of what you can do, based on our partners' years of experience in knowing what works, and the type of experiences that people are often looking for.

"The most interesting trip I've arranged recently is a chap wanting to start in Washington D.C. as he was a big NFL fan, as am I," continues Monty. "He wanted to take the train across the United States to Chicago then Reno and Las Vegas, following the games. I also organised an Elvis-themed trip in the Deep South taking in significant locations, and another one I loved started in the New York area then went down the Blue Ridge Parkway through the Smokey Mountains to Nashville and New Orleans, so it took in cool cities, mountains, and national parks."
Recommended USA driving routes
"The interesting thing about driving holidays in America is that the region chosen depends massively on the type of traveller," says Monty. "For New England, the Deep South, the Carolinas, we tend to get more couples and older travellers. In California and Florida though it's more families, and in the Southwest it's a mix."

Classic USA driving routes include following the Pacific Coast down from San Francisco to Los Angeles; taking in a handful of the national parks in the Southwest, or journeying the iconic Route 66 down to New Orleans.

"I always encourage people to visit cities like Nashville, Boston and Chicago that are perhaps a bit less on the radar," Monty continues, "and for somewhere that's underrated, I'd look at northern California, which is a really cool area that's almost forgotten because of how well-known the cities are further south. There's the Pacific Northwest, which is stunningly beautiful. And the Carolinas too are often overlooked with their coastline and historic towns. Not a lot of people think of them immediately."
Self drive USA holidays with kids
It's strange how we often think of big theme parks as wholesome family entertainment, when really they're about persuading us to part with as much money as possible. It's even madder to make theme parks the focus of a family trip in the USA, when you have awe-inspiring landscapes filled with amazing wildlife all around you, and so many exciting ways to explore them.
California and Florida – two states known for their theme parks – are among the top destinations for family self drive holidays in the USA. But having done pretty much a circuit of the country with a little one in tow, I can confidently say that every state has plenty to offer without the need to pose for awkward photos with Mickey Mouse. And many cities have huge 
children's museums
too, which are not so much museums as gigantic, multi-level play centres – perfect for a rainy day.
Your holiday's route can be designed to consider the age of your kids, with shorter distances and suitable activities included, and family-friendly accommodation. All the logistic arrangements are taken care of on your behalf, so you can get on with the most important stuff, like creating the playlist.
If you'd like to chat about USA self drive or need help finding a holiday to suit you we're very happy to help.

What is the best time of year to do a road trip in America?
America is a big country, with big differences in weather patterns between regions. Generally speaking, the best time of year for self drive tours is spring to early summer (March to June) and autumn, or fall (September to October). The east coast gets bitterly cold in winter, while California, New England, and the national parks all get crowded during the summer months.

The autumn usually sees warm weather and in forested areas the foliage takes on spectacular shades of red, gold and yellow. But some popular self drive destinations including Florida and Louisiana often experience hurricanes at this time of year.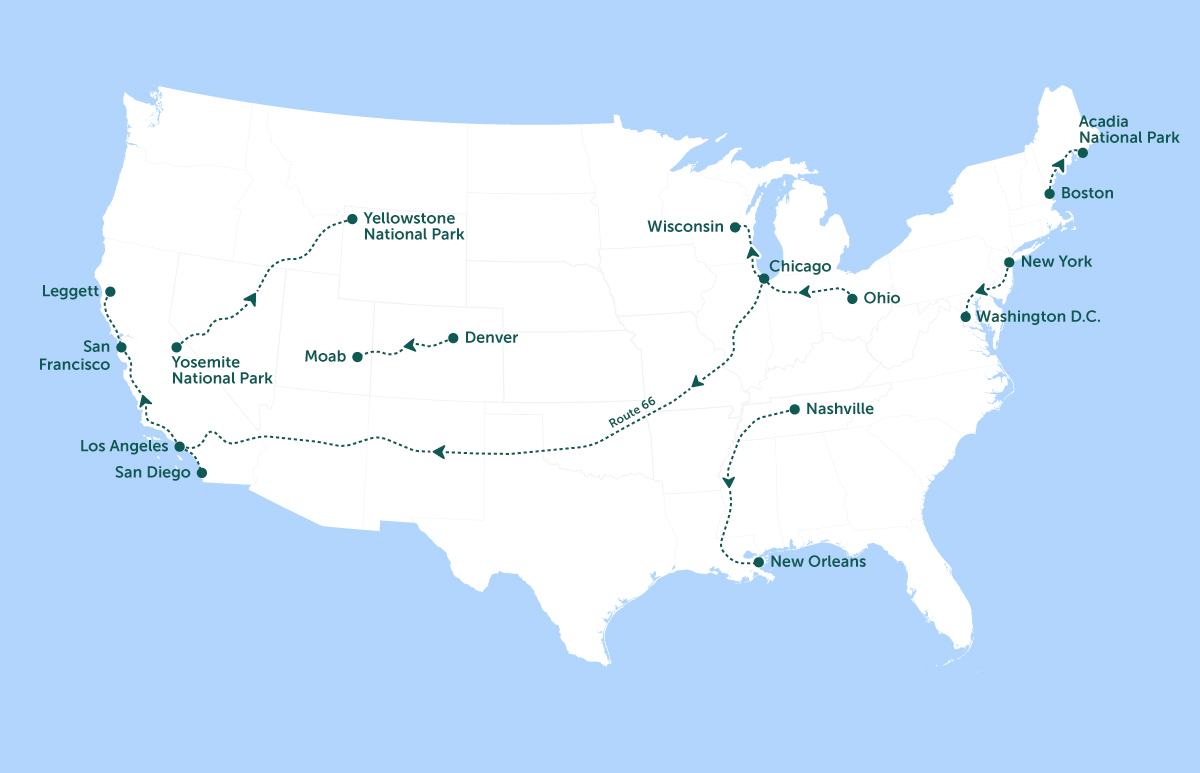 A rough indication of the travel distances for a few popular American road trips.

Boston to Acadia National Park: 450km Chicago to Los Angeles (Route 66): 4,000km Denver to Moab: 570km Los Angeles to San Francisco: 615km Nashville to New Orleans (the Blues Highway): 860km New York to Washington D.C.: 360km Ohio to Wisconsin: 780km Pacific Coast Highway (State Route 1): 1,056km Yosemite National Park to Yellowstone National Park: 1,300km
What's included?
Besides your hire car, your accommodation (usually on a bed and breakfast basis) will be pre-booked, and many activities can also be included, from kayaking tours in the Florida Everglades to whale-watching boat trips in Oregon, or guided hikes in Arches National Park.

"Rather than listing the many great people we work with in the US it's perhaps more useful to point out who we don't work with," says Monty. "We don't work with any activity provider that we feel is detrimental. Especially when it comes to wildlife. For example, in the Deep South where you do the swamp tours, some of them will bait the alligators to bring them in for a close look. We wouldn't work with anyone doing that. And in the Florida Everglades, we always push eco-friendly boat trips over the airboats, which are so noisy. Kayaks and much smaller boats cause far less disturbance and pollution."

You'll need to budget for your fuel, as well as appropriate insurance. And snacks – you will need snacks. Ask your tour organiser for tips on farm shops along your route where you can pick up locally produced goodies.
Rules of the road
Driving in the USA is not difficult, with clear signage, and most roads in reasonable condition. If you're coming from abroad though, it doesn't hurt to familiarise yourself with the rules in case they're different to where you live. You may also need an
International Driving Permit
, depending on where you're coming from. It's illegal to park in front of a fire hydrant, or five metres either side of one, and you will get a ticket if you do.
And it probably goes without saying, but you should never take a traffic stop lightly. If you're pulled over by the police for any reason, stay calm and polite, and always do as you're told.
Filling up
You can hire any size car you wish, from compact vehicles all the way up to luxurious SUVs. In all likelihood these will be petrol (gas) or diesel cars – while America's recharging network is very good, few car hire companies currently have more than a handful of electric cars in their fleets. It's always worth enquiring about availability.
How long do you need for a USA road trip?
Two to three weeks is ideal for a USA self drive holiday. It depends on your route of course, and how much you want to see, but 14 days is plenty of time to explore a particular region. After all, a great American road trip is just as much about the stops as it is the driving. So, although you could easily cover the Pacific Coast Highway between Los Angeles and San Francisco in three days, these 800 kilometres are best appreciated at a far more leisurely pace, perhaps five days or so.
Flights & rail travel
Flights into major US cities can often be booked for you, for convenience. If preferred, you could pick up your hire car immediately at the airport, but if you're going to be arriving into San Francisco, or Boston, or Miami, then it makes sense to spend a couple of days sightseeing before you collect it.
It is possible to arrange a two-centre holiday, so you could for example spend a couple of weeks on the east coast, and a couple on the west coast, or head to the Southwest. You could for example spend a couple of weeks road tripping on the east coast and then fly to the west coast for a couple more weeks. For this, you can drop off one hire car at the airport and pick up another on landing.
Internal flights are the quickest way to get from one part of the country to another, but quite often you can take the train instead (tickets can be arranged by our partners). Going by rail allows you to see sides of America that most travellers miss. With over
30 routes
, Amtrak links more than 500 destinations across the United States and Canada. The Crescent route, for instance, goes from New York to New Orleans via Washington D.C., Charlotte, and Atlanta.
More USA self drive articles