California self drive holidays

Los Angeles and San Francisco are congested and not much fun to drive. But outside of the cities, it's a dream. California must be one of the greatest fly drive routes in the USA, if not the world.

Between June and October, some two thousand blue whales visit the California coast to feed on great blooms of krill. The largest animals on the planet are joined by grey, humpback, fin and minke whales, as well as a host of other marine life, and can often be spotted on whale watching cruises from places like Monterey Bay.
Which makes it all the more weird and tragic that one of California's main attractions is still a cruel marine theme, where you can watch captive orcas and dolphins performing tricks in return for fish. The thrill of seeing these enormous, beautiful creatures behaving naturally in the wild is so much more satisfying.
Self drive holidays in California
 take you past some of the most iconic, identifiable sights in the USA: the vast granite monolith of Sentinel Rock in Yosemite NP; the Golden Gate Bridge shrouded in fog; the Hollywood sign on the Los Angeles hillside; the terraced landscapes of Napa Valley streaming with golden vines; the Giant Sequoias of the Sierra Nevada, and the stunning, rugged coastline of Big Sur that makes the Pacific Coast Highway one of the world's great road trips.
I remember my family planning our own US road trip, and the excitement of knowing we would finish in California. We stayed in a woodland cabin outside San Francisco, baked in the heat of Joshua Tree National Park, surfed in Trinidad, and my son turned four on the rides at Venice Beach. Spending a week cruising the Pacific Coast Highway was one of the parts I was most looking forward to, and it didn't disappoint.
Yes, Los Angeles and San Franciso are congested and not fun to drive. But outside of the cities, it's a dream. California must be one of the greatest fly drive routes in the USA, if not the world. Just
give those captive orcas a big swerve
.
Highlights of a California self drive holiday
Avenue of the Giants
The Avenue of the Giants is a spectacular 50km drive through the Humboldt Redwoods State Park. Overlooked by some of the tallest trees on the planet, it's a popular detour for a picnic. And just to give you an idea of how truly vast these trees get, there is one in the town of Myers Flat which has a hole in the trunk large enough to drive a car through. Watch your wing mirrors, and remember you're in a rental!
Big Sur
Cherished in American culture, Big Sur is a thrilling drive – a largely undeveloped stretch of California's Central Coast that offers some of the most dramatic scenery in the United States. People come here to hike, to photograph, or simply to contemplate the views. As with many areas of immense natural beauty, the region does suffer from overtourism at times. Travel responsibly by shopping at local businesses along the way. However you explore it, Big Sur is an essential element of the classic California road trip.
Death Valley National Park
Few places are so aptly named as Death Valley, the hottest, driest place in the United States. Lined with hiking trails (avoid long hikes between May and October because of the incredible heat), the park is also one of the finest places in the country for stargazing, with near-zero light pollution obstructing your views of the heavens.

Like many other parts of California, Death Valley was stricken by calamitous flooding in summer 2023, a result of Hurricane Hilary. In one day, 2.2 inches of rain fell on Furnace Creek, that's more than the entire rainfall the park usually sees in a year. This was the first time a tropical storm made landfall in southern California since 1939, yet another indication that the climate crisis is well underway in the United States.
Joshua Tree National Park
The desert landscapes of Joshua Tree National Park in southeast California, close to Palm Springs, are victims of their own stark beauty – visitor levels are 
becoming unsustainable
which is putting the park's tourist infrastructure, and fragile habitats, under strain. If you're coming to hike (and look out for the wonderful desert tortoises that call Joshua Tree home) then stick to the marked trails and ensure you pick up any litter you spot.
Monterey Bay
This Pacific bay, which extends from Santa Cruz in the north to Monterey in the south, is paradise for whale-watchers. Humpback and grey whales pass along the coast, the latter sometimes stalked by killer whales. You can also see harbour seals and elephant seals here, sea otters, and bottlenose dolphins. The best way to enjoy all this majestic marine life is with a responsible boat trip that keeps its distance from the animals, while educating the passengers. Far preferable to watching depressed captive orcas perform tricks for fish in a water park.
Napa Valley
America's most famous wine region is lined with hundreds of vineyards, and with a rental car at your disposal you can easily visit a handful during your trip. A warming climate is affecting the growing season in the Napa Valley, as well as what grapes can be grown. But wildfires pose a more immediate threat – 2020 saw devastating fires that burned many thousands of acres of vines, and for some winemakers, 
fire-fighting techniques
are now becoming a necessary part of the skillset.
Pacific Coast Highway
California's stretch of the Pacific Coast Highway runs from San Francisco to San Diego, 900km of sheer natural wonder that make it one of the world's greatest driving routes. It's a journey to savour, and take your time over, stopping regularly to visit surf hangouts and wineries, and buy snacks from roadside farm stalls.
Yosemite National Park
Yosemite National Park is three hours, or 270km, inland from San Francisco, in the Sierra Nevada mountains. The park's iconic natural landmarks include Sentinel Rock, El Capitan and Half Dome but for many visitors the main attraction is usually on the move. Yosemite is home to hundreds of black bears – I remember spying a momma bear with her cubs emerging from the woods, and we pulled over to the side of the road to watch; within 15 minutes there were dozens of other cars parked behind us, all watching on rapt with attention.
How to create a California driving itinerary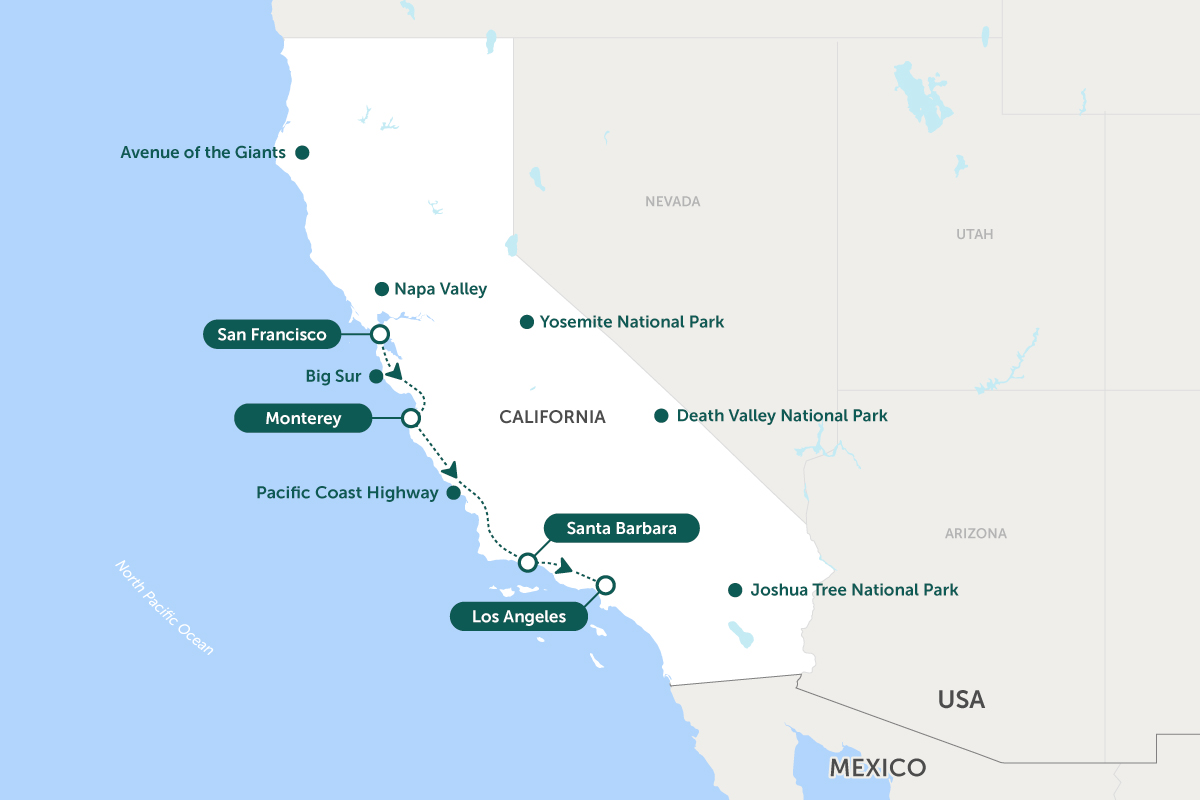 With 39 million residents, California is far and away the most populous state in America, and that's before we mention the crowds of tourists who arrive every year irresistibly attracted by golden sunshine, theme parks and sandy beaches. But California is also one of the largest American states, and I can say from personal experience that it's perfectly possible to find some lovely, out-of-the-way places just by escaping the cities and following your instincts.
Or, by following the tips of an expert like Monty Bampfield, senior USA specialist at our partner Audley Travel. He visits California on a regular basis to ensure his recommendations are accurate. "We try to visit as many hotels, excursions, and restaurants as possible so that we can have these conversations with confidence – I do think we're the only UK-based tour operator that goes into this level of detail."
California self drive holidays typically fly into Los Angeles and out of San Francisco, or vice versa. Eleven to fourteen days is enough to comfortably cover about 600km at a relaxed pace, allowing for plenty of sightseeing, activities, and basking in that famous California sunshine. Typically you'll have a few days in each city to take in the landmarks. There's nothing to say you can't collect your rental car and head off straightaway, although it does make sense to have at least a day to get over any jetlag.
"If you ask me what's over-rated on USA road trips, it's a tricky one," says Monty. "But I'd probably say some of the more well-known cities like Los Angeles. A lot of people want to see them but find them not as they expected – they're dirty, there's a lot of traffic. Conversely, northern California is a really cool underrated area that's almost forgotten because of how well-known the cities are further south. Further up the coast, too, you have the Pacific Northwest, which is stunningly beautiful."
Although California is made up of
twelve regions
, most travellers naturally stick to the immensely scenic coastline – and with 1,350km of it, there's plenty to enjoy. Southern California boasts the legendary beaches of Santa Monica, Malibu and Venice, while further north there are idyllic stretches of sand along the Central Coast, such as in Monterey Bay and Carmel-by-the-Sea. As the Pacific Coast Highway wends its way south from San Francisco to San Diego, it encompasses the awe-inspiring Big Sur, with its twisty-turny roads, misty beaches, and seemingly endless viewpoints. Honestly – with scenery like this, who needs the traffic and noise of California's cities? Hit the road.
If you'd like to chat about USA self drive or need help finding a holiday to suit you we're very happy to help.

Accommodation
Self drive California holidays are tailor made, so you can head off in whichever direction the mood takes you. The only real restriction is that your tour operator will want to arrange accommodation at properties that it knows, so that it can be confident the standards are suitable. But given the range of hotels across the country, that is rarely an issue. Wherever possible, these hotels will be locally owned, energy-efficient, and with environmental policies in place.
Support
Driving around California is easy, though in the major cities you want to try and avoid rush hour. You'll have a dedicated specialist such as Monty organising every aspect of your holiday, and giving you a detailed pre-departure phone call to ensure you have everything you need. Should you need it, 24/7 support is available. And you will be provided with comprehensive route notes that add colour to your travels with facts about history and culture, as well as suggestions on everything from lesser-known viewpoints to places to eat.
When to go
California is so large – over 400,000sq km, that the climate differs from one end of the state to the other. Typically, the south and east of California tend to be warmer than the north and west. Even in winter you shouldn't need more than a lightweight waterproof though, as the average temperature in February is around 18°C, while in August, the height of summer, it can easily top 30°C.

June to September is the most popular time to visit California (mid-September to mid-October can be sublime, with clear skies cooler weather). But with the climate crisis now in full-swing, unpredictable and extreme weather events can happen anywhere. August 2023 saw California hit by a severe tropical storm that brought with it torrential flooding. Such incidents during summer are rare but worth keeping in mind when ensuring your holiday is adequately insured.
More USA self drive articles