Colorado self drive holidays
Driving in Colorado, it sometimes seems as if every other vehicle has something on its roof: bikes, kayaks, sets of skis. Colorado is not a state for simply passing through and admiring from behind the windscreen. Holidays here are about jumping two-footed into the great outdoors, and the freedom of a 
self drive tour in Colorado
allows you to do just that, on your own schedule.
Colorado was the first US state to legalise marijuana, but the majestic mountains here mean the locals have never been strangers to a natural high.
This is mountain country. No fewer than three ranges run through Colorado, including the Rockies, and between them they have created some of America's most venerated landscapes. The number of Western movies filmed among these peaks, canyons and prairies must be in the hundreds, and as you drive the highways you can't help but imagine what living amongst this awe-inspiring scenery would have been like in days gone by. Luckily, there are many ways to find out…

Everywhere there are hints of Colorado's recent history, with former mining communities now hubs for outdoor activity; towns with names like Silverton and Leadville, and tourist steam trains that once bore precious minerals. You can also learn about the lives and culture of Native American tribes in this region, as well as the Ancestral Pueblo people who lived here around AD1200 through many well-preserved archaeological sites in Mesa Verde National Park.

Speaking of national parks, Colorado boasts four of them including Great Sand Dunes and Black Canyon of the Gunnison, along with eight national monuments, more than 40 state parks, and 9.500km of rivers. All that nature spread out before you might feel daunting, but Colorado makes it easy for newcomers to find their way. Our self drive holiday partners can connect you with expert guides to show you around. They can make arrangements on your behalf with providers of mountain bikes, kayaks, and skis so everything is waiting on arrival. And they can give reliable recommendations on where to visit, where to sample the state's famous farm-to-fork cuisine and local wines, and what to do if you want to really want to explore Colorado, rather than just pass through.
Highlights of a Colorado self drive holiday
Aspen
Aspen began life as a mining camp back in Colorado's 'Silver Boom' during the late 19th century. Today, though, Aspen is all about that white gold – this is one of the most attractive (and expensive) ski resorts in North America, and a hotbed of counterculture – Hunter S. Thompson once ran for sheriff here. Spend a few days here for hiking, paddle boarding, or a spot of celebrity-spotting over coffee.
Boulder
Beloved by outdoor activity enthusiasts as a gateway to the Rocky Mountain National Park, Boulder is a paradise for cyclists. The city has in the region of 500km of cycle paths, along with many mountain biking trails – it's estimated there are around four bikes for every resident, so you'll have little difficulty hiring some. And if hiking's more your bag, the nearby sandstone rock formations known as the Flatirons are lined with routes.
Colorado National Monument
Life as an outlaw in the Wild West would have been hard, but at least you had some fantastic hideouts to, er, hide out in. The Colorado National Monument is no sculpture, but a classic Western landscape of red basalt monoliths rising from the plateau and threaded with deep canyons, where eagles soar. Hike the canyons and feel tiny in comparison, or find a rocky perch to admire an unforgettable sunrise.
Colorado Springs
The contrast between the modern office blocks of Colorado Springs and the towering red rock formations in its public park, 'the Garden of the Gods', is stunning. There are some 30km of walking and mountain biking trails in the park, and many amazing viewpoints of these unusual rocks in all shapes, sizes, and configurations. Naturally it's also a very popular place for rock climbing, but permits are essential.
Durango to Silverton train
The vintage steam train that negotiates the narrow-gauge railroad between Durango and Silverton is a little slice of Colorado history. The railroad was built to service gold and silver mines, and has also featured in many classic Hollywood films. A wonderfully scenic day trip takes you through the rugged San Juan National Forest, with round trips taking around nine hours. Ride in a heated carriage, or opt for the open gondola for sensational mountain views.
Great Sand Dunes National Park & Preserve
If you've got kids in the back seat, or you're still big kids at heart yourselves, you'll love the thrill of sledging down North America's tallest sand dunes. But this is no stark desert – the dunes are part of a complex web of ecosystems including forest, grasslands, wetlands, and alpine lakes. After dark, everyone's attention turns skywards. Light pollution here is so low that from midsummer through to early autumn you can see the Milky Way.
Mesa Verde National Park
Mesa Verde National Park is the only American national park to be so designated because of 'the works of man'. Through the preservation of around 4,000 archaeological sites, the park illuminates the cultural heritage of the Ancestral Pueblo people, who lived in the region for 700 years. This is a living museum, sacred to many Native American peoples, who share their history with visitors through performances of dance, storytelling and song.
Rocky Mountain National Park
There are more than 70 peaks in this park, a continuation of the vast mountain chain that begins in northwest Canada and stretches as far south as New Mexico. You can explore via some 600km of trails – there are free bus shuttles from visitor centres to the trailheads, helping reduce traffic in the park. But don't miss driving the Trail Ridge Road, which begins in forest and quickly soars up above the treeline into a landscape of alpine tundra. Passing through the Continental Divide, the road offers some of the most spectacular views in Colorado.
Colorado driving itinerary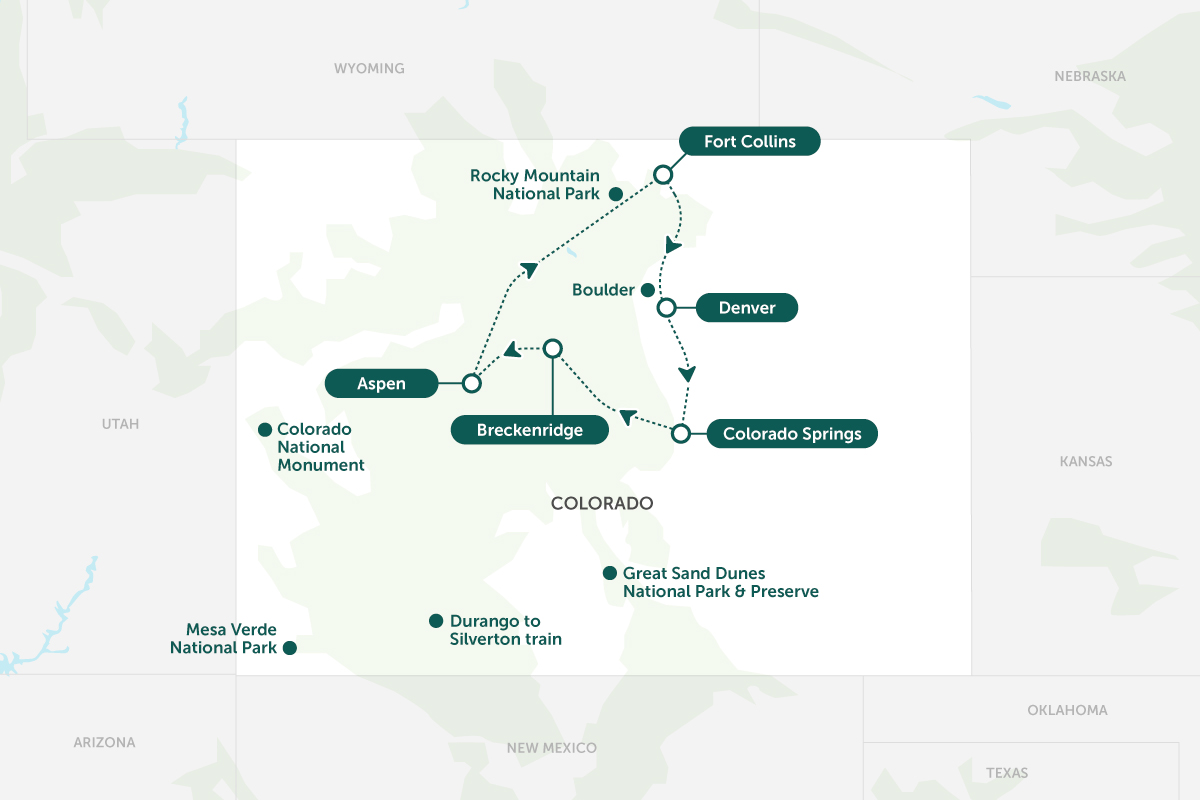 Take it from someone who has driven extensively through the USA, including Colorado. Much of the fun of a self drive holiday here is just leisurely cruising along under those big blue skies, every now and again being wowed by some extravagant scenery. There's a lot of that in Colorado.

A typical route might see you travelling between a series of picturesque mountain towns such as Boulder, Crested Butte, Aspen, and Vail, all of them convenient for getting out and about in nature, which is the usual aim of Colorado self drive holidays. You can easily pop over the border into neighbouring Utah too.

From Denver to Boulder, a gateway to the Rocky Mountain National Park, is just over a half-hour drive. Next, you might head west over the state border into Utah. It's a six-hour drive from Boulder to Moab (ground zero for outdoor adventures in Utah) but why rush? You could stop over in Aspen for a night, to enjoy that laidback former mining town and its buzzing arts scene.

Staying a few days in Moab you can explore Arches National Park and Canyonlands National Park or, a little further, Monument Valley Navajo Tribal Park. Considered sacred by the Navajo Nation tribe, Monument Valley was the first tribal park of its kind to be created, a milestone in Native American history.

Cross back into Colorado and you can continue on to Mesa Verde National Park, to visit a handful of the 4,000-plus archaeological sites here that trace the history of the Ancestral Pueblo people. It's a short hop from Mesa Verde to Durango, where you can spend a day on the historic steam train as it winds its way through mining country to Silverton. Then make your way north to Vail, a paradise for winter sports, but also great for hiking and mountain biking in summer. A few more days of sunshine and fresh mountain air here before the short drive west back to Denver.
If you'd like to chat about USA self drive or need help finding a holiday to suit you we're very happy to help.

On arrival
Flying into Colorado, it's not just a spot of jet lag you'll need to contend with, but also the risk of altitude sickness. Denver is 1,608m above sea level – or precisely a mile – which is the reason it's called the Mile High City. It's why you're recommended to spend the first couple of days of your trip just exploring Denver, with no long drives or hikes until you get your head for heights.
Type of vehicle
Hire cars are priced by size, from compact all the way up to premium SUVs, depending on the amount of space you need. Expect them to be gas (petrol) or diesel, as most car hire fleets contain only a handful of electric vehicles and it's not currently possible to guarantee one. However it's always worth enquiring.
It's entirely up to you when you collect your hire car. Given that you will likely be flying into and out of Denver, however, you might prefer to have a couple of days to explore the city car-free. Colorado's state capital is a cosmopolitan charmer, with a thriving microbrewery scene, and several prestigious
museums and art galleries
. It's also a popular base for many outdoor activities, and the mountain scenery that surrounds you offers plenty of inspiration to get out there.
Accommodation
Your accommodation will be arranged in advance, so that all you need to be concerned about is getting from A to B. As these are tailor made tours, you can choose the level of comfort you prefer. Wherever possible our partners aim to use locally owned properties, and places that have a strong environmental ethos.

Accommodation is virtually the only limitation on where you can go with a fly drive holiday in Colorado, as our partners will only use properties that they have personally inspected to ensure they meet their standards. But, given that their specialist tour planners regularly travel the USA to find and review suitable hotels, this is rarely an issue.
Support
You'll have a comprehensive pre-trip call with your dedicated tour planner to answer any outstanding questions that you may have, and ensure you're fully prepared. Outside of the larger cities, which get congested, driving in the USA is generally very easy and enjoyable. But if you've not done it before then it's always helpful to pick up a few pointers, such as never to park in front of a fire hydrant – something I learned to my own cost!

When picking up your hire car, also don't be shy about asking how everything works, so you don't need to waste time figuring out how to switch the windscreen wipers on.
When to go
Colorado is bathed in 300 days of sunshine every year, so 'even when it's snowing, it's glowing'. And it does snow here, in abundance, between late-November and late-March, especially at higher elevations, where it can get bitterly cold. Self drive holidays in Colorado are at their finest then between spring (April to June) and autumn (September to November).

Walking, wildlife-watching, and a wealth of other outdoor activities are popular between May and October. Do note that the summer months from May through to August often see thunderstorms, but these are usually short. Our tip: schedule your long drives for the afternoons when it's most likely to rain and you'll want to be inside anyway. Best not to be hiking trails when lightning is a strong possibility.

Like many other forested parts of the USA, Colorado's 'Fall' foliage between September and November sees the mountainsides take on resplendent shades of yellow and gold, making walking an absolute delight.
More USA self drive articles