America's national parks self drive holidays
"The national parks of the Southwest: Bryce Canyon, Zion, Monument Valley, and the Grand Canyon – for me that's classic America." Monty Bamfield, Senior USA Specialist at our partner Audley Travel, happily describes himself as something of a geography nerd, and he's in the perfect job. Because if there's one thing the USA has got a lot of, it's geography.
There are 63 national parks in the United States encompassing desert, lakes, mountains, forest, coast, glaciers, and swamps. Nine of them are found in California, eight in Alaska, five in Utah and four in Colorado. Meaning that a 
self drive holiday in America's national parks
can take in a generous sweep of parks, and their wildly differing wildernesses, across just a couple of weeks. It can also delve deeply into the Native American heritage of many of these places, with many tribespeople forcibly removed from their lands. Only in recent years have their stories been more widely told.
And of course, there are 1,001 ways to roam these magnificent landscapes, from hiking to cycling, climbing to wild swimming. One very good way to get around is in the knowledgeable company of a park ranger. Tours, and talks, are offered throughout the day in most parks, covering everything from how the parks' landscapes have shifted over millennia, to how to escape a bear, and what a wolf's pelt feels like. Our partners can also arrange for you to arrange smaller guided tours, led by local experts.
Native American heritage
My family and I took a USA road trip in 2015, during which we visited several national parks and other protected areas. I can remember very clearly walking around Devils Tower National Monument in Wyoming (famed for its role in the film
Close Encounters of the Third Kind
). But the hill only acquired this name in 1875; many Native American tribes such as the Lakota, the Cheyenne and the Crow Nation have their own much older names for it, all relating to a legend around its creation.
For a long time the settlement of Native American people in 
America's national parks
was effectively erased, in favour of an image of wilderness untouched by human hand. Now, however, their stewardship over these lands is starting to be given the recognition it deserves. Mesa Verde National Park in Colorado is particularly notable. It holds several archaeological sites related to the Ancestral Puebloans, and traces of their communities and culture have been very well preserved.
Touring America's national parks with eyes open to their true history is a valuable way to understand how Native Americans settled many of these places, and were often forcibly evicted when the parks were created. There is not enough recognition of Native American history and the myriad wrongs done to them from the arrival of European colonisers to today. Reparations in the form of money and autonomy remain inadequate. The Oglala Sioux tribe continues to claim part of Badlands National Park as its ancestral land, but despite promises to grant it ownership and management, the federal government has not yet done so. One promising sign is a growing awareness that conservationists can learn much from Native Americans' traditional stewardship of their lands. Hopefully this will lead to more Native American peoples regaining sovereignty of their ancestral homes.
Highlights of a USA national parks self drive holiday
Acadia National Park
Acadia is a place I'll always think of fondly, as it was the first American national park that I explored thoroughly on foot and on bike. Primarily located on Mount Desert Island, off the coast of Maine, Acadia has 50km of scenic road driving, but you can just as easily park up and go for a hike. The rocky Atlantic coast is absolutely stunning as foaming waves crash against it, and there are plenty of wooded trails too.
Arches National Park
Just north of Moab in Utah, Arches National Park takes its name from the more than 2,000 red sandstone arches here, formed by centuries of erosion. It's forbidden to climb on any of the larger or named arches, but you can hike up to them for some impressive photos – especially at sunrise or sunset, when you'll find this harsh desert landscape significantly cooler.
Bryce Canyon National Park
Say 'hoodoo you do' to some of America's most distinctive rock formations at this Utah park south of the state capital, Salt Lake City. Often combined with Zion, which is just a two-hour drive away, Bryce Canyon is best-known for its spectacular 'rock amphitheatre' – a forest of pink, white and orange sandstone spires called hoodoos that soar up into the sky. Walk among them for an all-natural alternative to Manhattan's skyscrapers, or settle in to a high vantage point and admire the subtle colour-changes in the rock at sunset.
Everglades National Park
This dense network of forests and wetlands in Florida is home to some of America's most fearsome predators: crocodiles and alligators, the incredibly rare panther, and a huge population of Burmese pythons, an invasive species that the state encourages people to hunt. So, when hiking here, you're well-advised to stick to the marked trails, and if you're in a boat, it's probably not a great idea to jump over the side for a swim.

"We don't work with any activity provider that we feel is detrimental," says Monty Bampfield. "Especially when it comes to wildlife. In the Florida Everglades we always recommend eco-friendly boat trips over the airboats which are so noisy. Kayaks and much smaller boats cause far less disturbance and pollution."
Grand Canyon National Park
The Grand Canyon is sometimes seen as a tale of two rims. The South Rim is fully geared up for tourism, with the resultant crowds. The North Rim is very much the opposite, with fewer amenities, attracting fewer visitors. The weather also tends to be a little cooler on the North Rim.

But fantastic views of the canyon can also be had from the West Rim, which is on the land of the Hualapai – 'the people of the tall pines' – who consider the canyon and the Colorado River that flows through it to be living entities. At the Skywalk viewing platform here you can watch a performance of traditional Hualapai singing and dancing, with songs that have been passed down the generations, relating the journeys of the Hualapai people.
Grand Teton National Park
A park so lovely my family double-backed on ourselves so we could visit it a second time, visiting Grand Teton is like stepping into an epic Western movie. Picture snowy mountains, plunging valleys, wildflower meadows, forests and rivers, and crystalline lakes, all teeming with wildlife. Hike the backcountry, visit an old dude ranch or an abandoned 19th-century Mormon homestead, or join a naturalist-led tour for all manner of insights into the park's biodiversity.
Yellowstone National Park
America's first national park, in fact the world's first, is a majestic primeval landscape where geysers of boiling water erupt into the sky; bears, bison and elk wander the prairies, and gigantic waterfalls tumble down steep canyon walls. Yellowstone's natural history is well-explored; less so its cultural history. The centuries-long presence of many Native American tribes including the Kiowa was virtually erased. They were 
forcibly dispossessed
of their land when the park was created, and only now are their stories beginning to be more widely told.
Wolves are among Yellowstone's more elusive inhabitants, naturally wary of humans who have hunted them to extinction in the park by 1926. They were successfully reintroduced in 1995, however, and their return has spurred a cascading series of
positive effects for the park's ecosystems
. Not least, keeping elk numbers down, which means more trees, especially willows, which beavers depend on. When the wolves returned to Yellowstone there was only one beaver colony. Now there are nine.
There are fewer than 120 wolves in Yellowstone, which makes your chances of seeing them very low. Unless you take an expert-guided tour, which our partners can arrange for you, led by specialist wildlife biologists whose knowledge and experience means you chances are very much improved. Your tour will also directly contribute to wildlife advocacy and conservation initiatives in Yellowstone.
Yosemite National Park
Set in California's Sierra Nevada mountains, Yosemite is a paradise for trekkers, wild swimmers and especially climbers, with numerous iconic climbs including the granite face of El Capitan, two-and-a-half times the height of the Empire State Building. And Yosemite's wildlife is just as amazing, with mountain lions, bald eagles, and endangered bighorn sheep all found here. Catching sight of a momma bear and her cubs emerging from the woods was one of the most memorable moments of my family's visit.
Zion National Park
Another park whose Native American heritage was effectively erased (the park service felt the Paiute-inspired name, Mukuntuweap, was '
putting visitors off
,' Zion contains a labyrinth of sandstone canyons, the most famous of which is Zion Canyon. A hiking trail runs through the canyon, narrowing to just six metres at one point, and it can get very busy with walkers.
America's national parks don't stay pristine all on their own. "In Zion we work with a guide company that organises private walking and cycling trips for us," says Monty Bampfield, "and they do a lot for the community too. They put a lot of effort into helping keep the park clean and free of litter."
How to create a USA national parks driving itinerary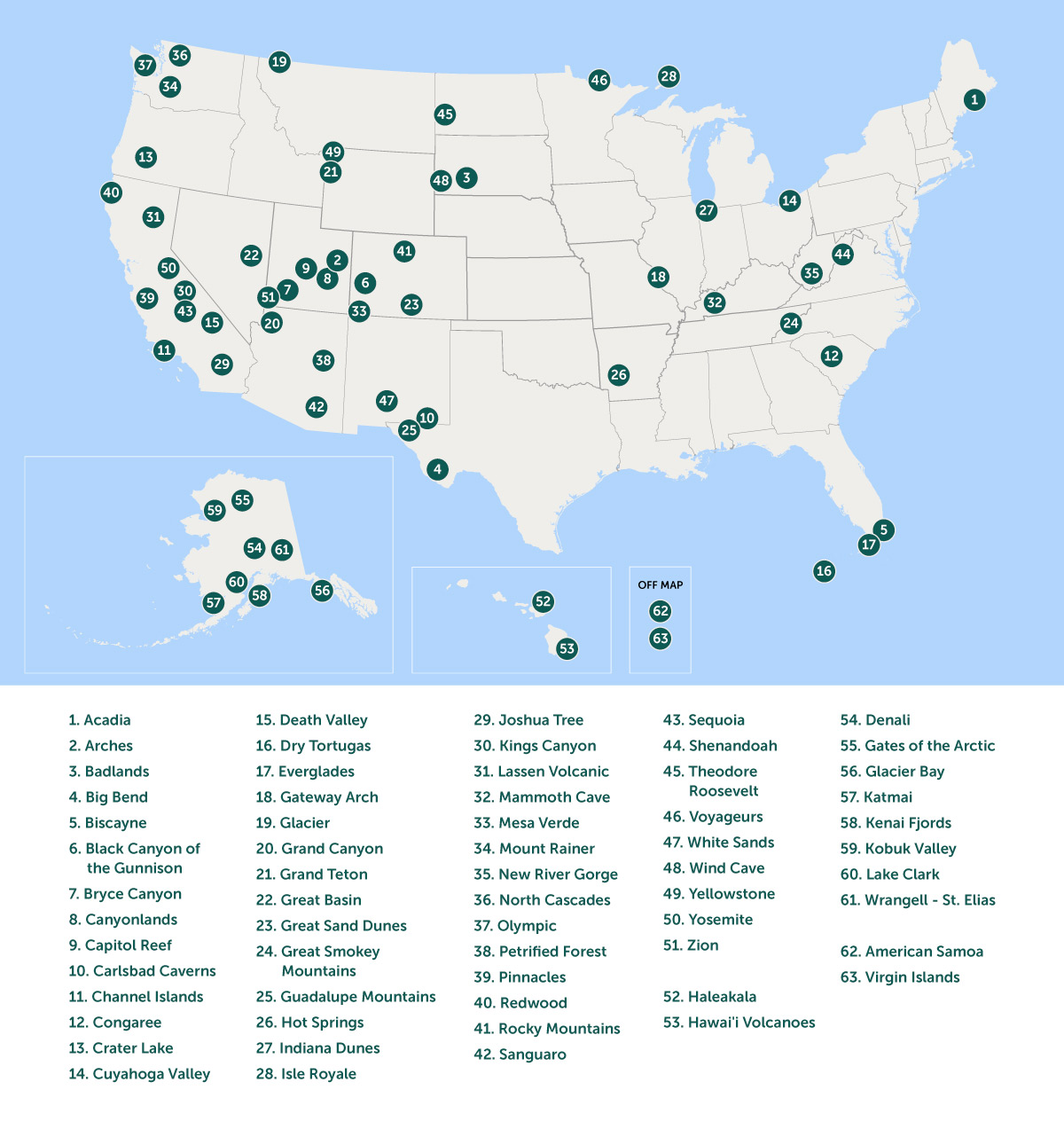 When plotting a US national parks road trip route, it's important not to be over-ambitious. Some of these parks are vast. Driving the Grand Loop of Yellowstone around the key viewpoints and allowing time to stop and soak up the sights takes a full day. And the speed limits are strict for a reason – signs that warn of 'bison crossing' should not be taken lightly. A bison is about the size of your hire car and considerably grumpier.

Another reason to stick to the limit is that you'll often see wildlife by the side of the road, and the done thing is to gently and safely come to a stop for a closer look. Though if it's a bear, you're best off staying inside the car. Given the amount of traffic, one car can become a line of cars very quickly.

One classic national park self drive tour might take in several parks of western America – Yellowstone, Grand Teton, Zion, Bryce Canyon and Mesa Verde, as well as a host of other protected areas such as Mount Rushmore and Crazy Horse National Monument, and Rio Grande National Forest, over three weeks. Alternatively, you might work your way the length of California from Redwood National Park in the north to Joshua Tree National Park in the south. You could also concentrate on the parks of Alaska if you had three weeks-plus, given these are some of the largest in the country. Our partners will be happy to discuss your interests in detail, and create a bespoke itinerary that meets them, based on their own first-hand knowledge of what works and what doesn't.
If you'd like to chat about USA self drive or need help finding a holiday to suit you we're very happy to help.

Type of vehicle
Vehicles range from compact cars all the way to larger SUV-type cars, and will usually run on either gas (petrol) or diesel. Although the USA has a decent infrastructure for electric vehicle charging, most car hire companies do not have a sizeable EV fleet yet which makes it difficult to guarantee one will be available, it is always worth enquiring.

When you collect and drop off your hire car is up to you; since you'll be flying into and out of major cities, you may want to have a day or two for sightseeing before you pick up the car. That also means you won't need to worry about parking it.
Accommodation
About the only limitation on where you go on your trip is that your tour operator can only accommodate you in hotels that it is familiar with, understandably. Given the massive range of accommodation across the USA however, and that our partners regularly visit properties to ensure they're familiar with them, you can expect plenty of freedom when it comes to shaping your route.

Wherever possible you'll stay in locally owned properties, sometimes family-run, and hotels with strong environmental policies in place. When exploring the national parks is the focus of your holiday, you'll have plenty of choice as there are usually many properties within a short drive of park boundaries. Get an early start after breakfast and you can be among the first through the gate.
Support
You may be travelling independently on a self drive tour, but these are definitely not DIY holidays. Behind the scenes everything will be fully organised in advance to ensure you have the smoothest possible journey, and support is just a phone call away should you need it. You'll also have a comprehensive pre-departure briefing with your dedicated trip organiser, ensuring that all of your questions are answered, and all concerns laid to rest.
Entrance fees
Generally, park entrance fees are not included in your tour price. The reason is that you can easily purchase an
'America the Beautiful' annual pass for international visitors
, which costs just $80 and covers one vehicle and all of its occupants, giving access to all national parks and federal recreational lands for a year. You can buy the pass at the gate of the first park you visit, or buy it in advance, in which case it will be sent to your home address.
If you're only visiting one or two parks it may be less expensive to 'pay as you go' but don't be tempted to try and skip the fee altogether. Visitor fees contribute to the upkeep of the parks, as well as many vital conservation and education programmes.
When to go
As well as having a lot of geography, America also has a lot of weather. Some states are so large that different regions have altogether different weather systems at play. What that means is that the best time to go on a self drive holiday around America's national parks depends on which parks you intend to visit, and what you would like to do while you're there.

Winter (November to March) is the best time to see and photograph wolves in Yellowstone National Park, as prey species cluster in the low valleys and the wolf packs are very active and visible. But if you want to hike the trails, most will be closed due to snowfall at this time of year.

Spring (March through to May) is the best time of year to see bears in Yosemite and Yellowstone when they are foraging hungrily after the winter, and before they move on to higher ground in summer.

Hiking is one of the most popular activities in US national parks, but if you're planning to hit the trails in parks such as the Grand Canyon, Joshua Tree, or Zion, avoid the scorching heat in July and August.
How will the climate crisis affect holidays in American national parks?
In the early days of the Donald Trump administration, the US Government's Interior Department cancelled a new policy that would increase the role of science-based evidence in management decision-making for national parks, and take into account the threat of climate change. They decided to Make America Great Again by
cancelling science-based decision-making
.
As they are often located in mountains, glaciers, coastal areas, and in regions that are traditionally very hot and dry, US national parks are especially vulnerable to the effects of the climate crisis. Some are warming twice as fast as other parts of the United States.
Recent summers have seen Yosemite National Park hit by savage wildfires, then storms in the following winter that brought so much flooding and snow that park authorities were forced to close Yosemite to visitors for several weeks. Yellowstone National Park meanwhile endured 
catastrophic flooding
in June 2022 that saw two key access roads destroyed and led to mass evacuations.
The already-extraordinary efforts of park authorities to preserve ecosystems and keep these huge spaces accessible to all will need to be redoubled as the climate crisis takes hold, with lower rainfall, wildfires, flooding, sea level rise and glacier melt among the threats parks will increasingly face. Luckily, after four years of, shall we say, 'insufficient leadership' from the Trump administration, the National Park Service's planning again
takes climate change into account
, and has science-based decision-making at its core.
There are two key ways that travellers on a self drive tour can contribute to these efforts. Financially, through your park entrance fees and donations to the park's maintenance funds, and by going a little crazy in the gift shop. And simply by getting out of the car, helping to cut carbon emissions and air pollution. Many parks offer visitors 
free public transport
on shuttle buses and trolleys. If you prefer to keep to your own schedule, you can also appreciate parks by hiking, cycling, or kayaking.
More USA self drive articles