WINTER TOURS IN STOCKHOLM & THE BALTICS
The Baltic states of
Estonia
,
Latvia
and
Lithuania
create a perfect tri-country tour, with trips from Tallinn to Vilnius via Riga capturing the cultural contrasts between the three nations. Adding Stockholm to the start of an itinerary is a great idea and throws up further opportunities for cultural comparisons between Sweden and its near neighbours, separated by the Baltic Sea.
Now, how about doing this type of tour in the winter? Stop, stop, wait! Winter tours of Sweden and the Baltics aren't quite as 'bracing' as you may at first think. Yes, it's going to be cold, for sure, but just imagine all of those beautiful gothic spires and domed cathedrals covered in snow. There won't be many other tourists, so you'll have treats such as Stockholm's Gamla Stan (Old Town) and Estonia's Art Nouveau architecture all to yourself.
Getting from
Stockholm
to Tallinn in Estonia is half the fun. On a small group tour you'll board an overnight ferry that sets off at 6pm and arrives at 11am the next day. That's after visiting Stockholm's Christmas markets for a couple of glasses of very seasonal
glögg
and some homemade gingerbread biscuits, of course. There's no better treat for a midnight feast or to accompany an early morning coffee on arrival.
Cabins are either two or four berth and single or double cabins are also available on request. Solo travellers on a small group trip might prefer to bunk in with another member of the same sex or opt for a single cabin all to themselves – perhaps if they don't want to share their gingerbread.
On arrival in the Baltics you'll be touring overland in coach with heating. A group leader can explain more about where you're going and what you're seeing along the way. Travelling times between the highlights of the Baltic states can be quite lengthy, up to five hours, but it's a good chance to just cotch up in that chunky Scandi jumper you purchased at the Christmas market in Stockholm. Of course, there will be plenty of stops along the way as well as some super pretty snow-covered scenes to get you into the seasonal spirit as you travel south from Tallinn all the way to Vilnius.
Our top trip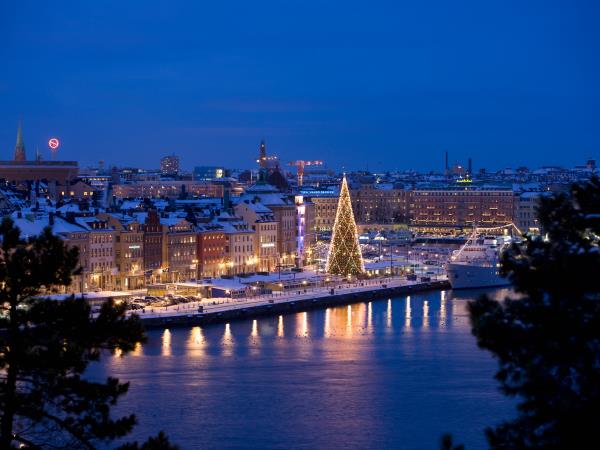 Stockholm's Christmas markets & delicious Christmas buffet
From
SKr5700
4 days
ex flights
Small group travel:
2023: 1 Dec, 8 Dec, 15 Dec
If you'd like to chat about Winter tours or need help finding a holiday to suit you we're very happy to help.

Things to do on a Baltic winter tour
Festive fairs and Christmas markets
Far from being full of tourists, Christmas markets in the Baltic states make you feel like one of the locals, with a festive choice of food and drink, handicrafts and traditional decorations to take home or devour on the spot. Stockholm,
Tallinn
,
Riga
and
Vilnius
all boast several festive fairs and often have traditional music and dancing taking place well into a winter's evening.
City sightseeing
A small group winter tour of Stockholm and the Baltics will include a guided walk around each of the four country's capital cities with everything from Russian orthodox cathedrals and medieval castles to UNESCO listed Old Towns and one of the oldest pharmacies in Europe, in Tallinn. After getting orientated in the morning with a guide you'll typically be free to roam on your own in the afternoon.
Taste the difference
Nothing beats the winter for conjuring up some delicious food and Stockholm and the Baltics are absolutely no different. Street food stalls in most major cities are commonplace and offer a super smorgasbord of smoky smells and delicious looking local delicacies – guaranteed to warm the cockles. From smoked sausage hot dogs and freshly baked gingerbread to caraway cheese, Russian rye bread and barrel loads of locally-brewed black bread beer, kvas, sampling the regional street food specialities is a must on any winter tour.
November and December are the best time to go on a winter tour of the Baltics as the Christmas markets are still in full swing and there's a real sense of warmth in the air – sometimes literally if you're standing close to a smoked sausage stall. Time a tour to coincide with the shortest day of the year – December 13th – and you'll find saffron-flavoured buns (lussekatt) and generous glugs of glögg traditionally served to celebrate the Christian feast day of St Lucy.
Advice for keeping warm in winter
Wrapping up is simply what you do in this neck of the woods, so bag yourself a Baltic beanie or a granny knitted jumper at a Christmas market or just remember to pack plenty of layers, a scarf, hat and thermals as, believe you me, you don't want to find out how cold 'Baltic cold' is without the appropriate clobber.
Grippy, solid walking shoes are also a must to avoid slipping over, and keeping moving is also great advice, especially if you're exploring away from city streets. Nothing beats a good old stomp across the deserted beach boulevards of Parnu in Estonia, around the grounds of Rundale Palace in Latvia or over Lithuania's Hill of Crosses – an incredibly atmospheric experience, even if you're stomping about in hiking boots.
Traditional herbal liquors, such as Riga Black Balsam, honey flavoured hot Krupnikas and rum-based Vana Tallinn are winter warmers to put hairs on your chest, if nothing else, although nothing beats a hot choc or a mulled wine at a festive market to keep the north wind from knocking at the door.
More Winter tours articles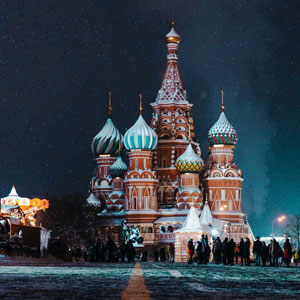 The perfect present for any travellers looking to explore in the Northern Hemisphere without the need for designer ski gear.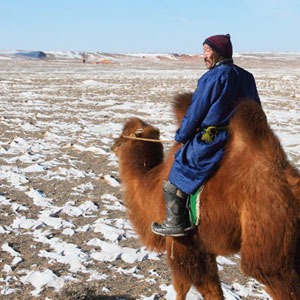 Make the most of traditional festive markets and surrounding snow covered scenery.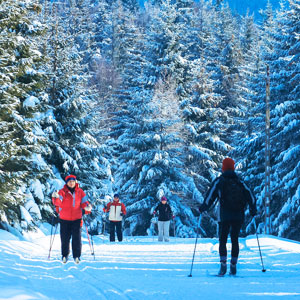 Head up into Poland's Carpathian Mountains during the winter and you'll find picturesque snow-draped landscapes.