Women only holidays to Jordan
There's only one way to find out what life is really like for Jordanian women: go and meet them. Join a sister-run cooking school in Amman or meet the women's weaving projects that support rug-makers in Madaba. Learn how a female shepherd looks after her flock outside Petra. You'll find that it's a real privilege to be invited into their underreported world.

Although Jordanian women are often educated up to the nines, only 13 percent make it into the workforce thanks to social and cultural norms.

All of these experiences are possible on a guided small group tour. You'll see the rest of the sights too, of course: Petra and its rose-gold tombs, the weirdly wonderful Dead Sea and the natural sand-rock sculptures of Wadi Rum. Amman is another wonder – and you'll see it through a different lens to most, thanks to the leading hand of your female guide.
Welcome to Amman
Most small group tours kick-start things in Amman, the capital of Jordan. A walking tour will show you how the Romans made themselves at home here. Their forum is mostly laid to rest under the modern streets, but you can still look up at the neck-crackingly tall 2,000-seat Roman Theatre. Wandering down Rainbow Street, with its 1920s theatre, galleries and swish courtyard restaurants, you'll see that Amman's arty soul is still alive and well.

One of the first things you'll learn in Jordan? A meal is never just a meal. Everything from sweet tea to falafel are used to welcome visitors and celebrate family on a daily basis. Sharing is definitely caring, so you'll be offered a colourful pick 'n' mix mezze called mansaf. A great guide will take you to a cooking school run by sisters still following their grandmother's recipes. Learn how to make their family's maqluba casserole (every cook has a different recipe) and chickpea salad.

Got a yen for Byzantine arts? Then hop on a tour that also nips 30km southwest to mosaic-mad Madaba. The Church of St George rolls out the oldest map of the Holy Land in the world – all tiled, of course. While you're there, your guide can take you an hour's drive along the King's Highway to the Bani Hamida Women's Weaving Project in Makawir, where Bedouin women turn bright wool into shawls and rugs.
Our top trip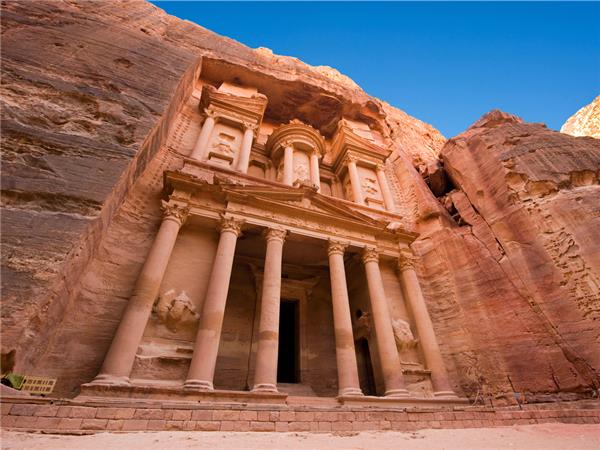 Share in the culture of Jordanian women
From
£1479

to

£1970
8 days
ex flights
Small group travel:
2024: 4 Mar, 25 Mar, 1 Apr, 6 May, 13 May, 10 Jun, 2 Sep, 16 Sep, 30 Sep, 7 Oct, 14 Oct, 28 Oct, 11 Nov, 25 Nov
2025: 10 Mar, 24 Mar, 7 Apr, 14 Apr, 21 Apr, 5 May, 12 May, 19 May, 2 Jun, 16 Jun, 1 Sep, 15 Sep, 29 Sep, 6 Oct, 13 Oct, 20 Oct, 27 Oct, 10 Nov, 24 Nov
If you'd like to chat about Women only or need help finding a holiday to suit you we're very happy to help.

Desert & stars
The scenery opens right up as you travel out of the cities. A small group tour will lay on a rickety jeep ride to Wadi Rum, where you can meet the Bedouin community who have made themselves at home in this desert wilderness for around 700 years. You'll be welcomed with tea and bread, and sit down to chat and learn the art of henna with the Bedouin women who wouldn't be able to greet mixed gender groups.
Over in Petra, the 1.2km-long canyon to the rock-hewn treasury and tombs is about as spectacular as you'd imagine. But it's often beaten by a night spent with a female shepherd who'll show you a day in the life that's barely changed in centuries.
Highs & lows
Most holidays to Jordan take you to legendary Mount Nebo, where Biblical lore says that Moses lived out his life overlooking the long-sought Promised Land. To be fair, it's a view worth travelling for – you can see right over to Jerusalem and Jericho on the West Bank. Some even say Moses' bones are buried here, memorialised by a church with shreds of 6th-century mosaics.
From the heights of Jordan most tours duck down to the salty Dead Sea, which at 430m below sea level is the lowest point on dry land. This is where you'll discover that your guide is worth their weight in gold, as you hit a lakeside beach resort on 'ladies' day'. This is where you'll find Jordanian women at their most relaxed, swimming and sunbathing without having to cover themselves from top to toe.