Cape Verde women only holidays
Mirilene spent her childhood running around the mountainous fields of the Ribeira Grande. She grew up in the valleys here on Santo Antao, the most westerly island in Cape Verde, raised into a farming family. To tourists, the volcanic and vertiginous river valleys of Santo Antao are known as hiking country. To Cape Verdeans, the island is better known for farming and fishing – rare industries in a dry archipelago that imports 90 percent of its food.

I was raised in the middle of the mountains and would help out my mother from time to time in the field… I find much pride in the work that I do.

– Mirilene, a farmer in Cape Verde
These days, Mirilene works in the town Ribeira Grande
(Povoação)
, where lemon, mint and rose-coloured houses and businesses squeeze between two mountain plateaus. She followed in her mother's footsteps, and has been in the agriculture industry for almost four years, living and working in the mountain valleys with her family. They have a small shop that you can visit on one of our
women's empowerment holidays in Cape Verde
.
What can you buy there? "Everything!" says Lidiana Mendes from our partner Travell With Purpose, who designed and runs the trip. "It's a very small shop close to the farm; you can get things from the deli. Sometimes, Mirilene is there too. I love to go to her shop: I get a big bag full of vegetables and can cook with it for the whole week."

Farmers on Santo Antao grow potatoes, cassavas, peppers, sweet potatoes, tomatoes, cabbage, bananas, mango and maize – as well as sugarcane, which is distilled into the heady island speciality grogue.

It's tough work. There's a reason why agriculture only accounts for around seven percent of Cape Verde's GDP. High-rise terrain forces farmers to cultivate terraces, while the hot and dry Sahel climate and increasingly unpredictable weather patterns make droughts more common. Crops are small and irregular, clutching on to the fertile valleys and coast of the northern islands.

Our richness in Cape Verde is fishing and agriculture.

"Our richness in Cape Verde is fishing and agriculture, and unfortunately, more and more young people are losing interest in these industries," says Lidiana. "Mirilene was raised in the valleys, running around as a child – she was brought up into that. This is why she is into farming, and she'd like to continue in it and inspire other women. She would love to see more young women doing it."

Women's holidays in Cape Verde support farmers like Mirilene. They go with the flow, tailored to the farmers' schedules as much as possible so as not to disturb their work.
"We mostly want to adapt as much as possible to the environment – to local life and nature," says Lidiana. "I think that if we want to work together with Mirilene and the other female farmers, it's up to us to be as flexible as possible and get an agreement with them that they feel comfortable with, but also that lets them keep their identity. It's never about changing their culture, but to highlight them."
Our top trip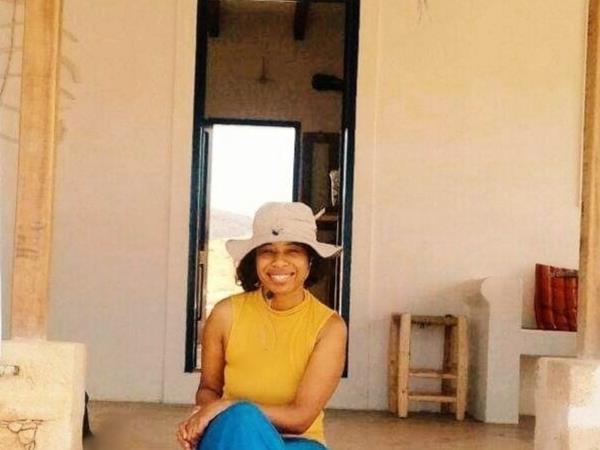 meaningful Cape Verde- highlighting females in agriculture.
From
€950

to

€1450
7 days
ex flights
Tailor made:
This trip can be tailor made throughout the year to suit your requirements
If you'd like to chat about Women only or need help finding a holiday to suit you we're very happy to help.

Meet the resilient women of Cape Verde
"A lot of the time, when people hear the word empowerment – women's empowerment, especially – they only think about being a strong feminist, but it's not just about that," says Lidiana. "It's about highlighting what you already have. Highlighting your culture. And in this sense, I would say that the typical Cape Verde female farmer is resilient and very proud of her work. That's why we want to highlight them and what they do."

Women have a hugely influential role in the agriculture and fishing industries in Cape Verde, making up almost 35 percent of the workforce. The roles are largely segregated: men do the manual labour, while women help tend to crops, deliver produce from the farm to shops, clean, garden and work at the markets.
Women's work also tends to be informal and without contracts. That's great for enabling women to fit work around family commitments – women head up almost half the households in Cape Verde – but schedules and wages can be unfixed and unreliable. Over a third of women live in rural areas, so agriculture can provide vital work – however, the poverty rate for famers is twice the national average.

The typical Cape Verde female farmer is resilient and very proud of her work. That's why we want to highlight them and what they do.

An African Development Bank
report on gender in Cape Verde
recognised that gender equality is essential to reducing poverty for people working in agriculture and fishing. One of their recommendations is to link up with the growing tourism industry to help female farmers create sustainable small businesses.
That's exactly what women's holidays in Cape Verde do. Lidiana is passionate about bolstering entrepreneurial women who work in agriculture. "We want to put more focus on the female farmers because they need it," says Lidiana. "I feel like they deserve it, especially after the Covid-19 pandemic."
What are women's empowerment holidays in Cape Verde like?
Most women's empowerment holidays in Cape Verde are a week long. You'll spend a few days with women like Mirilene who work in farming on north-westerly Santo Antao, visiting their farm shops and exploring their hometowns. A facilitator will run workshops, leading group discussions, games, role play, and educational talks. They're pros at getting everyone feeling welcomed and relaxed.
These workshops are your chance to really engage with women who live and work in the Cape Verdean mountains, exchanging stories and ideas… and a lot of laughs. The whole holiday – but especially the workshops – is created with the needs of the community in mind, discussing women's empowerment, offering insight into local farming and dipping into anthropology.

It's important that the guides are not only from Cape Verde but from the island that the holiday takes place on.

You'll discover why Cape Verde is the way it is, from its roots as a Portuguese colony for enslaved people, to achieving independence and women's suffrage in 1975, and then recognising today's Cape Verde – one of Africa's most engaged and lively democracies.
A local guide of any gender will lead the rest of the holiday, when you'll explore extinct volcano craters, the green valleys of the Ribeira Grande and a traditional fishing town on neighbouring Sao Vicente island.
"The guides have a lot of experience in tourism and rural tourism, and they're friendly as well," says Lidiana. "It's important that they are not only from Cape Verde but from the island that the holiday takes place on."
Accommodations are guest houses run by islanders who'll invite you to kick back in their book-filled lounge or join them on the shady garden porch for fresh mango juice.
Holidays with a purpose
post-pandemic
The Covid-19 pandemic had a huge impact on Cape Verde. A prompt military-led lockdown and its island location prevented the coronavirus spreading as quickly as in other countries. The economy is another story: some people have lost
more than 80 percent of their income
.
Income from tourism made up a quarter of Cape Verde's GDP. The resort islands Boa Vista and Sal were moving into their high season in March 2020, when international travel stalled. Work dried up in the luxury beach hotels and businesses supported by tourism – from postcard sellers to fishermen – are struggling.
"The work was mainly tourism there, so people left," says Lidiana. "It's another reason why we push for responsible tourism, because you can see now that the tourism businesses that suffered the bigger impacts were the ones that weren't sustainable. Of course, we are all affected by it, but you can already see that the sector of responsible tourism is better at dealing with such an issue than a major resort that loses so much because they are all about fast money. We think about the long-term and have strong partnerships."

You can see now that the tourism businesses that suffered the bigger impacts were the ones that weren't sustainable.

Thankfully, the northern islands that Lidiana and Marilene live and work in are the backdrop of
walking holidays
and
cultural tours
that require lower temperatures. They were entering their low season when the Covid-19 pandemic started and, as agricultural and fishing islands, had an alternative (if small) source of income.
In the long term, responsible agritourism like the women's empowerment holiday would help supplement farmers' incomes – all the more important after the pandemic. A percentage of the money that you pay for the holiday is funnelled directly back into the female farming industry, funding more empowerment workshops and supporting small businesses.

"We want to be independent of the government because when there is government engagement, there are always different restrictions that we don't always agree with and that we don't find sustainable," says Lidiana. "It's not as easy to control things or see where the money goes. With small-term, direct impacts, the female farmers have more of a sense of their own product. They're making a sale, they're engaging in our workshop – and it's long-term. You don't have to do it in a year."
Women only holidays in Cape Verde are a little different: they're small group holidays for women, but don't specifically focus on female farmers and the work they do. You'll start with a history walk in Mindelo, a port and beach city on Sao Vicente, before catching the ferry to Santo Antao island.

These holidays stick close to the coast, following the old donkey paths along the craggy cliffs between Ponto do Sol and Cruzinha (via Fontainhas for a herbal juice pick-me-up), with the occasional drive up to volcanic craters and along the mountainous Ribeira Grande valley, where farmers grow casavas and sugarcane.
Activities include hiking, meditation, stretching exercises and journaling sessions. A guide will focus on revealing the hiking trails, nature and culture of Cape Verde, while a facilitator with expertise in women's wellness will guide the self-care programme. Accommodations are eco lodges that blend near seamlessly into the forests and coast.
As with the women's empowerment holiday, the women's only holidays flow with the needs of the community. In the past, Lidiana has worked with women in the fishing industry. Now, she introduces visitors to female farmers because the need is there. Hikes follow well-trod tracks to avoid chipping away at fragile forests recovering after being cleared for largescale colonial plantations. Lidiana also sticks to small group tours that positively impact mountain communities instead of swamping them and changing their ways.
"It's important to be very critical of your own work that you do," Lidiana concludes. "Because it's very easy to say 'responsible'. I always go back and evaluate because you can easily lose track of how sensitive your tours are."