Women only holidays in Morocco
By going on a women only holiday to Morocco, you get to hear the voices of everyday folk who are slowly but surely changing their country. Not the politicians, but the tour guides and co-op managers who have proved what recent gender equality legislation can achieve.

Chat with Moroccan women as they lay out successes, ambitions – and the challenges still ahead.

That's where small group tours come in. They'll match you up with a female guide – a rare find in Morocco – who will invite you to see the country through her eyes. Along the way, you'll be struck by the warmth and openness of women who might otherwise tone down their smiles or enthusiasm when navigating a mixed gender group.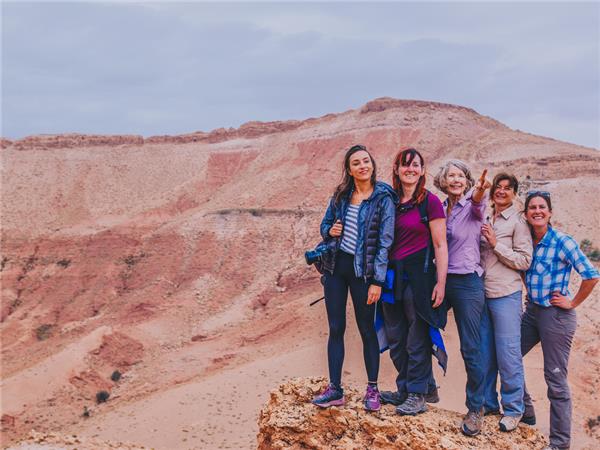 Stray from the beaten path in Morocco on an all-female trip
From
£925

to

£1000
8 days
ex flights
From Marrakech to Casablanca
Most Morocco holidays chuck you straight in the deep end – otherwise known as Marrakech. This city is a whirl of incense, lantern bazaars, shouting traders and sizzling food stalls. The main square, Djemaa El Fna, is the beating heart. Take your tour guide's advice, which will be something along the lines of avoiding the snake charmers like the plague and heading out after dark to eat with the Moroccan families. Couscous washed down with mint tea – yum.

Other cities serve up an altogether more chilled-out feel. Jump on a small group tour that breezes through Marrakech on its way to Fes or Casablanca, via a string of towns like blue-washed Chefchaouen, where women weavers work on wool and silk fabrics. In fact, most of the towns specialise in something, from the leather tanners of Fes to the fishing families of Essaouira.
Once upon a time, westerly Essaouira was the trading hub between the Sahara and Europe; now it's a sloth-slow fishing town. Your tour guide can take you to meet the craftswomen who set up shop in the medina, carving thuja wood into spoons and peddling argan oil. Outside the city, the farmers will show you how they harvest the oil from trees beloved of goats, who scramble up the branches to munch on its fruit.
For a shot of sheer splendour, hop on a tour that swings by Casablanca for the Hassan II Mosque, which spikes the sky with the tallest minaret in the world. Its prayer hall welcomes 25,000 worshippers on a good day – and many more visitors who come to gape at its star-shaped fountains and intricate mosaics.
Our top trip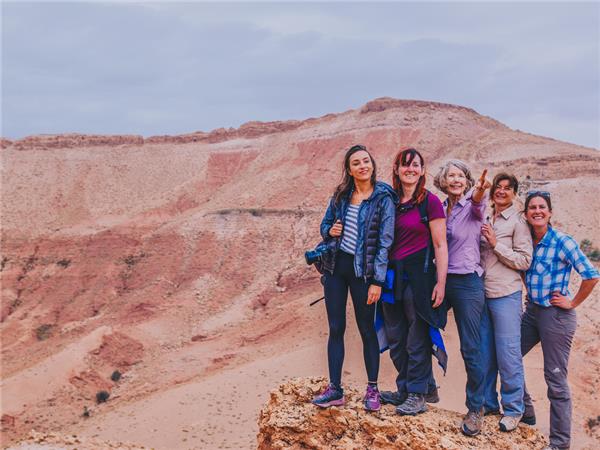 Stray from the beaten path in Morocco on an all-female trip
From
£925

to

£1000
8 days
ex flights
Small group travel:
2024: 2 Mar, 9 Mar, 6 Apr, 13 Apr, 20 Apr, 27 Apr, 4 May, 11 May, 18 May, 25 May, 10 Aug, 3 Sep, 7 Sep, 14 Sep, 21 Sep, 28 Sep, 1 Oct, 5 Oct, 12 Oct, 15 Oct, 19 Oct, 26 Oct, 29 Oct, 9 Nov, 23 Nov
If you'd like to chat about Women only or need help finding a holiday to suit you we're very happy to help.

Country living
To get the full measure of Morocco, you must go into the countryside. A small group tour will dig up the best accommodation. We're not talking about five-star luxury here – we mean families who will welcome you with mint tea and krachel sweetbread. Families where you can chat freely with women who might otherwise be accompanied by a male guardian while hosting mixed gender tour groups.

The countryside is the flipside of life in the cities. Some tours put you up with the women of a terra cotta gite guest house in Bou Tharar village, where golden sandstone houses huddle into the Dades Gorge (or Valley of the Roses). If you've ever bought rose cosmetics, the ingredients are likely to have been harvested here; local women pluck the petals for perfumes and oils.
Your tour guide can also put you in touch with Bedouin women, who'll be only too happy to sit you down for a Maghrebi cuisine cooking demo – think goat and date tagines, and football-sized pastille meat pies. A visit to Amejgag village is your ticket into a weaving workshop run by a women's co-op. In Issoummar, meanwhile, you'll be invited to help the women prep a Moroccan breakfast of flatbread, soup and coffee.
The deeper you delve into the Moroccan countryside, the more you'll realise that Berber villages are completely dependent on their livestock – and that women are often left to look after the villages while the men work in the cities. The women here will teach you hand-me-down farming skills, from milking goats to the art of applying kohl sunscreen.