Overtourism: residents campaign toolkit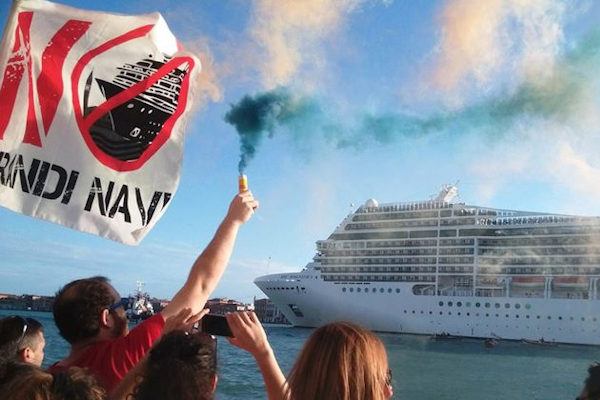 "
Grit, persistence and a sense of humour are the key attributes of successful campaigners.
"
We've talked a lot at Responsible Travel about the impacts of overtourism on destinations that we love to visit. We know
from experience
, however, that actions speak louder than words.
Some of the most prolific campaigns in the world started at grassroots level. Planning and working together helps to mobilise, motivate and create the movement for change. With that in mind, we've put together a toolkit to help you gain a collective voice. A voice that can be heard by local, regional or national government rather than unwitting tourists. A voice to create change. We have also included some useful links for further reading.
Overtourism campaign toolkit for residents
1. Create your core
Create a small group of like minded people, who agree to commit to a certain period of time to move your overtourism issue forward. Try to make this group as diverse as possible.
Have a first meeting with the group, and elect a chair and spokesperson. Appoint someone to take notes and record all concerns of the group, using transcriptions, photographs or even video.
Create a mission statement for your group. This may sound like a fancy corporate term, but it simply means putting your desired goal - for example reducing the amount of cruise liners, banning tourist coaches from certain areas or changing a relevant tourism law - into writing. This mission statement will help identify who you want to get the attention of, but can also be used as your 'about us' section in the public arena.
Name your group. Keep the name simple and non- aggressive. Think about how it might look on a T-shirt or sticker. Or translated into different languages.
Appoint a social media expert to create Facebook, Instagram and Twitter accounts. Decide on a hashtag for social media use and use social media carefully and strategically. Showing professionalism across the board will help in the long run. See this Ted Talk by Wael Ghonim on social media and activism for some inspiration.
Plan your next meeting with tasks to be achieved within that given timeframe. Aim to plan for a more public meeting within a given timeframe.
2. Create connections
Each group member should research one campaign for change that has inspired them and share with the group. Here are some of our favourites: No Grandi Navi (No to big cruise ships in Venice), Save Skadar Lake, Balkan River Defence, Friends International Childsafe Movement, Silence on Mont Blanc by Mountain Wilderness and Patagonia's campaigns.
Find out about other activism groups in the region, for example, environmental, heritage, cycling, disability rights and student campaigns. Reach out to them for advice if necessary.
Create a media database of local and international members of the press who might be interested in your campaign. Do some research into who has been covering the issues that affect you in the media and reach out to them. Seek them out on Twitter and Instagram and follow them. Much has been written in the media on overtourism and local people's protests, by publications such as Skift; Telegraph Travel, The Wall Street Journal, The Independent as well as more local newspapers and websites based where local people are protesting. It is a highly topical issue; people want to hear your story.
Commit to getting data. Data that shows the impacts of excess tourism in your region is what local government and tourism boards relate to. Work on getting the figures and always fact check.
3. Think corporate
Some people are scared of the 'S' word – strategy. But don't be. To quote a well-known phrase: 'a goal without a plan is just a wish'. Do you want to attend council or planning meetings? Do you want to gain meetings with tourism board members? Do you want to schedule planned protest dates? The Info Activism How To Guide is a useful source of ideas.
Research the law regarding protests in your region. Do you need permission from the local council? Are there certain times when protests aren't allowed? Some interesting thoughts on this from Friends of the Earth.
Write an ethical campaigning policy including, for example, the banning of abusive or violent behaviour, prohibiting racism or xenophobia, never using slanderous or libellous claims and promoting peaceful and responsible campaigning throughout. No-one wants to ban or bully tourists. Most people in places affected by overtourism welcome tourism but simply want it managed better and for their voices to be heard.
Get yourself a logo and slogan. There are websites that do this for free or at a low cost. Again, something simple that you could imagine on a T-shirt. Look at campaigns such as 'Repeal', 'Time's up' and Black Lives Matter for inspiration. Or Google 'activism T-shirts' for some sassy inspiration. Think fun instead of fierce. Cool instead of cruel. You'll get better campaigners on board that way.
Build a simple website and appoint a member to manage it. Wordpress is one of the simplest website building tools and you would be amazed how many sophisticated looking websites are built with Wordpress. See some ideas of Wordpress themes used by charities.
4. Create
Create a short video, no more than 1.5 minutes to illustrate your reason for campaigning. This is easily done using phone technology and basic desktop editing. Ask any creatives in your group if they are willing to contribute their skills, such as videography or music. Having short, shareable video content is key to a good campaign these days. And do please check out our overtourism video: 'Crowded Out – the story of #overtourism'. It took time and effort to get our own video message out there, but we had a lot of fun in the process. Collaborating with communities is a no brainer for us.
Engage a photographer to create original and engaging images for your campaign. Pictures of people with placards can be a bit dull. Think outside the box and seek out images that get people talking. See the images on the Balkan River Defence campaign as an excellent example.
Read more about
our stance on overtourism
.
Share this campaign toolkit