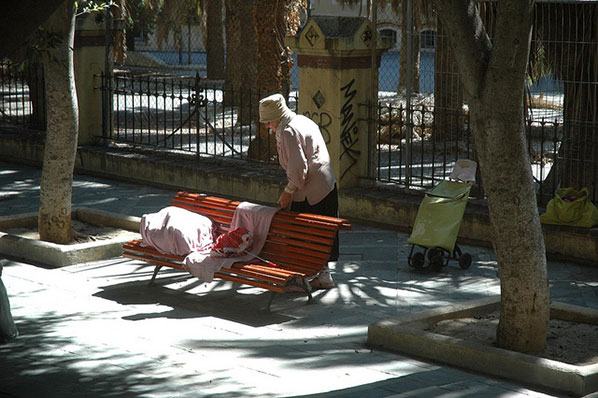 In 2014, the EU issued a report on Europe's five worst unemployment black spots. All were in Spain – and the worst of all was Andalucia, where unemployment is approaching 40 percent. Some people have been unemployed since 2007, with no prospect of that changing. The result, of course, is widespread poverty that is a dark stain on one of Spain's most beautiful regions.
As well as wider economic woes affecting Spain and the rest of Europe, the bursting of Andalucia's property bubble caused financial mayhem. During the property-fuelled boom, many young people left school to work in construction – now that work has disappeared they are left with no work and no education.

While property was a temporary major industry, agriculture has been a mainstay of Andalucia's economy for a long time, with olives to the fore. Jaén alone accounts for nearly 30 percent of the world's olive oil production, and olive oil production accounts for 90 percent of its jobs. But not only does such intensive olive production pose environmental issues (see Environment section) but it leaves the region vulnerable to dreaded events such as disastrous crop failures, which blighted production in recent years.

A more deep-seated problem is the ownership of land. SAT, the Andalucían workers' union, says that just 2 percent of the population own 55 percent of Andalucia's arable land, and that job creation is not a big priority for these huge landowners – only profits.
Andalucia's poverty crisis is far less visible than cities like Barcelona or Madrid, where the poor and homeless are far more visible on the street. But amid the gorgeous streets of Seville, Cordoba and Granada, and in the wonderful countryside, people are suffering en masse. In 2013, the charity Caritas spent €2.6m on food for vulnerable families in Málaga alone (a rise of nearly a quarter on the previous year), while the regional government distributed free breakfast and afternoon food to 50,000 schoolchildren last year.
Tourism provides some grounds for optimism, with tourist numbers rising – along with inward foreign investment. But it is merely a sticking plaster on a wound that needs intensive care.
SOURCE:
The Guardian

What you can do
Focus your spending on local enterprises – especially ones away from the main tourist centres – to help direct money where it can most benefit struggling communities. That doesn't mean don't spend in the cities; places like Cadiz and Cordoba have unemployment around 35 percent (reaching 50 percent amongst the youth), and spending generously in restaurants and small local shops helps there as it does in a rural hamlet.