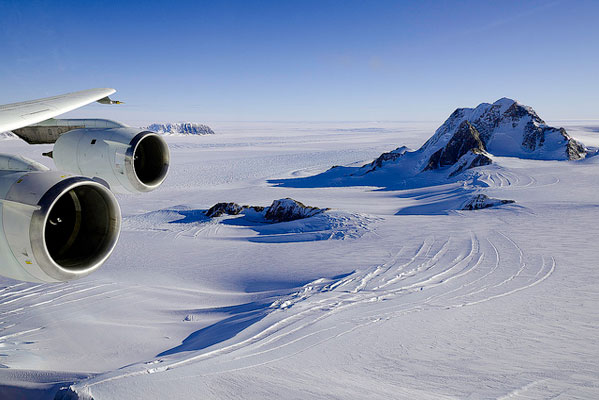 When it comes to responsible tourism in the Polar Regions, many environmentalists would argue that the only truly green course of action is... not to go. The biggest question is: how can the flight be justified?
Both Poles are at the mercy of activities taking place thousands of miles away. Climate change is without doubt the biggest threat; temperatures have risen much faster at the poles than across the rest of the globe. Glaciers are rapidly retreating and tens of thousands of square kilometres of ice have vanished. Rising sea temperatures affect the tiniest of sea creatures such as krill – the effects are seen all the way up the food chain to seals and whales.*
But while it is true that a flight to Patagonia or Svalbard will contribute to climate change, so will every other flight you take, every car journey you make and every bit of food you eat that has travelled from a distant farm. They all contribute to the melting of polar ice, and they all, also, contribute to the altered rainfalls and drought across the world. So, it is wrong to link your link your polar flights exclusively with the melting ice – and it is equally wrong to ignore all the other carbon emissions you create when thinking about your impact on Antarctica and the Arctic.
This leads us to the dilemma that every traveller to the Poles faces. There is no easy alternative to flying, and – unlike other choices we can make, there is no magic low carbon, organic or Fairtrade aviation fuel available. So the choice – quite wrongly in our view - is left to you as a personal one: to go or not to go.
*Source:
British Antarctic Survey
What you can do

In the Arctic, with its people and protected areas, it's easy to see how responsible tourism can be a force for good; travelling in national parks and wildlife reserves involves paying park fees, which support the maintenance, protection and monitoring of these wilderness areas, as well as encouraging the creation of new reserves. Visiting Inuit communities creates much-needed income and supports a disappearing way of life. And onboard lectures from Arctic experts offer an unrivalled chance to learn.
"Our guide kept bringing up issues around conservation and the awareness and perspective alone gained from those discussions will have a positive impact on the environment... People definitely went away more aware and inspired to make changes in their own lives."
-
Joshua Cox, from our holiday reviews
Most of our customers who have travelled to Antarctica have described themselves as deeply moved by its peace and pristine landscapes. Climate change, nature's fragility and the urgency of protecting it suddenly hit home, and an expedition to Antarctica really can prove to be life changing. In a land where there are no local voices to shout about their cause, tourists have an important role to play as representatives and ambassadors for this final wilderness.
So if you do decide to go, perhaps the question is: what changes can you make in your life to reduce your carbon footprint and lobby for effective global regulation of carbon?