Scuba diving in Antarctica
Penguins are cute. Out of the water, they waddle with toddler-like curiosity. But seeing them underwater is a completely different experience. Going on
diving expeditions in the Antarctic
means seeing penguins transformed; they swim so fast you'll barely be able to turn in time to watch them go. It also means the possibility of seeing them being hunted down and torn apart by three-metre long leopard seals.
Leopard seals aren't the only spectacle afforded to the lucky few who are able to get a place on one of these diving trips. You'll see ice carved with all the delicacy of a snow queen's palace, dark walls of kelp and swimming sea snails, (more delicately known as sea butterflies). Though life in these chilly waters is slow to grow, it has a long lifespan and plenty of time to grow both large and colourful – there are sponges some decades in the making, rubescent urchins and starfish and strange, woodlouse-esque giant isopods which can survive half a kilometre below the surface.
Diving in water that's one degree below centigrade (saltwater has a lower freezing point than fresh, starting to solidify at 2 degrees below) makes things interesting. Strange things happen when you're diving close to icebergs, where melting freshwater off the bergs can throw off your buoyancy. For all this frozen wizardry, strange sculpted ice and isopods, it might be the absences which are most striking when you dive. You won't see crabs or sharks in Antarctica. The cold water keeps them out – for now.
Whatever guilt we harbour about standing by and watching a penguin helplessly caught in a leopard seal's maw, it's nothing compared to knowing what climate change has in store. Temperatures are warming in Antarctica faster than anywhere else on earth. Understanding how this affects everything from krill shoals to killer whales is what makes these trips so fascinating. On board lectures help divers understand what they're seeing below the surface – and all that is unseen, too.
Our top trip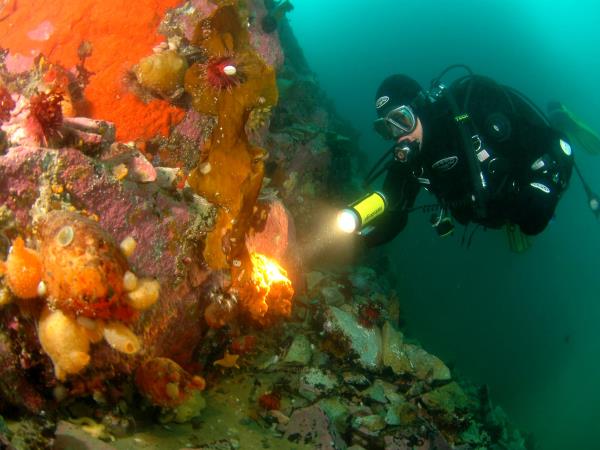 An Antarctic expedition for divers & non-divers alike
From
£5495

to

£18790
10 days
ex flights
Small group travel:
2024: 24 Jan, 3 Feb, 20 Feb, 25 Feb, 8 Mar, 16 Mar, 21 Mar
2025: 20 Feb, 9 Mar, 10 Mar, 23 Mar
If you'd like to chat about Antarctica or need help finding a holiday to suit you we're very happy to help.

What does this trip entail?
Antarctic Scuba diving trips are for very experienced divers only. As well as the necessary qualifications, you'll need to have thirty cold water dives under your belt – in which you've worn a dry suit. They should be recent dives, too – some undertaken within the last six months before your trip.

You won't be diving through a hole in the ice. Rather, you'll dive off ice shelves, off the land, perhaps over a sunken wreck off your boat's zodiac (reinforced inflatable boat). Diving in the Antarctic is dangerous enough without the need for deep dives and trick dives. The thrill comes, instead, from seeing phenomena you can't witness anywhere else. And bragging rights, of course. Scuba divers know the risks of their sport, but these risks are higher in the Antarctic, where the water is 1°C, there is no decompression chamber on board your boat (limiting how deep you can dive) and the nearest hospital is several days' cruising away. Having the wrong equipment – which can crack in low temperatures – can be fatal.

You'll need to take all your own kit, based on a comprehensive equipment list and the advice of your operator. This includes a dry suit and everything you need to wear beneath: including your 7mm thick neoprene hood and gloves and two regulators . Ordinary scuba regulators are there to make compressed air breathable. Special cold water regulators are designed so they don't freeze, and are often environmentally sealed. It's a kit list that's important to get right, making booking with a responsible specialist absolutely paramount.
Warnings aside, if polar diving is something that's on your bucket list, you'll make it happen. People tend to book these trips far in advance, then work to get their remaining diving experience under their belt before they go .
If your partner is a diver, but you're not, they don't have to go alone. Being a non-diver on a diving boat is actually a blast. Whilst your other half is preparing for dives, you can do all the pursuits that characterise an 'average' trip to Antarctica – taking advantage of long daylight hours for multiple shore expeditions and zodiac cruises. On returning to the boat, you can guarantee you'll be treated to multiple slideshows from any budding underwater photographers on the trip.