Semi-circumnavigation of Antarctica
Ortelius makes short work of pack ice. The view ahead might be a blank jigsaw puzzle of floating floes, but she'll make it through. She is thick-hulled and trussed with girders, and if it comes down to it, she can break through year-old solid ice. Ortelius, if you haven't realised already, is a boat.

There are a dwindling number of small boats selling excursions to Antarctica. With a capacity for 116 passengers, Ortelius is one of the smaller vessels used for cruising holidays. She also happens to be one of the strongest, having been built in 1989 as a supply ship to Russia's Far East oil fields.

She needs to be. Every couple of years, Ortelius essentially gets taken out of action for two and a half months of the season to complete two once-in-a-lifetime trips: a voyage from Argentina to New Zealand – and back again. The voyages connect two southernmost cities: Ushuaia on the tip of Argentina to Bluff, the southernmost town on South Island, New Zealand.
You only need to look at a map to see that this is not a straightforward route. Antarctica gets in the way, so to get from Argentina to New Zealand you need to undertake a semi-circumnavigation of the continent.
To call this the adventure of a lifetime wouldn't be an exaggeration. The voyage takes 33 days. Such are conditions that 10-14 of the days are 'buffers', in case you have to wait for bad weather to pass. When it does, you'll be able to venture into the Ross Sea and see the Ross Ice Shelf, the favoured starting point for the many famous attempts on the South Pole during the 20th century's golden age of exploration. Unlike the likes of Scott and Amundsen, you'll employ the use of not one, but two helicopters, to proceed inland.
A trip like this is far more adventurous than most Antarctic cruises, which tend to cover the same ground. According to IAATO, tourism is generally centred around the same 35 locations – mostly on the Antarctic Peninsula. Of course, this cruise hits the peninsula, too – after all, crossing Drake Passage is the best route down from Argentina.

During this journey you'll sail from the Antarctic Peninsula to the Ross Sea. The latter has 1.55 million square kilometres designated as a Marine Protected Area – but the same cannot be said for much of the rest of the Antarctic. Despite many bids to give largest swathes of Antarctica's Southern Ocean marine park status, they are continually rejected for areas like the Antarctic Peninsula and the East Antarctic. This means that the Antarctic can be, and is, subject to mammoth krill harvesting operations. You won't see this happening on your cruise – but that's what open bridge on Ortelius is for: sharing the harsh fact that the krill harvesting industry is growing in Antarctica, not slowing down. Norwegian krill producer Aker BioMarine has been granted permission for a fourth krill fishing license in the area, and added a new boat to its fleet. Illegal fishing occurs. Travelling in the Antarctic is a way of seeing first-hand the great damage that could be done if we don't protect the sublime white continent.
What does this trip entail?
You'll need deep, fur-lined pockets and a sense of adventure to plunge this deep into the Antarctic. It's expensive, and you'll almost certainly experience a few rough crossings and bad weather during a month spent at sea, with only a couple of albatross, who often tail the boat, for company.
There are seven zodiacs available for whizzing guests over to the shore, and two helicopters. Whilst two helicopters seems like an overindulgence, it's actually a safety measure, in case one breaks down. When you go ashore, it's quite common to find yourself walking among penguin colonies; the birds are exceptionally curious of new arrivals, and will get closer than you expect.
All activities are weather and ice permitting. Whilst using helicopters means that you can still reach areas that are blocked in by ice, all landings are dependent on conditions and the schedule can change without much notice. Sometimes the research station is too busy to visit, or the weather is too bad. There are 10-14 days of leeway in the itinerary – which seems like a lot, but means you can wait for bad weather to pass and arrive at your final port in good time for your onward plans.
Our top trip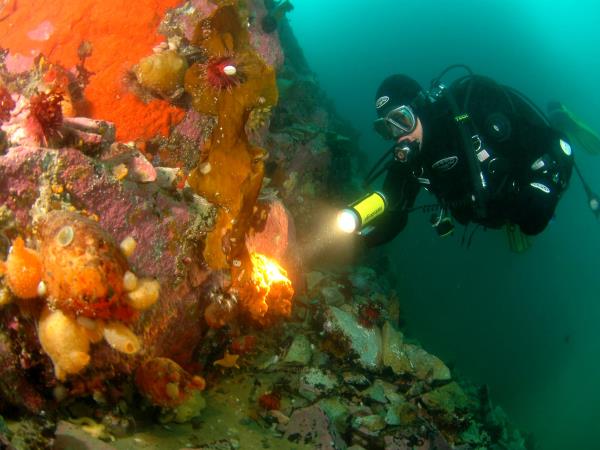 An Antarctic expedition for divers & non-divers alike
From
£5495

to

£18790
10 days
ex flights
Small group travel:
2024: 24 Jan, 3 Feb, 20 Feb, 25 Feb, 8 Mar, 16 Mar, 21 Mar
2025: 20 Feb, 9 Mar, 10 Mar, 23 Mar
If you'd like to chat about Antarctica or need help finding a holiday to suit you we're very happy to help.

Your route around Antarctica reads like a 'Who's Who' of great explorers. To reach the continent, you'll cross Drake Passage, named after dastardly 16th-century English explorer Sir Francis Drake. From here you'll travel anticlockwise through the Bellingshausen Sea, named after Fabian Gottlieb von Bellingshausen, whose 1820–1821 voyage made him the first person to circumnavigate the continent below New Zealand. Next, plough into the frosty Amundsen Sea (named after the Norwegian Explorer), and the Ross Sea – a quarter-turn around the continent from the Antarctic Peninsula and discovered by British Explorer James Clark Ross in 1841. To reach New Zealand from here, you pass through the Subantarctic New Zealand islands: including Campbell Island, named after naval officer Victor Campbell, who accompanied Scott on his Terra Nova expedition.
Antarctic Peninsula
This spur is Antarctica's most northerly thrust, and is warm enough to support an overwhelming amount of bird and sealife. There's a reason so many cruises stick around these waters: not only is it fairly accessible, but it's often exceptionally calm and the chances of spotting elephant seals, penguins and whales is high.
Emperor Penguins
You can't find Emperor Penguins on the Antarctic Peninsula, so most people who come to the Antarctic won't see the world's largest and most familiar penguin. There is, however, a colony in the Amundsen Sea. Sightings aren't guaranteed, of course, but at over a metre tall, they're the unmistakable avian rulers of the ice.
Explorers' Huts
Ross Island in the Ross Sea has two still-standing huts built by Shackleton and Scott's expeditions to the Antarctic. Remarkably preserved, they still contain bunks, ancient supplies of rancid seal meat and scientific instruments, whilst seaweed-stuffed walls mean they're almost unbearably cosy. Ernest Shackleton's Cape Royds hut was used for his Nimrod Expedition. On Cape Evans, Scott's hut tells an unhappier tale: he set out from here to conquer the South Pole in 1911, but didn't return.
McMurdo Dry Valleys
Fly into Antarctica's interior and you'll be met with a surprise: dry, snow-free valleys. Strong winds blow away any precipitation, leaving bare earth and craggy gneiss strewn with high-salinity lakes. In this extreme environment, conditions are closer to Mars than anywhere else on Earth.
New Zealand's sub-Antarctic islands
These islands, hundreds of kilometres south of New Zealand, are UNESCO-listed for their importance to birdlife – there are eight bird species that don't nest anywhere else in the world. In this area you might spot New Zealand fur seals, once hunted to near extinction for their pelts. On shore, you'll come across megaherbs – flowering plants that grow uncharacteristically large and colourful despite the hostile conditions.
The Ross Ice Shelf
Several hundred metres thick, with 90 percent of its mass hidden below the surface of the water, the Ross Ice Shelf is the largest floating body of ice in the world. Many expeditions into Antarctica started here, including Amundsen's successful journey to the South Pole. It's now on the frontlines of our battle against global warming. Recent research shows that it's currently melting ten times faster than predicted.