Top Austria walking routes
Snowcapped mountains, pristine lakes, rivers and waterfalls, glaciers dotted with ice caves and green meadows full of placid cows; Austria is like a 3D postcard. Whether you're entering via Salzburg, Innsbruck or Vienna, there will be a vast number of marked trails in the close vicinity, with enjoyable routes for the more dedicated walker as well as those for whom it's an occasional hobby. You can find short walking routes accessible for baby strollers or wheelchairs too. Several itineraries also combine with Germany, often crossing into Austria through the Bavarian Alps – the border is passport-free. Mountain trails are strung with remote huts where you might sleep over, pause for a glass of beer, or purchase smoked sausage and cheese for a picnic.
1. Bad Ischl
This spa town is one of the prettiest in Austria which, if you know Austria, you'll know is really saying something. Bad Ischl still possesses much of the grand, imperial ambience that made it a favourite in centuries past of such luminaries as composer Johann Strauss, Sigmund Freud, and the Habsburg emperor Franz Josef. It was at his villa here that the emperor signed the declaration of war on Serbia, which rapidly spiralled into WWI.
2. East Tyrol
Some 1,300km of marked trails in East Tyrol span all altitudes, many of them around Hohe Tauern National Park. Popular for both winter and summer walking, East Tyrol's best known town is medieval Lienz, a good day trip option for those that fancy a break from high altitude trekking. Some of Austria's most renowned downhill skiers originate from Lienz, which should give you an idea of the gradients you may encounter in East Tyrol.
Hohe Tauern National Park
3. Hohe Tauern National Park
Hohe Tauern National Park is the largest in Austria, and one of Europe's biggest nature reserves. At its centre is Grossglockner, Austria's highest peak; another major attraction is the silvery Krimmler waterfall, though it can get crowded in peak season. Among the park's many wildlife species are golden eagles and ibex, and as well as protecting them, the park management places an emphasis on maintaining traditional mountain ways of life.
4. Innsbruck
Modern, yet still small enough to retain a pleasant, villagey feel, Innsbruck is the capital of the North Tyrol region. You can explore ornate palaces with royal gardens, Gothic churches and Renaissance fortresses in Innsbruck, while the nearby mountain village of Seefeld makes for an exceptional walking base.
5. Salzburg
Salzburg's old town is a UNESCO site. Mozart was born here and there are many attractions dedicated to the great composer, plus stunning palaces and festival halls, all of which form a backdrop to a thriving cultural calendar. Nearby, the town of Werfen is a popular stop on many walking itineraries. It was used in the Richard Burton classic 'Where Eagles Dare', and scenes from 'The Sound of Music' were filmed on the surrounding hillsides.
6. Wachau Valley
A UNESCO-listed cultural landscape, the Wachau Valley is the most attractive stretch of the Danube River, running between the historic towns of Krems and Melk. You can walk on both sides of the river, crossing over by ferry, to roam fragrant vineyards, forested slopes and picturesque hamlets. Highlights include the ruins of Durnstein Castle, where Richard the Lionheart was once imprisoned. Hopefully his cell had a nice river view.
If you'd like to chat about Austria walking or need help finding a holiday to suit you we're very happy to help.

Walking in Austria advice
Emily Lockwood, from our supplier New Experience Holidays, on how to get the most from walking in Austria
Luscious landscapes
"Austria is famous for its outstanding natural beauty, with snow capped mountains, lush green Alps, lakes and rivers, all complimented by picturesque villages; a blessing for walkers! Walking here is a pleasure regardless of your fitness levels or interests as there is such variety on offer. The paths are well waymarked, and you can move at your own pace, with plenty of opportunities to take in the surroundings. Everyone knows Austria is special for hiking, but to really appreciate it, you have to see it for yourself!"
Where to walk in Austria
"Highlights of Upper Bavaria include the exquisite lake at Königssee, the famous Seisenbergklamm Gorge, and the final day's energetic but rewarding trek to the Jenner mountain cable car station before a glorious ride back to Königssee. We also recommend the Wachau Valley, where the Danube is at its most beautiful with sweeping curves framed by hillsides that you have the opportunity to explore. A mild climate and steep hills make it ideal terrain for wine and fruit growing, and there are a number of historic towns. You can take a cruise back down the Danube past the towns where you have stayed during your walking week which is a lovely way to end your trip."
Polly from our supplier Wearactive shares her top tips for walking holidays in Austria:
When to go
"The summer season definitely offers the most flexibility in terms of the variety of hiking routes available without any limitation of snow, but winter is also a great time to come hiking in Austria as you have the added fun of being able to try out snow shoeing. Whichever time of year appeals, the best time to come is when the winter and summer tourist seasons are in full swing, as then there are more routes open as well as the option for lunch breaks in the wonderful mountain restaurants. My personal favourite times to be here are either when all the wildflowers are erupting in late June and July, or else when the autumn colours start to transform the mountainsides in September; the trees turn different shades of orange and the wildflowers are replaced by carpets of wild mushrooms."
Day tripping
"Lienz is a lovely place to visit on a day off from walking. There are plenty of nice places to eat, with pretty architecture to look at... not to mention people watching! There are various places to wander around or if you are feeling active then there is a great sports centre with swimming pools, tennis courts and sauna facilities. Lienz also offers loads of options for going rafting, rock-climbing or taking part in other adventure activities! The weather is generally several degrees warmer than it is up in the mountains which provides a perfect excuse to enjoy an ice cream before heading back up to recover from the hubbub in peace and tranquility."
Afternoon tea
"On our holidays, you will arrive as guests but leave as friends. We are really not trying to create a hotel and tour operator experience. We want to share our homes and the surrounding environment with an in depth knowledge of the area, and an enthusiasm to play outdoors as much as possible. Cake is also important; afternoon tea and a slice of cake is the perfect incentive for a few hours of brisk hiking!"
Tips from our holiday reviews
At Responsible Travel, we think the best people to advise our travellers are often... other travellers. They always return from our tours with packing tips, weather reports, ideas about what to do – and opinions about what not to.

We have selected some of the most useful Austria walking holiday tips that our guests have provided over the years to help you make the very most of your holiday – and the space inside your backpack.

The scenery in Hohe Tauern is beautiful so if you enjoy photography take your camera

"You can build up a lot of heat cross country skiing and hiking so take thinner layers for milder days as well as the usual insulated ski gear. Don't forget your swimming costume for the hot tub! The scenery in Hohe Tauern is beautiful so if you enjoy photography take your camera... I think the flexibility and variety that MoaAlm offers is unique and one of its many strengths. If you feel tired, visibility is poor or the mood takes you you can relax at the chalet with a book instead. I feel this holiday is very much what you want to make it and there's no pressure to follow a particular itinerary." - Cornelia Szecsei

"Though I'm a regular hiker, I'm an absolute rookie at snow sports. But was not an issue, with them willing to take the time to explain to me how to use the equipment before we started off on our adventure. They take special care with attention to detail, and loved that they tailor your holiday based around what you decided you want to do the night before. And there's heaps you can do! Also dietary requirements are no issue...The communal dining is another plus, allowing you to socialise and get to know your hosts and other guests...If you're not too tired from the day before's activities, spend at least one morning watching the sun rise over the mountains - spectacular!" – Hannah Moody

Be prepared to join in with the group as the good social interaction we had on this trip made the holiday more enjoyable

"There were a couple of walks we didn't do because it was so hot, but there were alternative ways of getting to the next hotel by public transport... Walking Upper Bavaria was a fantastic new experience for me and my 15 year old son. We will definitely do it again." – Maeve Jenkinson

"The scenery throughout the trip was wonderful and the most impressive was that everyday the trails were different from the others. Being a fairly small area of Upper Bavaria it was not the same scenery everyday which is something we did not expect... We rented E bikes in Weidach and rode through the woods to Seefeld, it was fun and it was a different path from the walk for the second day in Weidach to Seefeld. If you arrive early and have energy we recommend the bikes highly!!" – Dylia Sasso

"The most memorable part of my holiday in East Tyrol was everyone waving me off as I left before the rest of the group. We all got on well and shared many enjoyable moments... We all had such a good laugh and really enjoyed each others company, particularly during the evening meals where we shared many a banter...Bring walking poles and clothing for all seasons as the tour involves a lot of climbing. Good walking boots are essential... Be prepared to join in with the group as the good social interaction we had on this trip made the holiday more enjoyable." - Lucie Freeborn
More Austria walking articles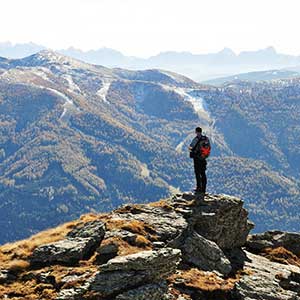 The walking in Austria travel guide takes you through the peaks and valleys of a country where hiking is practically knitted into the national DNA.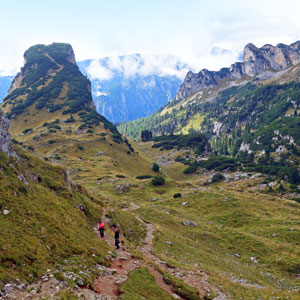 Go on a walking holiday in the Tyrol that uses local transport – or just your own two feet – and is fuelled by local food.